MACVs Welfare Visit
13 Aug 20
MACVs in Kuala Lumpur visited Sgt Leong Kin Keong RAMF who is suffering from cancer at Pantai Hospital on 12 Aug 20. The MACVs led by Leong Yeok Po includes Tham Chun Wah and Loh Ham Choon. During the visit Leong Yeok Po presented a Get Well Angpow to Sgt Leong.

The MACVs have taken time off to visit him to cheer him up and wish him well. This small gesture shows great camaraderie and comradeship among MACVs and kudos to all who have made the effort. It is one of MACVA objectives to render assistance and support to its Veteran members who are in dire need of help and we pray for his speedy recovery.
MACVA PARTICIPATION IN THE PELANCARAN KEMPEN KUTIPAN TABUNG PAHLAWAN 2020

Jabatan Hal Ehwal Veteran through its initiative to raise the awareness of the Malaysian public on the sacrifices of the veterans for the security of the country has embark to produce a special video clip called "Pelancaran KTP 2020". JHEV requested MACVA to have a representative to be one of the participants in this video clip to be aired nationwide during the launch of the "Pelancaran KTP 20".

MACVA nominated Committee Member (CM) Tony Ho Weng Kong RMN to represent the association and to show case the loyal Malaysian Chinese community's contributions to the security and the nation building of our beloved country, Malaysia.

Two days of pre-shooting on 4 &5 August was held at Mindef. The actual shooting day on 6 August with the popular singer Ning Baizura was carried out at the Ntv 7 TV studio, Hicom-Glenmarie Industrial Park, Shah Alam, Selangor. The shooting of the video clip started at 9.00am and finally completed at 11.00pm.

MACVA would like to congratulate KP JHEV's initiative to produce this special video clip to highlight the veterans' sacrifices to the nation's security. This video is also acts as a reminder to the younger generations of the peace and the prosperity of Malaysia brought by the veterans. Many of the veterans are still suffering from the injuries of enemy's land mines (booby traps), the bullets and booby traps scars sustained during the Insurgency Operations from 1969 to 1989.

MACVA also would like to register our appreciation to CM Tony Ho Weng Kong RMN for taking time off from his busy work schedule to participate in the "Pelacaran KTP 20". Our congratulations also go to the rest of the veterans, Ning Baizura, members of JHEV, 1 RAMD and the Ntv 7 crew for their huge contributions to the successful shooting of this "Pelancaran KTP 20" video clip.

Tahniah dan Terima Kasih

9 Aug 20

Lt Col Wong Ah Jit (Retired)
Hon Secretary

At NTV 7 Studio with Ning Baizura (Tony Ho is at the fasr right).
At NTV 7 Studio - Salute to the King and Country.
At MINDEF - Pre-Shooting Briefing.
KTP 2020 Pin.
Ning Baizura.
SEATED: L - R: WO I THOMAS NG FOO KEOW (D), SSGT SOON POH LEE (D), CPL CHEN KHENG MENG (D), SGT WILLIAM HO KIM SAM (D), MRS WONG, WO II WONG FOH LIM (D), CDR NG TENG CHAI (L)
2ND ROW: L - R: WO I YEOH KIM KIAN (U), LR DAVID CHONG CHIN FATT (L), LT COL LIM KIAT CHOY (D), LT COL GUI LOH LING (D), LT ANNETTE TYE SWEE LIEW (L), CPO PETER TUAN PANG YIN (L), LCPL CHUA YONG TECK (D-AW), LT COL IVAN HOR CHONG MENG (D)
BACK ROW: L - R: CPO LIM AIK CHU (L), CPO LOW BAN NE (L), WO II JOHN CHU JOON (D), LT COL IVAN LEE SYNN LENG (D), WO I ONG TZE TONG (U
MACVA MELAKA CHAPTER COMRADESHIP EVENT HELD ON SATURDAY 8 AUGUST 2020
9 Aug 20
The MACVA Melaka Chapter Comradeship event was held on Saturday 8 August 2020 at the Federal Yong Tau Fu Taman Bukit Melaka. It was initiated by member Ong Tze Tong RMAF. It was one of the regular comradeship events organised by the Melaka Chapter. There are 53 members from the three services in the Melaka Chapter (Army - 31, RMN - 11, RMAF - 11). Capt Georgy Gan Ching Beng RRD is the Chapter Chairman. Twenty-one (21) people attended the event (19 Melaka members, Low Ban Ne RMN from Subang Jaya and Mrs Wong Foh Lim). Melaka Chapter is one of the very active Chapters in fostering comradeship amongst its members and also checking on the welfare and well-being of members. They also organised visits to meet up with MACVA members in Port Dickson and Seremban. MACVA would like to encourage the lesser active MACVA Chapters to emulate the initiative of the Melaka Chapter.

Lt Col Wong Ah Jit (Retired)
Hon Secretary

MACVA AND MPMA BROUGHT COMFORT TO LT COL SOMAN SULAIMAN (RETIRED) RRD

MACVA's Welfare outfit MACVA Patient Mobility Assistance (MPMA) lead by its Founder SSgt Richard Lye Wah transported a double crank hospital bed from the MPMA warehouse located at the Charity Food Basket Society Klang to Lt Col Soman Sulaiman's house at Taman Melwati at 1.30pm today 4 August 2020.

Lt Col Soman Sulaiman (Retired) is bedridden and looks after by his wife, Puan Noorlina. Col Soman's plight was made known to MACVA on Saturday 1 August 2020 by Maj Gen Datuk Toh Choon Siang (Retired) and requested MACVA to assist in providing a hospital bed from MPMA.

MACVA discussed the request with Richard Lye on Monday 3 August 2020. In the evening Richard Lye confirmed the hospital bed will be delivered to the house of Col Soman today Tuesday 4 August 2020 at 2.00pm. The speed (less than 24 hours) in getting the appropriate bed suitable for the use of Col Soman by MPMA for delivery is highly commendable. MACVA would like to thank Datuk Toh for his generosity in picking up the transportation cost from Klang to Taman Melawati.

MACVA would also like to thank Maj Lasahi Laiji and Capt Mohd Amiruddin Mohd Nor from the Infantry Directorate and Deputy Director JHEV Selangor & KL present at the house to assist the delivery and installation of the bed. Also present to lend the helping hands are former colleagues of Col Soman and MACVA members.

This is the second welfare assistance carried out by MACVA in a week for veterans who are non-MACVA members. The motorised wheelchair for OKU Veteran Perang Cpl Abu Bakar Bin Abdul Manan was carried out on Friday 31 July 2020 at Sekinchan, Selangor.

MACVA is very pleased to be able to assist JHEV in extending its welfare service to veterans of the Malaysian Armed Forces.

MACVA would like to extend a special thank you to the MPMA team headed by Richard Lye and Mr Chew Song Kong, Founder/President of the Charity Food Basket Society Klang who took time off from his busy schedule to personally drive the delivery van. Their commitment to the welfare of veterans is a shining example for us to emulate.

4 Aug 20
Lt Col Wong Ah Jit (Retired)
Hon Secretary

DELIVERY AND INSTALLATION OF THE DOUBLE CRANK HOSPITAL BED FOR LT COL SOMAN SULAIMAN (RETIRED) RRD, TAMAN MELAWATI ON 4 AUG 2020
Fixing the double crank bed.
Hon Sec and Richard Lye.
MACVA members, MPMA Team, Pn Noorlina, Ranger Colleagues and Maj Lasahi Laiji.
The Rangers.
More Comfortable.
MAVCA Participants Group Photo at the Royale Chulan Hotel, Taman Mahsuri, Kuala Lumpur.
Launching of the M-ADAA Military History Group
3 Aug 20
More than 50 MACVs and fellow Veterans attending the launching of the Malaysia-Australia Defence Alumni Association (M-ADAA)Military History Group at the Royale Chulan Hotel, Taman Mahsuri, Kuala Lumpur on 29 Jul 20. The event was hosted by M-ADAA at 12.30 pm where buffet was served. Its was a gatherings of Malaysian Veterans who had the privilege of attending courses or being attached to Australian Armed Forces units while in service. The Veterans shared and recalled their past experiences and the camaraderie was fantastic. Also present at the launch event were Australian High Commission Defence Adviser, Group Captain Gretchen Fryar; MACVA President Datuk Goh Seng Toh, Tan Sri Dato' Seri (Dr) K. Thanabalasingam and senior Veterans. MACVA would like to express its sincere gratitude and thanks to M-ADAA for hosting MACVs and Veterans at the event.
Datuk Goh Seng Toh delivering his address at the event.
MALAYSIAN ARMED FORCES CHINESE VETERANS ASSOCIATION (MACVA) AND MACVA PATIENT MOBILITY ASSISTANCE (MPMA) BROUGHT JOY TO OKU PERANG KPL ABU BAKAR BIN ABDUL MANAN ON THE HARI RAYA HAJI DAY 31 JULY 2020 AT SEKINCHAN, SELANGOR

How it started
The appeal by OKU Perang Kpl Abu Bakar Bin Abdul Manan, 66 years old, for a wheelchair was picked up from the JHEV chatgp around April 2020. When contacted, Abu Bakar said he already received a normal wheelchair from JHEV. He needs an motorised wheelchair which is beyond his means with his small pension. The reason for a motorised wheelchair is that he has to undergo dialysis thrice(3X) a week and his wife who is suffering from knee problems is not able to assist him.

Background of Abu Bakar and the incident
Abu Bakar passed out from Recruit Training Centre in 1973 and posted to 13 RAMD. While attending the Recruit Cadre Course in the Regiment in 1974 he along with 24 others trainees were tasked to deploy immediately to be the cut off party following a contact. He was the leading scout. His Platoon Commander who was immediately behind him stepped on a land mine (booby trap) and Abu Bakar's two legs were injured by the splinters. He pleaded with the doctor to save his right leg which was severely injured.

The doctor told him his right leg might suffer from gangrene in the later years and may have to be amputated. He took the risk. He retired in 1995 became a fisherman. His right leg began to have severe pain and he started taking the pain killer which eventually damaged his kidneys and had to undergo dialysis. In 2011, he underwent the amputation on his right leg due to the gangrene. The doctor had to carry out a couple of surgeries to finally stop the gangrene from spreading. His right leg left only 6 inches from the torso after the final amputation.

He was given an artificial limb but due to the shortness of the right leg after the amputation, the artificial limb caused discomfort and created blisters. His movement became very restrictive and he started to gain weight.

The hunt for a second hand motorised wheelchair
Abu Bakar requested not to pursue with the motorised wheelchair if it is too costly but was told that I will try my best to assists him. Help was I seek from SSgt Richard Lye of MPMA to source for a second hand motorised wheelchair. Luck was with us, in a short period of less than a week Richard Lye managed to find one few months old used motorised wheelchair which is in excellent condition.

A private donation drive was launched on 28 July 2020 to raise the fund to purchase the motorised wheelchair. A sum of RM5,400.00 was raised in four (4) days from caring MACVA members and their civilian friends. The sum was sufficient to purchase the second hand motorised wheelchair.

Delivery of the motorised wheelchair to Abu Bakar
We decided to give Abu Bakar a surprise by informing him that we are visiting him on the Hari Raya Haji Day 31 July 2020 without informing that his dream motorised wheelchair will be presented to him.

The journey to Sekinchan was quite eventful. We were in two vehicles, a van and a car. On the way to Kuala Selangor, we encounter a flash flood and only vehicle with two feet clearance was able to cross. The van managed to cross the flooded stretch but we had to detour which took nearly one extra hour to reach Sekinchan.

The joy of seeing an OKU Perang receiving his dream motorised wheelchair
Abu Bakar and family members were extremely happy to receive us. It was like meeting old friends. Abu Bakar told us about the visits by the RAMD senior officers including his Company Commander who became a Brig Gen. The caring visits took place in between the donation drive.

Abu Bakar and his family members were overwhelmed with joy when the motorised wheelchair was brought into the house. The family members were shown how to operate the motorised wheelchair by Mr Chew Song Kong, Founder/President of the Charity Food Basket Society Klang, Selangor.

The joy of seeing Abu Bakar trying out the motorised wheelchair was something we will always remember.

Abu Bakar was told the motorised wheelchair is the property of MPMA and is on loan to him for use. The motorised wheelchair is to be returned to MPMA when no more in use.

Appreciation
The President and all members of MACVA would like to extend our profound gratitude and ribuan terima kasih to the following people for making the dream of OKU Perang Abu Bakar a reality:
1. 34 donors (List attached)
2. Mr Chew Song Kong - Founder/President Charity Food Basket Society Klang, Selangor
3. Mrs Chew Song Kong
4. Maj David Chow Yun Kai - VP MACVA - Army
5. SSgt Richard Lye Wah - Founder member of MPMA
6. Maj Lee Siew Choy
7. Sgt Anthony Chong Choo Choy - MPMA
8. Mr Foo Choon Sing - MPMA

2 Aug 20
Lt Col Wong Ah Jit (Retired)
Hon Secretary

LIST OF DONORS
NO NAME
1. ANTHONY AU CHEE HOONG
2. ANTHONY YEAP HOCK CHAI
3. AZHAR LIN ABDULLAH
4. BALASUBRAMANIAM
5. CAROL LOO LEE FUM & JOHN SOON TET LEONG
6. CHAN HOCK BENG
7. CHEN KA KIM
8. CHEO YEW HOCK
9. DANNY LUM WENG KIT
10. DATO' HJ AFFEDY POH
11. DATO' HO CHIN CHAI
12. DAVID CHOW YUN KAI
13. DAVID LING HENG WOON
14. DR CHEN SEONG JOO
15. DR LEONG WENG FOON
16. GEORGE ONG CHOO SEONG
17. GODFREY CHANG
18. HAFIZ KHALIL
19. HASHIM SIM ABDULLAH
20. SSC INTAKE 26
21. MARY KOH
22. MD ALI BIN NAYAN
23. MIKE TEOH CHONG KOOI
24. NG JOO CHAY
25. PHUA HEAN SIM
26. IR RAYMOND GOH BOON PAH
27. PUI SENG TAI
28. TOMMY VOON LEONG GREGORY
29. TONG LYE HENG
30. TONY HO WENG KONG
31. UNGKU MOHD ARIS A. MAJID
32. WONG AH JIT
33. WONG SOON FOO
34. ZULKHAIRI A RAHMAN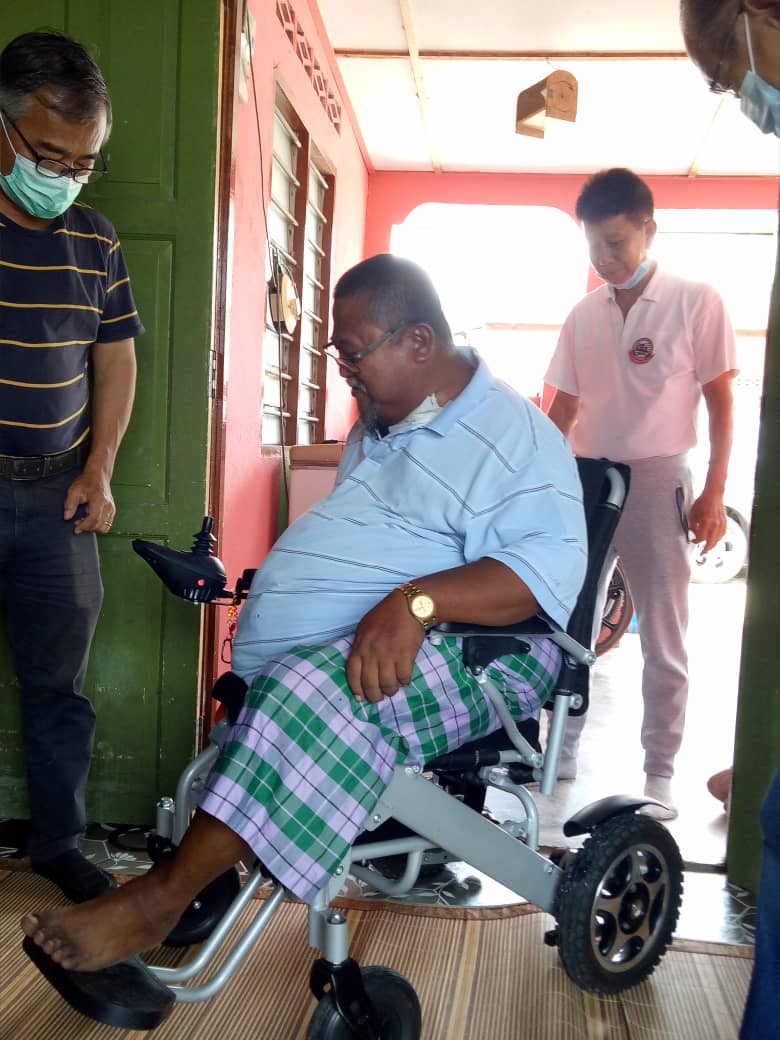 Abu Bakar bin Abdul Manan on the motorised wheelchair.
MACVA & MPMA members.
A good health wish angpow.
Motorised wheelchair from MACVA.