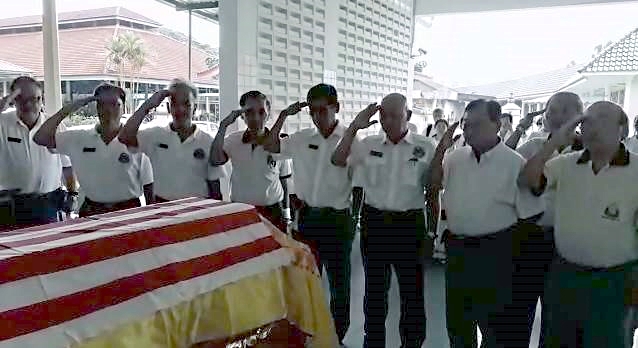 MACVs paying last respect to Wong Tuck Moon while Last Post being play.
Thank You Note To MACVA
9 Jul 18
Dear MACVA and RMAF veterans (specially to Lt Col Ooi Ah Ba and wife, Capt Tei Poey Eong, Lim Thian Huat, Ang Tat Leong, Ang Kee Lam, Lai Choo, Kok Ching Huat, Phoo Ah Fook, Cheah Chong Bon and Lee Hock San),

On behalf of our family, we would like to say a BIG thank you to the members of MACVA and RMAF veterans for attending my father's wake and funeral service, showing kindness and generosity during the time of my father's passing. We deeply appreciate all your kind support and help. Thank you for sending such a beautiful condolence letter and large flower arrangement.

My father was certainly proud of his work in RMAF so your presence and support have been very much appreciated. The dignity of the military sendoff ceremony was a most perfect recognition of my father's service to our country. It gave each one of us a warm sense of pride, comfort and appreciation. Hearing the Last Post playing, witnessing the flag folding and serious attention of the MACVA personnel was awe-inspiring to us. What a wonderful and moving way to show our family the respect that was earned by my father. Serving in the RMAF for 22 years was a big part of our father's life, therefore having his services recognized so beautifully was truly meaningful for all of us.

Words cannot adequately express the respect, the honor, kindness and dignity displayed by all of you. We were very grateful for your presence, support and the noble way you handled the ceremony. Please know that it has made a difference that each one of us will remember forever.

With great appreciation,
Wong Kar Foong, Wong Kar Keong,
Wong Kar Wai,Wong Kar Loon
(Children of Ong Soo Her @ Wong Tuck Moon)

"MACV WO 2 Wong Tuck Moon RMAF (Rtd) passed away peacefully on the 4th of June, 2018 at the age of 74 years. His wake was held at Leng How Koe Columbarium, Paya Terubong, Penang and his funeral service was held at the same venue on the morning of 8 Jun 18. Northen Chapter MACVs and RMAF Veterans attended his wake and were present at his service to pay their last respect and gave him a dignified military send off. Capt Tei Poey Eong RMAF (Rtd) conducted the flag folding with Ang Tat Leong and presented the Malaysian flag to Madam Tay Liew Im while Lt Col Ooi Ah Ba RMAF (Rtd) presented Wong's Life Membership Certificate and MACVA Condolence Letter to Madam Tay Liew Im."

L ro R:Loh HC, Lim PC, Vincent Lo, Joe Pie, Wang JH, Lim WF, Pook CH, Alister Ho, Jacob Liew, Jeremiah Ng, Mike Teoh, Wilson Wong.
60th RMAF Anniversary Activities
9 Jul 18
MACVs attended the 60th RMAF Anniversary Parade at RMAF Subang Base on 5 Jul 18 recently. 27 officers, 609 airmen and airwomen were involved in the parade which was led by Col Wan Azwari bin Wan Ali TUDM. Also involved were 2 Nuri's and 1 EC725 aircrafts which carried the Malaysian, Armed Forces and RMAF Flags during the fly pass.
Read More

MACVs at Butterworth Air Base.
60th RMAF-RAAF Relations Anniversary
1 Jul 18
More than 40 RMAF MACVs attended a joint RMAF-RAAF Parade at Butterworth Air Base on 29 Jun 18. The event was to celebrate the 60th Annivesary of the RMAF-RAAF Relations. A total of 146 RMAF and 21 RAAF personnel took part in the parade which were inspected by Gen Tan Sri Dato' Sri Hj Affendi bin Buang and Air Marshal Leo Davies, respective Chiefs of both Air Forces.
Read More

L to R:Lai Choo, Lim Thian Huat, Carol Loo, Phua Hean Sim, Joe Pie Chong Seng, Pui Seng Tai, Ng Chow Seng, Godfrey Chang, Tan Pau Son, Ang Kee Lam, Tong Lye Heng, Ng Joo Chay, Wong Ah Jit and Mike Teoh.
MACVA Mock Cheque Presention to WO 2 Ng Chow Seng (Rtd)
21 Jun 18
MACVA President Maj Tan Pau Son (Rtd) presented a mock cheque of RM11,000 to WO 2 Ng Chow Seng (Rtd) yesterday morning in MACVA office at the Boulevard, Mid Valley City, Kuala Lumpur. The amount is MACVA contribution to assist him to participate in the International Weight Lifting Federations (IWF) 2018 Masters World Championship to be held in Barcelona, Spain from 16 to 21 August 2018. He is schedule to depart to Barcelona from KLIA on 15 Aug 18. Ng is a six times IWF Masters World Champion and will compete in the 69 kg under the 80 - 85 years old category. His six gold medals are as follows:-

• 2017 World Masters Games (Gold) in Auckland, New Zealand 69kg (M80+) Age 82.
• 2016 Masters World Cup (Gold) in Tokyo, Japan 69kg (M80+) Age 81.
• 2015 World Masters Championships (Gold) in Rovaniemi, Finland 69kg (M80+) Age 80.
• 2013 World Masters Cup (Gold) in Penang, Malaysia 77kg (M75-79) Age 78.
• 2012 World Masters Championships (Gold) in Lviv, Ukraine 69kg (M75-79) Age 77.
• 2011 World Masters Championships (Gold) in Limassol, Cyprus 69kg (M75-79) Age 76.

Ng continual pursuit of sport excellence at his senior age is to be admire. His 'never say died' attitude and discipline towards the weightlifting sport that he loves is something for Malaysian to behold. MACVA is very proud of 'Mr Strongman' Ng Chow Seng and wishes him a save journey to Barcelone and every success in his competition. We extends our sincere gratitude to all MACVs who have kindly contributed to this effort.