Meeting Report
Malaysian Army Chinese Veterans Association (MACVA) And
The Board Of Directors Of Confucian Private Secondary School/Dong Zong
At The Conference Room Of The School, On 5 April 2017

A very fruitful and encouraging meeting was held at the meeting room of Confucian Private Secondary School yesterday (5 Apr 17). The parties involved were; the MACVA Chinese Youths Recruitment (CYR) team, the Board of Directors of Confucian Private Secondary School and the United Chinese School Committees' Association of Malaysia (Dong Zong).

Introduction
1. The meeting was initiated via email between Lt Col Dato' Martin Kam Yoon Sang (Rtd) and Mr Ghee Peng Lam, the Founder of the Xiyue Art and Culture Creative Center on 12 Jan 17, followed up by Lt Col Carol Loo Lee Fum (Rtd), the CYR Project Team leader. The main purpose of the meeting was to inform the Chinese Independent Schools on the Armed Forces with the hope that more Chinese youth would consider the Armed Forces as a possible career path.

2. The attendees from both sides were as follows:

a. Representatives from the Confucian Private Secondary School
(1) Dato' Ng Wee Yiew – Chairman Board of Governors
(2) Mr Chen Tet Ho – Vice Chairman
(3) Mr Lee Qin Jin – Deputy Director
(4) Mr Huang Jun Shui – Executive Director
(5) Mr Choy Heng Min – Member Board of Governors
(6) Mr Wu Xian Min – Director
(7) Mr Ghee Peng Lam – Coordinator/Founder of Xiyue Art and Culture Creative Center
(8) Mr Teoh Hwa Chai – Vice Principal
(9) Mr Liang Zhen Chong – Head of Planning
(10) Mr Huang Yao Hong – Discipline Master
(11) Ms Tam Siew Xian – Head Councilor
(12) Ms Lim Qian Ru – Executive Secretary Board of Governors
(13) Ms Lim Hui Xian – Secretary to the School Principal

b. Representatives from Dong Zong
(1) Mr Chen Ching Fong – Director of Student and Teacher Affairs Department
(2) Mr Yap Heng Leng – Executive Student Affairs Unit Dong Zong

c. MACVA Team
(1) Maj Tan Pau Son (Rtd) – President
(2) BG Dr Leong Weng Foon (Rtd) – Advisor
(3) Lt Col Dato' Martin Kam Yoon Sang (Rtd) – Advisor
(4) Lt Col Wong Ah Jit (Rtd) – Hon Secretary
(5) Lt Col Carol Loo Lee Fum (Rtd) – CYR Project Team Leader
(6) Maj David Chow Yun Kai (Rtd) – CYR Member
(7) Maj Ong You Chai (Rtd) – CYR Member
(8) Maj Ng Joo Chay (Rtd) – Press/Public Relations
(9) Capt John Chai Chuan Way (Rtd) – CYR Member

3. The MACVA team led by the President, Maj Tan Pau Son (Rtd), met the Chinese Independent Schools' representatives headed by Mr Ghee Peng Lam at Confucian Private Secondary School, Jalan Hang Jebat at 2.15pm. The team was ushered to the conference room and introduced to all the Board Members headed by Dato' Ng Wee Yien, Chairman Board of Governors. After the welcoming remarks by the MC, Dato' Ng, gave his opening speech by welcoming the MACVA members and glad that the meeting was able to kick start after serious considerations by the school Board of Governors and Dong Zong.

From Right to Left: BG Dr Leong (Rtd), Capt John Chai (Rtd), Lt Col Carol Loo (Rtd), Maj Ng (Rtd),
Maj Tan Pau Son (Rtd), Mr Ghee Peng Lam, Maj David Chow (Rtd), Lt Col Dato' Martin Kam (Rtd),
Lt Col Wong AJ (Rtd) and Maj Ong (Rtd)

They were very happy and looking forward to listen to what the Armed Forces could offer and glad that the independent schools are given equal opportunity to participate in this program. According to him, there are 61 Chinese Independent Schools throughout Malaysia with about 80,000 students. The representatives were very supportive of MACVA's CYR program. They have requested MACVA to carryout talks to as many schools as possible, preferably during the schools' open day.

Opening speech by Dato' Ng Wee Yiew, Chairman, Board of Governors
4. The President of MACVA was invited to give his opening remarks. He thanked all parties concerned for the kind assistance and efforts in facilitating yesterday's ground-breaking dialogue with the school and Dong Zong. He, then briefly introduced what is MACVA, giving its background, setting up of MACVA until its registration on 31 Aug 16, and how we could help the Chinese youths to join the CYR program. He mentioned that the members wanted to do something more than just gathering, and talking about old times and socializing. We feel we can still contribute with our service experiences, and post service knowhow, skills and expertise.

Opening speech by MACVA President, Maj Tan Pau Son (Rtd)
BG Dr Leong (Rtd) then continued to say that we wanted to put on record our service, contributions and sacrifices to King and Country, emphasizing that we were there, standing shoulder to shoulder with our comrades from all the other ethnic communities. Thus, no one should question us that we, Chinese are unpatriotic and disloyal to King and Country. He also said that besides all other considerations, this wanting to contribute to the nation should be considered one of the reasons for enlisting. He gave the reasons/events leading to the CYR Project. He also explained that we were new in this, but base on our talks with TAR University College (TAR UC) since Nov last year, the enthusiasm and support shown by TAR UC are very encouraging, and look forward to working together with all the Chinese Independent Schools to make CYR program a success.

5. Lt Col Carol Loo (Rtd) gave a brief outline of recruiting and career prospects of the Armed Forces covering the Graduate Cadets Officer Scheme, University Pertahanan Nasional Malaysia (UPNM) and the Royal Military College (RMC). The new pay scale, allowances, and incentives seemed to inspire the Board Members. They were very pleased that the MACVA took the initiative to approach them. Besides, this has also given another career option to the undergraduates especially those who are actively involved in the uniform bodies.

6. During the Q & A session, Maj Ng Joo Chay (Rtd) and Capt John Chai Chuan Way(Rtd) related their experiences during and after their service. Maj Ng (Rtd), who rose from the rank and file to an officer, was relating his background and experiences from the Territorial Army perspective. While Capt John Chai (Rtd), said that he was selected to join the Graduate Cadet Officer scheme after completed his degree course from UM, and commissioned as an officer after his nine (9) month training. His working experiences with the various departments including his second career in the civil sector, which excite the members' presence.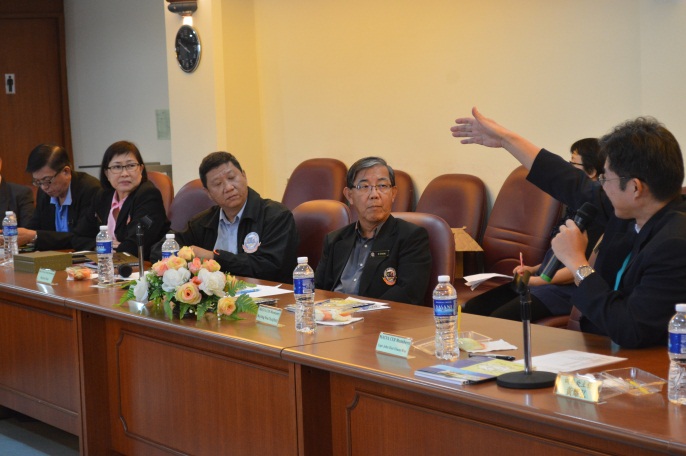 Capt John Chai (Rtd) was relating his experiences
All ears on Capt John Chai (Rtd)
7. Mr Chen Ching Fong, the Director of Student and Teacher Affairs Department, Dong Zong in his closing remarks, thanked the President of MACVA and his team for taking time and effort to share the information with them. It is hoped that the cooperation between the two parties would kick start the CYR program as soon as possible. He proposed that talks could be given by regions – North, Central, East and South in the Peninsular including Sabah and Sarawak. He has requested MACVA to carry out talks to these regions preferably during the school's open day.

8. The meeting ended cordially with the exchange of gifts between the two parties followed by a group photo at the main entrance of the school.

Group photo during the gifts presentation
From Left to right: Mr Choy Heng Min, Mr Ghee Peng Lam, Dato' Ng Wee Yiew and
Maj Tan Pau Son (Rtd)
Group photo at the school entrance
Conclusion
9. The meeting can be considered as the biggest break-through for the MACVA's CYR program this year. Nothing is impossible if there is a will there is a way. Yes, indeed it is a great break-through and it will be one of the big project contribution of MACVA to Nation Building on the possibility of getting more Chinese youths joining the Armed Forces to create a racially, and more effective balanced force. It is hope that with the joining in of our comrades from the Navy and Air Force soon, MACVA would be able to present a true Armed Force approach in the CYR program.

10. MACVA is on track to be A Credible Voice and to play its role to build a better Malaysia for the future, brick by brick, block by block.

| | |
| --- | --- |
| Event Video Clip | |

 Report compiled by

 Lt Col Carol Loo Lee Fum (Rtd)
 CYR Project Team Leader

 6 Apr 17