FAMILY HOMELAND, LOYALTY, UNIFORM
PART TWO
803381 Chief Petty Officer Soon Tet Kah RMN

Soon Tet Kah was born on 22nd June 1952. He is the eldest son to Soon Boon Siew, born on 23 April 1924, a much younger brother to Boon Leong and Boon Sooi.

Another digression, this time touching on a different way to serve the nation - Boon Siew was the Government's Chinese Liaison Officer to the New Villages in Kedah and Perlis during the Emergency Period, after which he was appointed as the Assistant District Officer of Baling. He had retired after sitting as a Magistrate for the Kedah state in his last appointment. He was continuously armed for his own safety and protection against the communists during the Emergency and after.
1978 - Magistrate Soon Boon Siew.
Tet Kah had joined the Royal Malaysian Navy on 8th May 1970 and was selected to be trained in a three and a half year Naval Artificer Apprenticeship in the Royal Australian Navy Apprentice Training Establishment, HMAS NIRIMBA, New South Wales Australia. Tet Kah was trained initially as a Shipwright but was later re-categorised an Engine Room Artificer (ERA or Marine Technician Propulsion - MTP).
Tet Kah - July 1970 HMAS NIRIMBA.
1971 HMAS NIRIMBA – (From left to right) Tet Kah, Roslan, Shabudin, Tet Leong.
On his return from Australia, he served in various ranks and capacities. His main job throughout was - to remain responsible to the Commanding Officer for the proper operation, maintenance and repair of main and auxiliary machineries onboard ships and shore establishments namely, main engines, generators, pumps, compressors, steering gear system, ship fluid systems. He was also required to provide technical support and act as an overseer for vessels under repair at dockyards.
1972 – "Have Pusser's Grip Will Travel".
Tet Kah had served in KD MALAYA, KD HANG TUAH, KD SRI MELAKA, KD SRI PERAK, KD KERAMBIT, KD BAUNG, KD TAHAN, Lumut Naval Base and KD SRI LABUAN.
Tet Kah as Leading Hand in KD SRI MELAKA & Chief Petty Officer KD BAUNG.
He left the navy as a Chief Petty Officer (CPO) on completion of his 13 years' service. Immediately after a short break he took up a job from 1984 -1985 as a Machining Technician in the German-Malaysia Precision Company. This job involved the skills he had acquired while in the navy - operation of precision machining equipment in the manufacture of fastenings and components for industrial/domestic usage.

From 1985-1989 he was employed as the Final Testing Supervisor with ZahnradFabrik Friedrichshafen Steering which involved the testing of rack and pinion steering assembly for the automotive industry.

In 1989-1990 he was employed as a Senior Technician with Tunku Abdul Rahman College as an Instructor for workshop and machine shop technology.
2013 with EPMI Offshore Pulai Platform.
His final vocation, before his second retirement in 2016, was as Mechanical Technician with ExxonMobil Exploration and Production Malaysia Inc (EMEPMI). His job on offshore oil & gas platforms involves the maintenance and repair of revolving and reciprocating equipment onboard, namely turbo machinery, pumps, compressors, diesel engines, cranes, pneumatic and hydraulic systems.
Lt Soon Tet Seong RMN (Retired) N/402000

Soon Tet Seong was born on 29th May 1953; he is a younger brother to Capt Soon Tet Loy RMN and Lt Soon Tat Kong RMN. Tet Seong had joined the RMN on 1st March 1971 before he completed his 18th birthday. On enlisting, he was sent to HMS Fisgard in April 1971, despite being under aged and not yet eligible to enter the Royal Navy Tiffin Club's bar, but such enlistments were then allowed for, more so for long haul apprenticeship training.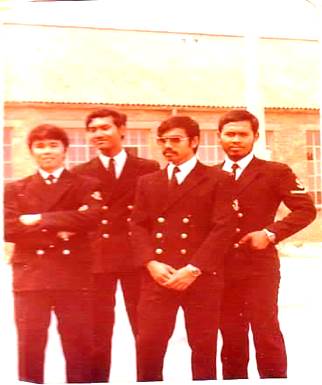 Tet Seong in HMS FISGARD – April 1971.
His first training assignment was the Ten Tors 26 km march with full backpack, he came in first and was awarded the "Seaman knife".
Ten Tors Team Wales - 26km March.
Tet Seong while undergoing his Naval Apprenticeship (Radio Electrical Artificer) training in HMS Collingwood had volunteered and participated in the Naval Brass band. This brass band had numerous engagements marching through towns where Her Majesty the Queen Elizabeth had also visited.
Tet Seong HMS COLLINGWOOD Brass Band.
In 1973, he had served onboard HMS APOLLO of the Royal Navy (RN); the RN ship was in the forefront and engaged in the Icelandic War against fishing craft supported by the Icelandic Patrol Crafts. In one of the confrontation, after waves from HMS APOLLO splash over the Icelandic Patrol Craft, one of their crew who was welding on the upper deck was inadvertently electrocuted. HMS APOLLO was rammed in retaliation causing a massive hole at the starboard side of the vessel. A huge pile of the HMS APOLLO crews' belongings were washed overboard in this incident. An advisory from the British Intelligence had quickly pointed out that all foreign trainees were not to be involved in that war, Tet Seong and a number of others were subsequently flown off by helicopter at midnight to Glasgow. They had a short break, and joined HMS LONDONDERRY to complete their sea training phase.
| | | |
| --- | --- | --- |
| | | |
In keeping the Soon sports tradition alive, Tet Seong had represented the Royal Navy in hockey and badminton and had travelled with the teams all over the United Kingdom for various levels of tournaments. He had also participated actively in the RMN Hockey Team on his return from United Kingdom.
HMS Fisgard Hockey Team.
Badminton team.
Squatting 2nd from right - Tet Seong and the RMN Hockey Team 1979.
During the 1982 to 1983 period Tet Seong was selected to undergo Regular Special Duty Officer training. His training was undertaken in KD PELANDUK and also in the Port Dickson Army Camp. He was commissioned in 1983.
Tet Seong & Wife Carolina at the Commissioning Ceremony 1983.
In a short summary Tet Seong's RMN appointment were as follows:
> 1976 – 1977 – Fleet Technical Services Workshop
> 1977 – 1980 – KD SRI LANGKAWI
> 1981- 1982 – Fleet Technical Services Planning Office
> 1982 – 1983 – Port Dickson/KD PELANDUK SD Officer training
> 1984 – 1989 – Fleet Material Command (M&E) Electrical & Electronic Engineering Officer
> 1989 – 1993 – Communications Mindef/Lumut/Kuantan Project
o Survey of Kuantan Naval Base for future expansion
o Installation of Intelligence communication between Mindef/One Fathom Bank/Lumut/Butterworth Air Base/Kuantan/Labuan
o Assisted in the proposal for the setting up of the Lumut Hospital including the Hyperbaric Chamber for divers
| | | |
| --- | --- | --- |
| | | |
Upon retirement from the RMN on 30th May 1993, Tet Seong was employed and was directly involved in the setting up of the installation, testing and commissioning of Highway Emergency Telephone System along:-
> Karak Highway
> PD Highway
> Shah Alam Expressway
> Ampang Elevated Highway

He was later re-employed a number of times as follows:
> LATAR Expressway –M&E and Toll System Chief Engineer
> Cheras Kajang Expressway – M&E and Toll System Chief Engineer
> Ampang Elevated Expressway – M&E Expressway M&E and Toll System Chief Engineer
> Sydney Harbour Bridge – CCTV and Communication System

Tet Seong is currently employed to provide services in the Inspection, Testing and Commissioning of all Systems on the Ampang LRT Extension Project and Existing Ampang Line and Ampang Depot.
Lt Col Loo Lee Fum (Retired), Royal Intelligence Corps T60880

Lt Col Loo Lee Fum (Retired).
Against the supposedly belief (but at times observed as an easy excuse) on Chinese sons not joining the military, two young 20 year old aspiring ladies, Loo Lee Fum and Toh Lian Sim @ Siti Linziana braved the odds to gain a place as pioneers and the first intake for Army lady cadets in 1977, a profession and field already monopolised and acclaimed by men. Loo, fresh from school, went through the special Army selection board at the Penang Local Defence Corps (LDC) prior to joining the Army. Whilst Toh was from Kuala Terengganu LDC, also fresh from school, went through the same interview process. All successful candidates (a total of 70 Men and women) from the whole Peninsular were sent to Tambun, Ipoh for their centralized training. After months of intensive training, they were commissioned on 7th January 1978 and subsequently absorbed into the various Corps except for the combatant units in the Army. Both Loo and Toh were selected to join the Royal Intelligence Corps due to their education background and ability to speak in multiple dialects and languages.
Pioneer Lady Cadets Selected from the Penang Local Defence Corps in 1977. Seen here - Brig Gen Dato Nurhuda Ahmad (Retired) (3rd from left) & Lt Col Loo (2nd from right).
Women Cadet Undergoing Vigorous Training 1977-1978.
1977 Pioneers - 1st Intake Lady Cadet Officers. Toh Lian Sim @ Siti Linziana (left) & Loo Lee Fum.
During her tenure of service, Lt Col Loo Lee Fum, a Kedahan from Baling, began her career as a staff officer in Military Intelligence Special Branch (MISB) homed at the Polis Diraja Malaysia (PDRM) Headquarters, Bukit Aman.

She had also served as Foreign Liaison Officer, intelligence instructor and Staff Officer in various intelligence units in the Ministry of Defence. As the desk officer in-charge of Communist Party of Malaysia (CPM) in Peninsular Malaysia, she has an in-depth knowledge on organisational structure, tactics and techniques and weaponry system of the CPM.
Loo & Director of Military Intelligence (DMI) Lt Gen Dato' Ghazali Che Mat (PGB).
Loo & General Templar 12 Superb Man, Lt Gen Datuk Abdullah Samsuddin (DMI)
Whilst serving as strategic officer in-charge of East Asia region, she was an adviser on subjects pertaining to politico-military deployment of both China and Taiwan.
Loo & Dato' Wah on troop roulement mission in Bosnia & Herzegovina.
1996 Dr Col Liew (3rd from left) & Loo (1st right) in Glamoc, Bosnia.
She was the first lady officer cum intelligence officer to have served in the all important livewire Defence Operations Room (DOR) of the Armed Forces, overseeing the mobilization of peacekeeping troops to Bosnia & Herzegovina and furnishing ground intelligence to Malaysian Battalion (MALBATT) operating there as well as local operations.
1993 - Loo Lee Fum on completing and passing out from Staff College.
On the academic aspect, she holds a diploma in Defence and Strategic studies from University of Malaya and was a graduate of the Malaysian Armed Forces Staff College (MTAT) – Commandant's List in 1993. She rose to the rank of Lt Col in 2000 and retired in 2008 after 31 years of service.
Mr Loo Yok Tian – a third digression related to volunteerism and loyalty - it may be prudent for this article to include that Lt Col Loo's father, Loo Yok Tian, also played no lesser a role during his younger days in the deep loyalty that most Malaysian born Chinese have for the country. Loo Yok Tian (the only son to Mr Lo Khoon and Madam Khoo Peng Lan) enlisted as a member of Home Guard (Federation of Malaya) on 5th March 1953.
March 1953 - Home Guard Volunteer Loo Yok Tian.
2012 - Loo Yok Tian.
For the uninitiated, the Home Guard (Federation of Malaya) is a volunteer organization that plays a role in controlling security during the Emergency Period situation in the Federation of Malaya after the Second World War. During that Emergency Period, the Colonial British controlled various security forces in Malaya - police, military, Special Constabulary (SC) and Auxiliary Police (AP) nationally, but they were still hard pressed for a seamless control in the dire situations lower down within communities. Lt Gen Sir Harold Briggs, the Operations Director, proceeded to establish a Home Guard team in 1951, a set up similar to the Home Guard (United Kingdom) to close that gap, however the Malaya version was responsible for protecting villages and risky areas from communist terrorist sabotages.

This Home Guard team consists of ordinary citizens subject to the Home Guard Regulations 1951 and 1952. Under this provision, those between the ages of 18 and 55 may be deployed to become members of the Home Guard. The teams were established at all levels of the state, district, county and village, and their members were trained in custody, handling weapons, tactics and more. With this establishment, the police and military forces could then focus on launching their main trusts against the abolition communist operations federally, while the responsibility of controlling the villages, estates and mines were relegated and handed over to the Home Guard to help out in tandem.

The goals of the Home Guard were as follows:
> Responsible for safety in their own areas
> Ensuring rural communities were safe
> New Villages - the Home Guard assisted the military, the police and the SC – in checking identification of residents and the control of food, clothing, medicinal and weapon supplies, to ensure that they did not reach the hands of the communists.

Generally, since its establishment in 1951 until 1958, it is believed that the Home Guard team had killed 221 communist terrorists and injured another 110. Also 123 communist terrorists had surrendered to them. The Home Guard team was officially disbanded on 1 July 1959.
Home Guard Appreciation Certificate - Loo Yok Tian.
812217 LK1 TMK Soon Yew Fook @ Rudin Soon Abdullah RMN

LK1 TMK Soon Yew Fook @ Rudin Soon Abdullah.
Soon Yew Fook born on 2nd June 1963 is the eldest son of Soon Boon Yin. Boon Yin is the younger first cousin to Boon Leong and Boon Sooi, making Yew Fook, himself a 6th Generation Soon, a second cousin to the rest of the 6th Generation Soon's mentioned earlier in this article.

After completing his SPM, the Kedah born Yew Fook enlisted on 1st January 1982 in the RMN and he was slotted into the Technical Branch. He spent the next 13 years in RMN as an Able Bodied Mechanic Engine (ABME) and completed his service on 1st January 1995.

In all his 13 years of service, and apart from short breaks for trainings, Yew Fook had spent most of his services sailing onboard KD PAUS, KD SERANG, KD GANAS, KD MAHAWANGSA. He had completed his tour of duties at the Lumut Pump House.
Yew Fook, after leaving the services is employed as a Security Executive till this day.
388673 Kenneth Soon Pow Lee (RMC)

Marine Engineer Kenneth Soon.
Kenneth Soon was born on 28th Feb 1982. He is the eldest son to Lt Col Loo Lee Fum (Retired) and Lt Soon Tet Leong RMN (Retired). He is a 7th Generation Soon. He received his early education in Sekolah Rendah Kebangsaan, Jalan Gurney, Victoria Institution before he was admitted into the RMC starting at Form 2. His entry into the RMC was on 14th Dec 1995.
Kenneth (rear 1st right) RMC Batch Mates 1995.
Kenneth (Rear 2nd left) RMC Sungei Besi 1996.
After the RMC, he was offered a full scholarship from the Malaysian International Shipping Corporation (MISC). Under this scholarship, he acquired his diploma in Marine Engineering graduating from the Malaysian Maritime Academy (ALAM). Kenneth Soon's service in the Merchant Navy is truly another form of uniformed services.
Kenneth's RMC (Honourable) Discharge Certificate 1999.
Kenneth under Training and Passing Out Akademi Laut Maritim (ALAM).
Through the initial diploma he subsequently obtained his 3rd Class unlimited Certificate of Competency (COC) and started working for MISC as a marine engineer in their chemical fleet. He worked the first six years of his career exclusively in chemical tankers. Kenneth then proceeded to take his 1st and 2nd Class combined course and had a change in career as he then started in oil and gas sectors in the Anchor Handling Tug Supply (AHTS) and Multi Purpose Supply Vessel (PSV). He has been in the oil and gas industry for the last decade and most of those years were exclusively under vessels chartered by SARAWAK SHELL BHD. Both his promotions to Second Engineer and Chief Engineer were all approved by SHELL and his promotion to Chief Engineer was in fact recommended by SHELL to the company.

Kenneth is currently employed by the Abu Dhabi Petroleum Ports Operating Company (IRSHAD) which is part of the Abu Dhabi National Oil Company (ADNOC) as a Chief Engineer for Marine Tugs.

Kenneth upholds and one can tell from his seaman book record, loyalty is a trait instilled in him since his days in the Royal Military College. In his 14 years as a seaman he has only worked the bulk of it in 2 companies.
388731 Lionel Soon Pow Yik (RMC)

Lionel Passing Out from RMC 2003.
Lionel Soon Pow Yik, born on 28th February 1986, is the younger son of Lt Col Loo Lee Fum (Rtd) and Lt Soon Tet Leong RMN (Rtd). Lionel grew up in a military environment. He was exposed totally to a military culture for the better part of his upbringing. Though born in Penang, he had spent almost all his entire childhood life in the confines of the Ministry of Defence's protected surroundings growing up in the Officers Married Quarters, Jalan Padang Tembak, Kuala Lumpur. He even started his first day in Kindergarten riding in a military vehicle to pre-school, an unaccompanied "anak askar" they would say. Lionel received his early education in Sekolah Rendah Kebangsaan, Jalan Gurney, Sekolah Menegah Kebangsaan, Taman Melawati before he was admitted to the RMC starting in Form 2 Secondary education. His entry into the RMC was on 14th Dec 1999.
In the RMC from 14th December 1999-2003 he had completed his PMR and SPM examinations and certifications successfully.
RMC Bravo Bunk Racial Mix - (Lionel in the centre).
Apart from the academic studies necessity, they were also provided with basic military exposures, experiences, basic weapons training and handling, compass marching and map reading.
Compass Reading & Marching 2002.
He rose up and eventually achieved the rank of Junior Under Officer (JUO) in 2003. While in college, he participated actively in tennis and volleyball. He was also a college debate representative.
JUO Rank Holder 2003.
The quality of education and training in the RMC facilitated Lionel to be directly admitted into Universiti Tenaga Nasional (UNITEN) after his Form 5 to undergo first the Matriculation (Pre-University) phase before finally pursuing his full degree course. Lionel completed his university education when he passed out from UNITEN with a Bachelor Degree (B.Eng. Hons) in Electrical and Electronics Engineering in the 2003 to 2008 period. He is today registered with the Board of Engineers Malaysia (Registration no: 67418A).
Lionel & Parents - 2008 UNITEN Graduation.
Lionel joined the Oil & Gas Industry after graduation in 2008. He today has acquired experienced in project management for process and pipeline services with extensive experience in In-Line Inspections Operations, project management and coordination. His area of Specialties, the current vocation, is fulfilling the role of Project Manager of Baker Hughes Process and Pipeline Services in In-Line Inspection (ILI); Pipeline Pre-Commissioning, Project Engineering and Project Management.


CONCLUSIONS
Firstly, this article has narrated a typical Malaysian history regarding migration, homeland, ancestry, loyalty and uniform services (which incidentally also included the government services, army, navy, air force, boys' wing, women and voluntary bodies) and of course a gainful life after serving the Armed Forces.

Secondly, the RMC was established with the objective of preparing young Malaysians to become Officers in the Malaysian Armed Forces hold office in the higher divisions of public service and become leaders in the professional, commercial and industrial life of the country. The RMC episodes quoted are typical success stories.

It therefore hurts when people or politicians insinuate that the Chinese or other races are not patriotic. It hurts when people or politicians insinuate that Chinese or other races just do not want to join the armed services. It hurts when people or politicians insinuate that the Chinese or other races only want to serve in the upper echelon of leadership. It hurts when people or politicians insinuate that the Chinese or other races shy away from the Armed Forces because of the low salaries offered. This article countered all such uncalled for sweeping statements. The Soon story in fact depicts all the good ingredients of citizenry, loyalty and love for the homeland.

And, to add more in support to the above paragraph, although this may be the first written account of the Soon family from Bukit Mertajam, readers must surely understand that we are truly not just the only family to have a long list of descendants in this country, nor are we the only ones to have a number of family members serving our nation and homeland loyally, whether or not in the uniforms. There are many other unwritten or untold stories along similar lines. Of the cuff amongst Chinese and Eurasian families and in uniforms that I can recall – there are the Thong, Yuen, Kwong, Rodrigues, Stevensons and Lai families, just to name a few (and it is because one can easily recall the illustrious surnames of these families). Surely this bunch of people and thousands more cannot be simply labelled unpatriotic.

Truly, people and politicians are barking up the wrong tree, there must be more reasons than the eye can see on why there is a lack of Chinese or other races wanting to serve in the uniform these days, after all many (pre and post Independence) had already given their lives in doing so. As to the real why – a soul searching exercise related to disappointments (the real picture) from those that had served would be necessary.

And finally, to the youths out there, please do not give up and also please take heart that there is life and there are success stories during and after serving the Armed Forces. In fact the Armed Forces training instil loyalty, integrity, management, discipline and intellectuality, which are well sought after ideals in most civilian environments.
Compiled and Written by:

Lt Soon Tet Leong RMN (Rtd)

14 Aug 18