Lieutenant Colonel John Lai Kim Chee (Rtd)
MACVA Tribute To Lieutenant Colonel John Lai Kim Chee (Rtd)
PPM PPA PJM JPP KMN PBK

Malaysian Armed Forces Chinese Veterans Association (MACVA) would like to pay tribute to one of its heroes; Lieutenant Colonel (Lt Col) John Lai Kim Chee (John) (Rtd). Like other valour medals recipients, John belongs to a rare group of soldiers who have demonstrated extreme courage and valour in performing their duties when called upon.

Joining the Army
John was born on the 30th of May, 1942 in Serdang Baru, Sg Besi, Selangor. He came from a family of 12 siblings and his late father worked as an Assistance Engineer in The Telecoms Department. John had his primary education at Pasar Road English School, Chrocrane Road, Kuala Lumpur and continued to King George V (KGV), Seremban. He was later selected to join Federation Military College (FMC) Boys Wing at Port Dickson where he obtained his General Certificate of Education (GCE).
| | | | |
| --- | --- | --- | --- |
| | | | |
| Budak Boys March Past, Sovereign's Parade in Port Dickson, 1960. Source: http://swiftletz. blogspot.my | | Ghurkha Boys Boxing, 1959. Source: BALEP Singapore. | |
While studying in FMC Boys Wing, John represented the College in Boxing and recalled winning all his fights against Ghurkha Boys soldiers based in Sg Petani. The Training Depot of Brigade of Ghurkha in Sg Petani was established on 15th August 1951 and the camp was taken over by 6th Malaysian Infantry Brigade in 1972 when the Ghurkha's unit left for Hong Kong.
To Serve, to Strive and not to Yield. Budak Boy John Lai attended the 48th Outward Bound Course in Lumut, 1959.
The Uniform had always attracted him since young and after obtaining his GCE, John joined the Royal Military College (RMC) Cadet Wing at Sungai Besi. On 8th December 1961, John became a Cadet at RMC and joined the Regular Commission Intake 6. He was commissioned on 8th December 1963 and was assigned to the Royal Ordnance Corps. Full of exuberant, a young Second Lieutenant John Lai Kim Chee was posted to 4 Ordnance Maintenance Park (OMP) and was stationed in Singapore.
Cadet Junior Under Officer (JUO) John Lai is second on left. Picture courtesy of Lt Col Raymond Goh (Rtd).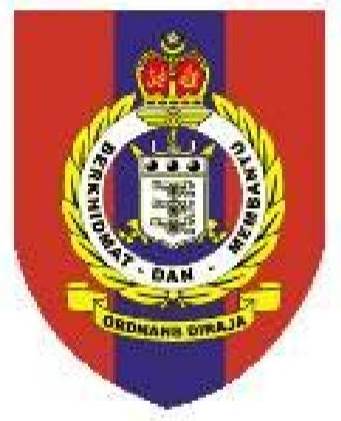 Royal Ordnance Corps
In 1966, Lieutenant (Lt) John Lai was selected to attend the Ammunition Technical Officer (ATO) Course at the Royal Military College of Science (RMCS) and the Royal Army Ordnance School (RAOC) of Ammunition in United Kingdom. An ATO is an officer involved in all aspects of the Army's use of ammunition. This includes bomb disposal, clearance of Explosive Remnants of War (ERW), explosives accident investigation, procurement, management, storage, inspection and repair.

The duration of the course was 14 months and consists of 2 parts. The first part was spent at RMCS in Shrivenham where John was provided with the scientific and technical basis for further training in ammunition and explosives. The syllabus includes an integrated study of mathematics, ballistics, explosives and general chemistry, physics, metallurgy, electronics and the design of armoured vehicles, artillery and infantry weapons. Nuclear, biological and chemical weapons design and the related protection systems are also introduced.
Royal Military College of Science (RMCS), 1970. Source: indpaedia.com/rmcs/photo.html
The second part of the course takes place at the RAOC School of Ammunition in Bramley, Hampshire. The syllabus covers conventional land munitions, explosive demolitions, conventional munitions disposal, guided weapons and explosive theory and safety. The school later moved to Defence EOD (Explosives Ordnance Disposal) Munitions Search School (DEMSS) Kineton in 1974 and subsequently to Defence EOD Munitions Search Training Regiment (DEMS Trg Regt).
Marlborough Hall (in foreground) and Wellington Hall in RMCS, May 1960. Source: indpaedia.com/ rmcs/ photo.html
ATO are technical experts in storing and processing ammunition in base depots, field storage sites and on operations where safety in storage is paramount to overall force protection. They develop specialist skills to look after stockpiles of ammunition. They carried out surveillance tasks, testing, inspecting, maintaining and disposing of all sorts of ammunition. This includes bullet clips; anti-aircraft guided weapon systems, mines, mortars, armoured rounds and aircraft bombs. ATO requires intelligence, clear thinking and analytical skills, a calm outlook coupled with excellent attention to detail, discipline and courage. Experienced ATO may be called to give evidence as expert witnesses in criminal or coroner's courts in relation to ammunition or explosives.
Roberts Hall in RMCS, 1969. Source: indpaedia.com/rmcs/ photo.html
Lt John Lai Ammunition Technical Officer Course Report, 1966.
Top: John's Bomb Disposal Badge which is worn above his name tag on the right.

Bottom: John's Ammunition Technical Officer Badge which is worn above his medals on the left.
Royal Ordnance Corps Ammunition Technical Officer
On his return from United Kingdom, John was assigned to the 1st Detachment, Ammunition Inspectorate in Kuching, Sarawak. He began his Army life as a Royal Ordnance Corps ATO on 5th February 1967. Some of his exploits during his exciting and dangerous career are as follows:-

(1) Disposed of Highly Decomposed and Sensitive Nitro Glycerin at Kuching JKR Quarry
In 1967 around mid-September while serving with the Ammunition Inspectorate in Kuching, John was requested to dispose of some highly decomposed and sensitive Nitro Glycerin at Kuching JKR Quarry. Invented in 1847, nitro glycerin also known as nitro-glycerine or nitro is a heavy, colourless and oily explosive liquid. It is used as an active ingredient in the manufacture of explosives, mostly dynamite, and as such it is employed in the construction, demolition, and mining industries.
Quarry blasting work in process. Source: minetech.com.my
Nitro Glycerin @ Nitro
The explosive had turned liquid and became most sensitive to vibration and shock. John obtained some neutralising agent from the Kuching Chemistry Department, soaked them in sawdust and applied them to the deteriorating explosives. He subsequently disposed of them at Semenggo Camp. The entire operation took two days and John was assisted by an Ammunition Technician.
Semenggo Camp Kuching, 2017. Source: pahlawan11.wixsite.com
(2) Disposed of Unstable Hand grenades, Mortar bombs and Rocket grenades in Bau Lake, Kuching
In 1968 around June while serving with the Ammunition Inspectorate in Kuching, John was requested to dispose of some unstable Hand grenades, Mortar bombs and Rocket grenades in Bau Lake, Kuching. As there were no breathing apparatus available, John had to use snorkel and a pair of flippers to dive in to lay the charges. Apart from destroying the ammunition in the lake; the explosion process blew up a large quantity of fish as well. John and his men had fresh fish that afternoon for lunch.
| | | | | |
| --- | --- | --- | --- | --- |
| | | | | |
| Mk 2 Grenade | M67 Fragmentation Grenade | 60mm Mortar Smoke | 81mm Mortar HE | 40 mm Rocket Grenade |
Bau Lake Kuching, 2014. Source:www.theborneo post.com
(3) Met Surrendering Communist Terrorists and Blowing Up Improvised Explosive Devices (IEDs) along Indonesian Border
In 1969 while serving with the Ammunition Inspectorate in Kuching, John received information from the local Police based at Tebedu, Sarawak regarding IEDs. He and a Police escort went to investigate the suspicious objects. John was armed with a 9mm Browning pistol strapped to his waist and a haversack full of explosives to blow up any IEDs discovered. His Police escort had a Small Machine Gun (SMG) slung over his shoulder. At that time Tebedu was a 'Black Area'.
Tebedu Border Post Kuching, 2017. Source:abangboyc.blogspot.my
About an hour of hiking along the narrow jungle track, they sighted two persons; later confirmed as Communist Terrorists (CTs) carrying shotguns fifty yards ahead. Both parties froze but made eye contact, whilst John reached for his Browning and the Police escort had readied his SMG; the two persons in front of them slowly raised their weapons in a surrendering gesture. No shots were fired by either party.

John recalled that his heart was pounding like a 105mm Shell exploding and realized that had the CTs ambushed them instead of surrendering, he would not likely be telling this episode. They escorted the surrendered CTs to the Army Unit at Tebedu and continued with their tasks ahead to blow up the IEDs at the locations indicated along the border.
IED's
(4) Labuan Ammunition Depot Incident
In 1975, a fire incident caused a massive explosion at the Labuan Ammunition (Ammo) Depot. About 200 tons of Explosives, Bombs, Rockets, Grenades, Pyrotechnics and Small Arms Ammo exploded and scattered around the Labuan Airfield. The debris was strewn within a perimeter of a few kilometres of the explosion. Nearby roofs of buildings were blown off and glass windows were shattered several kilometres away. A few fire brigade personnel were injured in trying to douse the fire.
RAF Labuan, 1963. Source: commons.wikimedia.org
A ship load of assorted ammo was just being discharged and placed on the roads in the Depot. There were waiting to be sorted out and placed inside the store houses when a fire broke out and reached most of the stacked ammo on pallets. The fire spread very quickly fanned by the afternoon breeze. John was working at HQ Ammo Organisation, Ministry of Defence (MINDEF) at the time of the incident and flew to Kota Kinabalu the next morning where an RMAF Alouette III helicopter was waiting to fly him to Labuan.
RMAF Alouette III Source:hiveminer.com/
John recalled that what he saw on the ground from the Alouette was exactly what Lt Col Wong Ah Jit (Rtd) (Wong) had described to him; a WAR ZONE. A Lieutenant then, Wong was the Officer in Charge of 24 Special Security Police Company (24 SSP Coy) and was posted to Labuan early that year. 24 SSP Coy main tasks was the security of the RMAF Labuan, the Ammunition Depot and the general discipline of the troops stationed in Labuan. Wong was on the scene to evacuate personnel in the barracks nearby in spite of his personal safety. John said that "Wong deserves a big medal for the most dangerous evacuation process with bombs, grenades and artillery shells flying all over the place".
Scattered Unexploded Ordnances (UXO) and Unexploded Bombs (UXB). Source:youthkiawaaz.com/
Scenes of Destruction. Aftermath of Ukraine Kalynivka Ammunition Depot Explosion involving 83,000 tons of ammunitions on 26 Sep 2017. Source:interfax.ru/ & media.englishrussia.com
Major (Maj) John Lai Kim Chee as the Chief Ammunition Technical Officer (CATO) then, was given the enormous task of making safe the area and the clearance of the debris of thousands of Unexploded Bombs (UXB), Artillery shells and grenades. With a dedicated team of Ammunition Officers, Ammunition Technicians (Tech) and Mine detecting teams from the Royal Malaysian Engineers (Sappers), the Airfield and its surrounding areas of buildings and secondary bushes were cleared inch by inch.
Royal Engineers Sappers with Mine Detectors. Source:xnuripilot.blogspot.my
The Sappers helped to locate the scattered ammunition and marked them with red flags. The Ammo Tech group would then assess every finding to decide whether to blow them or relocate them for Deep Sea Dumping. The Runway was not spared either where extended formation was formed to sweep every inch of it for debris.
Red Flags marking scattered amunitions. Source:underwater munitions.org
Every single round of damaged ammunition carried the risk of blowing up in one's face. It is said that you will know the true measure of a man when you see his behaviour under pressure. While carrying out the task of clearing the area with his team, two questions came to John's mind.

If it is not us then who else will do it?
We were trained to do the job and we just carried on doing what was expected of us.

Why take the risk under such dangerous circumstances?
We did not seek glory or praise. We were no heroes. We just did our job to ensure the whole area was made safe.
UXOs. Source: flickr.com
On one occasion a soldier assigned to help fill up sandbags for the demolition process was hit by a 105mm Artillery Smoke shell. He was flung 5 feet into the air and then dropped down on the ground breaking his arm in the process and his heart stop beating from the shock. Fortunately, a paramedic on hand managed to resuscitate and evacuated him by helicopter to Queen Elizabeth Hospital in Kota Kinabalu. His hand was reattached with a metal rod and he subsequently recovered.
105mm M84B1 Smoke Round Source: forums.g503.com
John spent the next six months on Labuan Island with his team to clear up the scattered debris and many occasions in dangerous conditions. Later, the whole area of incident was declared safe after a close inspection. The team dispersed with great satisfaction of a job well done with no fatalities in spite of facing and physically handling thousands of UXBs. An estimated amount of two tons of ammunition were cleared. The entire team thanked God for a safe dispersal and journey home.

John had demonstrated utmost bravery in leading as well as carrying out the dangerous and challenging task demanded of him successfully. He was conferred the Jasa Perkasa Persekutuan (JPP) in 1978. Also known as the Federation Gallantry Star, the award was created on 29 July 1960. It was formally gazette by an Act of Parliament on 11 August 1960. The recipient received a monthly allowance of RM 1000 and it can be conferred posthumously. John received his JPP medal from the 7th Yang DiPertuan Agong of Malaysia; His Majesty Sultan Haji Ahmad Shah on 7th Jun 1978.
Maj John Lai invitation for JPP Awards conferred by His Majesty DYMM Seri Paduka Baginda Yang DiPertuan Agong on 4 May 1978.
Lt Col John Lai Kim Chee (Rtd), 2017.
JPP Medal
Units Served:-
Dec 1963 – Nov 1964 4 OMP (Ordnance Maintenance Park), Singapore
Dec 1964 – Dec 1966 Ammo Sub Depot, Central Ordnance Depot (COD), Kuala Lumpur
Feb 1967 – Mar 1969 1 & 2 Detachment, Ammo Inspectorate 1st Division (1 Div), Kuching
Apr 1969 – Jan 1970 COD Logistic Division (Adjutant), Kuala Lumpur
Feb 1970 – Dec 1971 6 OMP, Kuching
Jan 1972 – Nov 1972 HQ Ordnance Corps 1 Div, Kuching
Dec 1972 – Nov 1973 Ordnance Directorate, Logistic Division (Log Div), Kuala Lumpur
Dec 1973 - Dec 1975 MOP (Markas Ordnan Peluru), CATO (Chief ATO), Kuala Lumpur
Jan 1976 – Dec 1977 COD Log Div, Kuala Lumpur
Dec 1977 – Dec 1979 HQ Ordnance Corps 1 Div, Kuching
Meeting Deputy Defence Minister YBM Tengku Tan Sri Ahmad Rithauddeen, 1970.
Closing Ceremony for Materials Handling Course at 71 Royal Ordnance Corps Kuching, 1978.
Jan 1980 – Sep 1981 Ordnance Directorate, Log Div, Kuala Lumpur
Oct 1981 – Feb 1984 HQ Ammo Organisation, CATO, Log Div, Kuala Lumpur
May 1984 – May 1987 Log Div, Kuala Lumpur
Staff Meeting 1 Div. Planning for Annual Exercise, 1987.
1 Div Annual Exercise at Camp Paradise Kota Belud, 1987.
1 Div Mess Reception with GOC Major General Datuk Seri Panglima Abdul Manap bin Ibrahim and Deputy Chief Minister Sarawak, Tan Sri Alfred Jabu, 1991.
1 Div Mess Reception, 1991.
Lt Col John Lai Commendations Letter from GOC 1 Div for being the Parade Commander during 1 Div Silver Jubilee Celebration Parade on 1 Jul 1991.
Courses Attended:-
Aug 1964- Sep 1964 Ordnance YO (Young Officers), Kuala Lumpur
Jan 1966 – Feb 1967 Ammunition Technical Officer, United Kingdom
Oct 1967 - Dec 1967 YO Tactics, Port Dickson
Jul 1970 – Oct 1970 Planning & Work Study, India
Sep 1972 - Nov 1972 All Arms Tactics, Ulu Tiram
Jan 1976 – Mar 1976 Supply & Materials Management, United Kingdom
Jan 1977 – Dec 1977 Staff College, Kuala Lumpur
Sep 1985 – Nov 1986 Senior Officers Course, Port Dickson
Planning & Work Study, India
Supply & Materials Management, United Kingdom
Staff College, Kuala Lumpur
Honours and Awards:-
1969 Pingat Perkhidmatan Malaysia (PPM), Ministry of Defence
1977 Pingat Perkhidmatan AM (PPA), Ministry of Defence
1978 Jasa Perkasa Persekutuan (JPP), Yang Di-Pertuan Agong His Majesty Sultan Haji Ahmad Shah
1989 Kesatria Mangku Negara (KMN), Yang Di-Pertuan Agong His Majesty Sultan Azlan Shah
1992 Pegawai Bintang Kenyalang (PBK), Governor Sarawak Tun Datuk Patinggi Hj Ahmad Zaidi
2015 Pingat Jasa Malaysia (PJM), Governor Sarawak Tun Pehin Sri Abang Hj Muhammad Salahuddin
John receiving his awards.
With siblings.
With siblings and their spouses.
With wife Anita and son Chris.
L to R: John, Anita, grandson Fernando, Fylice (Chris wife), Chris, Sister in law and husband.
Humour and personal thoughts:-
Labuan Incident
On completion of the bomb disposal duties in Labuan and nicely burnt brown and black in the blazing hot sun; I returned home for a short break. My 4 year old son opened the door and ran to his Mommy saying "Mommy there is a very dark Uncle at the door". I guess this happens to all our comrades who are away on Ops and other duties when they return home.

On Joining the Army
Looking back I have no regrets and enjoyed the privilege of Serving King and Country together with all my comrades in arms.

On Dealing with IEDs, UXBs
We were no heroes. We just did do our job and did what we are trained for.

Will you join the Army if you can do it all over again?
Yes but leave out the ATO career! The Army career is well rounded and character building. Apart from comrades in the fighting arm I have great friends from all professions in the Army; Doctors, Lawyers, Engineers and many more other professionals from different Corps.
With wife Anita.
Honourary Brig Gen Award To CM Sarawak Reception, 9 Apr 18.
Lt Col John Lai Kim Chee (Rtd) SN: 200209 retired from the Malaysian Army on 1st May, 1993 after serving with pride and dedication for 30 years. He had shown extreme courage and valour when called upon to perform a most difficult task for our beloved Country. John is married to Anita Ho and they are blessed with a son and a grandson. They currently reside in Kuching, Sarawak.

MACVA is very proud of John's achievements and his sacrifices for King and Country. We wish him good spirit and good health in enjoying his well-deserved retirement with his family.


Maj Wong Kwai Yinn (Rtd)

22 Apr 18

References:
A. Ammunition technician. https://en.wikipedia.org/wiki/Ammunition_technician
B. Perkara Berkaitan Senarai Pingat JHEV ATM www.jhev.gov.my/.../perkara_berkaitan_pingat _veteran_atm.pptx
C. Bau Lake remains arsenic http://www.theborneopost.com/2014/04/27/bau-lake-remains-arsenic/
D. 11 RAMD http://pahlawan11.wixsite.com/11ramd/hubungi-kami
E. Nitroglycerin https://en.wikipedia.org/wiki/Nitroglycerin
F. Malaysian Army Equipments https://en.wikipedia.org/wiki/ListoequipmentoftheMalaysian_Army
G. IEDs / Bobby Traps https://www.globalsecurity.org/military/intro/ied.htm
H. Labuan 1962-3 https://commons.wikimedia.org/wiki/File:Labuan-1962-3.JPG