Colonel Maurice Lam Shye Choon (Rtd) PGB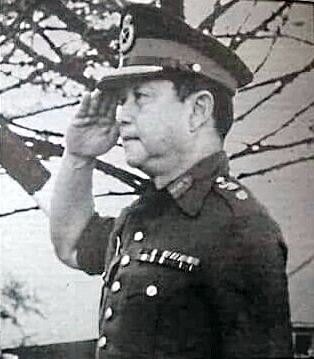 Colonel Maurice Lam Shye Choon (Rtd) PGB
MACVA Tribute To A War Hero - Colonel Maurice Lam Shye Choon (Rtd) PGB

Malaysian Armed Forces Chinese Veterans Association (MACVA) would like to pay tribute to one of its hero's; Colonel (Col) Maurice Lam Shye Choon (Rtd) PGB who belongs to a rare breed of soldiers that has display extreme courage in the face of the enemy when called upon.

ONUC (Organisation des Nations Unies au Congo)
On 30 June 1960, Belgium Congo received their independence admist political and administrative chaos. The situation quickly developed into secession with different factions claiming sovereignty over parts of the country. Congo appealed for military intervention from the United Nations Secretary General. The United Nations deployed a multi-national force which facilitated the withdrawal of Belgium troops but the power struggle and hostilities between the different factions escalated beyond control resulting in United Nations intervention.

In a request by United Nations Secretary General Dag Hammarskjold, Malaya send a Special Force to serve in ONUC. On 24 August 1960, Malayan Special Force (MSF) comprised of 613 men. The original force was drawn from two of the finest units in the Federation Army, 4th Battalion Royal Malay Regiment and C Squadron 2nd Reconnaissance Regiment. It had a complement of 42 officers and 571 other ranks.
A captured Katangese M 8 Greyhound armoured car used by Swedish UN battalions in the Congo, 1962-1964. Source: wikipedia.org
On 4 October 1960, the MSF set sail from Port Swettenham (Port Klang) for the 27 day journey to Port Matadi. Lt Col Ungku Nazaruddin, Commanding Officer of 4th Royal Malay Reginent, was the MSF Commander.
| | | |
| --- | --- | --- |
| | | |
| Kuala Lumpur railroad station, a military band is on hand for the departure of the Malayan Special Force to Port Swettenham, 4 October 1960. Source: UN News & Media Photo. | Members of the families of Malayan soldiers leaving for the Congo bade farewell. The soldiers will depart from Port Swettenham aboard the U.S.S. Whitfield County, 4 October 1960. Source: UN News & Media Photo. | |
When several nations withdrew, the UN appealed to nations with less volatile leadership to fill the void. Malaya committed another 800 troops, totaling 1,413 men. The bulk of this reinforcement departed on April 7, 1961. The Commander was Brig Gen Abdul Hamid bin Bidin and Col Maurice Lam (Rtd) PGB, a Captain then with A Squadron 2nd Reconnaissance Regiment (A Sqn 2 Recce) was part of this Malayan Special Force Brigade.
Malayan Special Force leaving for the Congo, 1st July 1961. The Prime Minister Tunku Abdul Rahman and his deputy Tun Abdul Razak bin Hussein on board the U.S.S Blatchford just after adressing the Malayan soldiers who were leaving Port Swettenham to relieve the first MSF in the Congo. Source:7th Rangers–Incidcent in Kindu.
Peacekeeping In Congo
A Sqn 2 Recce was commanded by Maj Lakhbir Sing Gill with Captain (Capt) Maurice Lam as the Second in Command (2IC). The Regiment was commanded by Lt Col Roger Nixon, as part of the MSF. They were tasked as peacekeepers from April 1961 to January 1962. The Squadron was stationed in Goma, Kivu Province, Congo and was initially deployed to Bukavu, after which it was flown to Leopoldville and then to Stanleyville.
A Sqn 2 Recce Officers at Elisabethville, Katanga. Front L to R: 2Lt Abdul Rahman Dato Hussien, Capt Maurice Lam, President Moise Tshombe, Maj Lakbir Singh and 2Lt Sam Low Tung Yeow. Back L to R: 2Lt N.H.Siebel and 2Lt Michael Chong Boon Tick. Photo courtesy of Lt Col Tan Siew Soo (Rtd).
After Bukavu, Second Lieutenant (2Lt) N.H. Siebel, a Troop Leader was detached from A Squadron and placed under command of B Company 6th Royal Malay Regiment which was at Kindu, Maniema District since July 1961. He had with him 4 Ferret Scout cars which were manned by 7 men. They were to assist the Company in guarding Kindu airport from being overrun by the rebels. The OC of B Company acquired an isolated bungalow a kilometer away from the airport and converts it to an Officers Mess.
Captain Maurice Lam in Stanleyville, Democratic Republic of Congo. Behind him is a Scammel recovery truck. Source: Old soldiers never die, 24 Feb 2016. Malay Mail Online .
Incident in Kindu
The Commander of MSF, Brig Gen Abdul Hamid bin Bidin decided to further reinforce Kindu Airport where A Squadron was deployed from Leopoldville and was commanded by then 2IC Capt Maurice Lam. The troops and equipment were flown in by 2 UN aircrafts. The two C-119s, twin-engined transport aircraft were based at Pisa Airfield, Italy and manned by 13 airmen from the Italian Air Force. Both aircraft landed at the Kindu Airport on noon of the 12 November 1961.
A Fairchild C-119G of the Italian 46ª Aerobrigata based at Pisa Airfield. Source: wikipedia.org
While the Malayans and Italians were having lunch break at the Officer Mess, about 40 Congolese rebels attacked and besieged the Officers Mess and Kindu Airport. They killed 1 Italian airman and captured the rest, mistaking them for Belgians. Capt Maurice Lam showed tactical prowess and courage by deploying two armoured cars to recapture the Officers Mess. Bold action from him successful rescued personnel, equipment and weaponry of the Malaya Special Forces. 14 Ferret Scout cars belonging to A Squadron, and the two Italian aircraft were prevented from falling into the hands of the Congolese rebel army.

It was learned later the airmen were dismembered, and sold as meat in the market. In February 1962, an Austrian Red Cross convoy, escorted by a contingent of Ethiopian peacekeepers and accompanied by two officers of the 46th Brigata Aerea, uncovered the mass grave where they were buried. It was in the cemetery at Tokolote, a small village on the banks of the Lualaba River. The bodies, protected by a thick crust of clay were still identifiable. The remains of all 13 airmen were transported to the airport of Kindu by an Italian C-119 and subsequently returned to Italy on board a United States C-130 Hercules transport aircraft.
The remains of the 13 Italians airmen at Kindu Airport. Martyrs of A Peacekeeping Mission. Source: VisitFiunicino.com
Both Capt Maurice Lam and 2Lt N.H.Siebel were conferred the 'Pingat Gagah Berani' for valour by the 3rd Yang DiPertuan Agong, Almarhum Tuanku Syed Harun Putra ibni Almarhum Syed Hassan Jamalullail at the Tunku Abdul Rahman Hall in Ampang, Kulau Lumpur on 5 June 1963.
Col Maurice Lam (Rtd) PGB was born in 1928 and hailed from Jalan Kelawai, Penang. He had his early education at the Wellesley Primary School, Hutchings School and Penang Free School and his Secondary Education at Stephen's College in Hong Kong.

His father, Lam Kin Sang, a lawyer sends him to Australia to further his studies in Dentistry at University of Melbourne. He returned home after 2 years determined to join the Malayan Armed Forces and serve his country in the best way he knew how.

In 1954, he attended Officer Cadet Training at the Pre-Officer Cadet Training Unit (Pre- OCTU) in Port Dickson and was one of the few Chinese selected to join Intake 3 of the Federation Military College (FMC). After 6 months in Pre-OCTU, he attended Officer Training at the Royal Military Academy Sandhurst from March 1955 to July 1956. Upon commissioned as 2nd Lieutenant, he was posted to the 2nd Federation Armored Car Regiment.

In 1957, he married his sweetheart Mdm Mary Low. 2nd Federation Armored Car Regiment was based in Kluang and commanded by Maj John Terry. It was later enlarged and renamed 2nd Reconnaissance Regiment with Lt Col Keit Robinson as its Commanding Officer. During the First Emergency, 2Lt Lam was frequently involved in patrol and escort duties throughout the country.

He took up the post of Second in Command of the 4th Battalion Malaysian Rangers after serving the Reconnaissance Regiment for 15 years. He subsequently attended a Psychological Operations course in United States and Army Staff College. He did 'Psyops' duties in MINDEF and in the Prime Minister's Department.

Lt Col Maurice Lam Shye Choon (Rtd) PGB was Commanding Officer of 7th Battalion Royal Rangers (Mechanized) from 19th May 1977 to 15th September 1979. He took over command whilst the battalion was still on operations in Kanowit, Sibu, Sarawak.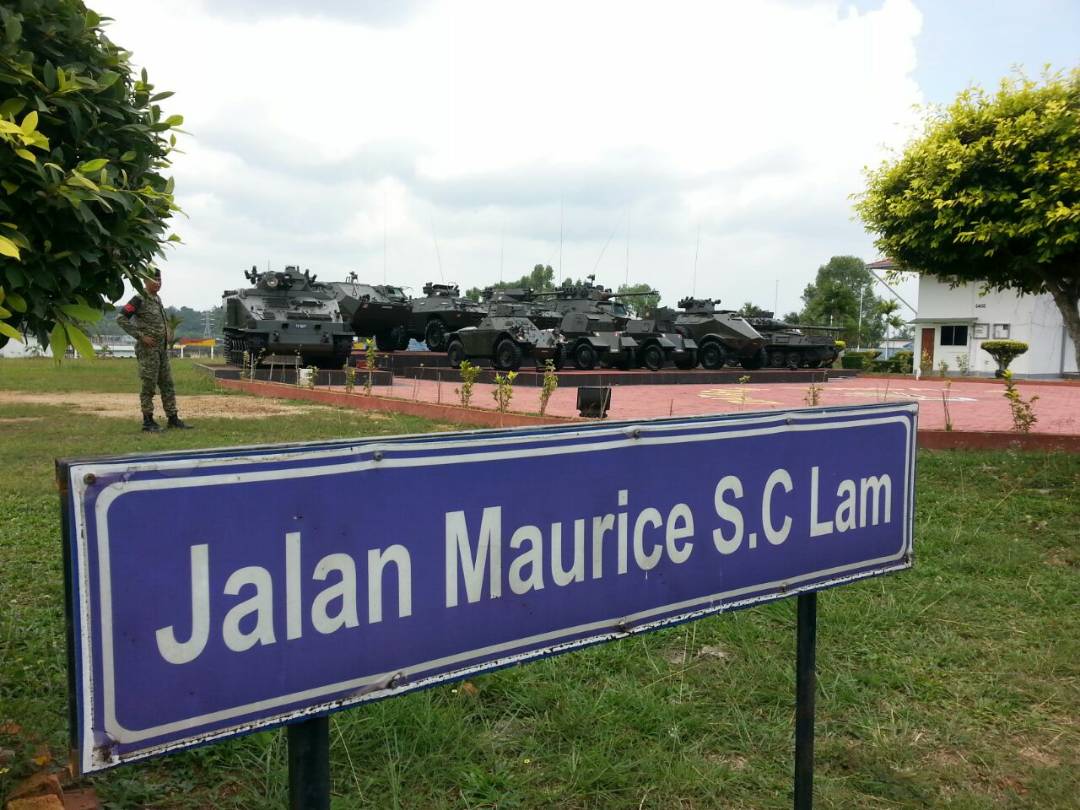 Jalan Maurice S.C Lam at Sungala Camp, Port Dickson. Photo courtesy of Lt Col Tan Siew Soo (Rtd).
Col Maurice Lam Shye Choon (Rtd) PGB SN:200051 retired while attached to MINDEF in the early 90s. He had served the country for 33 years with pride and dedication. He had passion for the Military and he enjoyed every moment of his 33 year career. He also said that if he was born again, he would take the same line in his life, without any regrets. He passed away on 13 February 2016 leaving behind his wife, Mdm Mary Low and 3 daughters.

A nation war hero, MACVA is very proud of his achievements and may this tribute be a small token of appreciation for the sacrifices that he had made for King and country.


Maj Wong Kwai Yinn (Rtd)

23 Oct 2017

References:
A. Old soldiers never die http://www.themalaymailonline.com/what-you-think/article/old-soldiers-never-die...-lew-yew-meng#eyPKqehzoelwLeSw.97
B. Penang, Penang lang http://teochiewkia2010.blogspot.my/2011/06/colonel-maurice-lam-shye-choon.html
C. UN Operation In Congo http://www.wikiwand.com/en/United_Nations Operation_in_the_Congo
D. UN News & Media Photo http://www.unmultimedia.org/photo/gallery.jsp?
E. 7th Rangers – Incidcent in Kindu http://www.7rangers.com/2006/03/incident-in-kindu-congo-2lt-nh-siebel.html
F. VisitFiunicino.com http://www.visitfiumicino.com/tour/visita-la-grande-stele-che-ricorda-chi-mori-per-la-pace/?lang=en