MAJOR TAN PAU SON (RETIRED) A.K.A. PRECIOUS HILL
Major Tan Pau Son (Retired), MACVA President
MACVA, which initially started off as the Malaysian Army Chinese Veterans Association, was officially registered on 31st August 2016 by a group of Chinese Army Veteran Officers under the Veterans Act 2012. And then, on 7th November 2017, it extended its membership drives to include the Veterans of Army, Navy and Air Force officers and other ranks. The new name was then changed officially to Malaysian Armed Forces Chinese Veterans Association with the MACVA acronym being retained. It is today the platform for Veterans from all ranks to socialise and recall their experiences while in service with the Malaysian Armed Forces (MAF).

On 19th March 2017, MACVA held its very first Annual General Meeting, to elect a Management Committee for a period of two years; Major Tan Pau Son (Retired) was elected as the inaugural President for the period of 2017-2019.

He left the Army (Ordnance Corps) on 18 August 1978 as a Major with the full blessings of the Malaysian Armed Forces Council and was paid a gratuity, despite being a Regular Service Commissioned Officer who had served only 15 years 6 months.

He remains active, as the Executive Chairman of Tanming Group of Companies. He goes to office three mornings a week. Pau Son lives with his wife Diana Tho Siew Wah and they are blessed with two daughters, two sons-in-law and five granddaughters.
| | | |
| --- | --- | --- |
| | | |
Wedding reception on 1st Feb 1970 at Officer's Mess, Batu Garrison, Kuala Lumpur.
Family photo 2017.
Sri Lanka, June 2018.
Rise from Poverty
Pau Son or "Precious Hill" in Mandarin was born on 19th January 1944 in Muar, Johor. He was born into a poor family. Despite those setbacks, he was able to receive his early education in Malacca High School up till 1958.
He was then selected and accepted into Form 3 of the Federation Military College (FMC) in 1959, the precursor to the Royal Military College then. He completed his secondary schooling in the FMC. Apparently, he did well enough in his Senior Cambridge to qualify for entrance to form 6 in 1962.
Pau Son; Front Row 4th from right.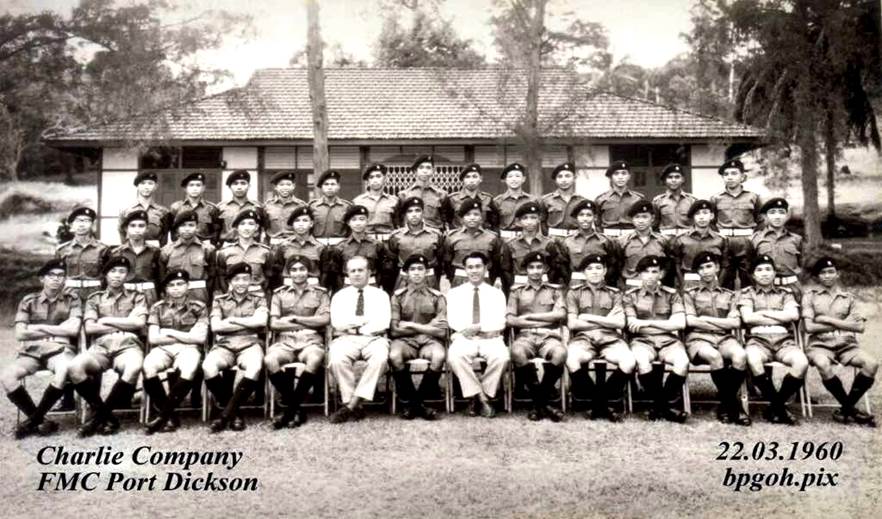 Pau Son; Back Row 1st from left.
Pau Son; Front Row 3rd from right.
The FMC was established with the objective of preparing young Malaysians to become Officers in the Malaysian Armed Forces, leaders in the Malayan Civil Service and corporate sectors. It was therefore not too surprising that, on 5th January 1963, he was selected for Officer Cadet training. This put him into the 7th Intake Regular Commission category. Pau Son was commissioned as a 2nd Lieutenant on 5th December 1964 in the Ordnance Corps or Kor Lengkapan, Angkatan Tentera Malaysia.
| | | |
| --- | --- | --- |
| | | |
In the Malaysian Armed Forces, he had served in Singapore, Sarawak, Pahang and the Ministry of Defence. He was also seconded to the Defence Research Centre (DRC) to undertake the Electronic Data Processing (EDP) Feasibility studies for the Army for two years.

From 2nd June to 12th December 1969 he attended the No 70 Ordnance Officers' Course in Blackdown, England.

Whilst still serving in the MAF, Pau Son through private home studies completed and passed the professional examinations of the Institute Of Chartered Secretaries & Administration (ICSA), Association of Chartered & Certified Accountant (ACCA) and the Chartered Institute of Management Accountants (CIMA) in the shortest time allowed for by the professional bodies in the United Kingdom and without failing in any of the 30 papers. This is a feat totally reflective of Pau Son's personal drive and determination throughout his adult life.
With those prestigious qualifications already behind his name, the Ministry of Defence (MINDEF) officially permitted Pau Son to become a part time lecturer in the School of Business Studies in Tunku Abdul Rahman College (TAR) to overcome the shortage of accounting lecturers. He continued teaching part time from 1973 until 1976, after which he became an external examiner for TAR College until 1980.

It may be prudent at this point to note that he achieved success through personal drive and determination. He had wanted to chart out a future from outside the Armed Forces and had applied for an early retirement.
The MAF had a Thrift & Loan Cooperative Society established in the 1960. The main activities and functions of the Cooperative Society at that point of time were to facilitate savings and mortgage loans (thrift & loan).

The Government, having seen the incorporation of many multipurpose cooperative societies in the country decided that the MAF had to revamp and establish one for their servicemen. The choice was either to engage professionals from the cooperate sector or from the MAF to establish the cooperative society. The Armed Forces Council decided on one of their military officers to undertake the task.

Pau Son was the MAF's first fully qualified chartered accountant and chartered secretary and he was selected by his superiors for the task ahead. He was seconded for the next two years from 1976 to help set up the new Koperasi Tentera (KT), which is today one of the strongest and most successful Cooperative Society in Malaysia.

Home ownership is a perennial problem for military servicemen. KT bought 242 double storey terrace houses (land size of 22' x 75') being the whole Phase 2 of Taman Melawati at 10% block discount. The houses were sold to members at average price of RM 45,000. Moreover, KT negotiated with OCBC and Kwong Yik Bank to provide 90% end financing and each purchaser had to pay only the down payment of 10%, which could also be borrowed as personal loan from KT. Thus KT members could own a terrace house with 100% financing. The current market value is averaging RM800,000 each.

Tun Tan Siew Sin always valued the contributions of the MAF and cared for the welfare of servicemen. Upon his retirement as Finance Minister and from politics he offered a substantial block of his family's shareholding in Pacific Bank at a substantial discount of 40% (offered RM1.15 per share when the net asset backing was RM1.90). Tun Tan also arranged 100% full financing from OCBC as there was sufficient safety margin of 40% for loan of RM1.15 per share with net asset backing of RM1.90. Moreover, the dividends paid by Pacific Bank were adequate to cover financing cost as well as investment profits. Thus, KT made substantial gain when Pacific Bank was listed in KLSE and subsequently exchanged for Maybank shares which have paid yearly dividends & contributed to KT's ability to pay high dividends of more than 10% to its members.

After the task at the KT was completed, Pau Son applied for and was granted an early retirement on 18th July 1978 after serving for 15 years and six months. The Armed Forces Council approved his early retirement, and also recommended and granted him a gratuity, notably the very first such gratuity payment ever made to a regular commissioned officer in the Armed Forces then. Furthermore, though he retired in the rank of a Major in July 1978, it was officially recorded in his Retirement Bluebook that his last drawn salary was recorded at RM1,650.00 and a gratuity of RM46,035.00. It appeared that the salary and gratuity calculations granted were equivalent to that of a full Colonel.
Business Venture
On his retirement from the Army in 1978, he and a few of his friends bought 40 acres of agricultural land in Taiping, Perak, for RM10,000.00 per acre. After converting the land use from agricultural to residential, the land was sold at RM50,000.00 per acre and with his share of the profit he founded Tanming Berhad on 14 February 1979. He has not looked back since.

In order to increase the quantity of affordable housing for the B40 group, Tanming Group has fulfilled all its obligations and completed 371 Rumah Selangorku of 3 bedrooms with 2 free car parks.

In Dengkil, 198 units of 930 sq ft at selling price not exceeding RM200k. In Sungai Long, 173 units of 986 sq ft at selling price not exceeding RM250k. Tanming group is one of the very few private housing developers to have built and delivered completed Rumah Selangorku to the buyers.

Tanming Bhd has built to date more than 8,000 housing, commercial and industrial units especially in the new township of Tanming Jaya's 250 acres. As the Executive Chairman and a majority shareholder, he had helped develop Taman Taming Jaya from an outback new village into a bustling township today. He has also successfully developed and delivered on time all houses and factories for the last 39 years, a strong point in his trade.
Taming Indah @ Sungai Long, 226 Units of Double Storey Semi Detached Houses.
Rumah Selangorku Pangsapuri Jenderam Indah, Dengkil 198 Units, 930 Sq Ft, 3 Bedrooms @ RM200k.
Rumah Selangorku Pangsapuri Taming Mutiara, Sg Long 173 Units, 986 Sq Ft, 3 Bedrooms @ RM250k.
Malaysian Armed Forces Chinese Veterans Association (MACVA)
At the inaugural AGM of MACVA held on 19th March 2017 Major Tan Pau Son ( Retired ) was elected as its first president and ever since he has been kept busy in the welfare of Chinese veterans, recruitment of Chinese youths and the association's activities for MACVA to be "A Credible Voice"
MAF Chinese New Year Celebration 6th Mac 2018.
2018 Visit Hospital Angkatan Tentera Tuanku Mizan.
2017 Chinese Youth Recruitment.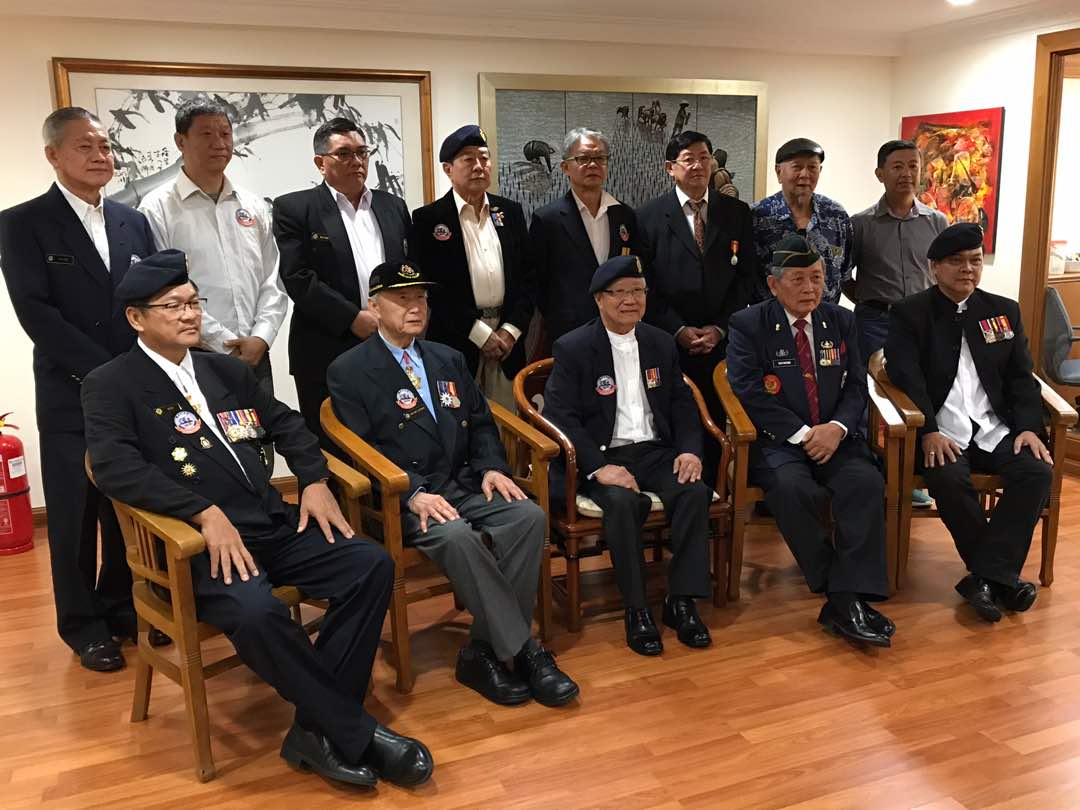 15/3/18 Press Conference to rebut Ismail Mina Ahmad who claimed that the Chinese did not serve in the MAF.
10/4/18 Qing Ming Remembrance Day for innocent victims killed during the Japanese Occupation of Malaya.
Payback to Society
Tan Pau Son had built a fortune for himself starting from zero. A true rags to riches story, and of course his is a very successful story after having served the Armed Forces. Today, in giving back to the society which had enabled him to build his housing development business, he had made numerous donations and contributions as his own way to repay society. Some of his donations are as follows:-
Ven K Sri Dhammaratana Chief High Priest of Malaysia. Donated RM 1 million for purchase of land in Bangi for building of Ti-Ratana Welfare Home (8/8/05).
Donated 0.83 acres freehold building land (currently value at RM3 million) at Lot 19705 Mukim of Kajang for extending land size of Masjid Taming Jaya from 1.5 acres to 2.3 acres for building a sizeable mosque.
Art Gallery ATELIER 11 of 4,377 sq ft at Taming Jaya for a CSR project to encourage Malaysian youths to take up ink and oil painting.
Old Putra Association – Building and Education Fund (6th Nov 1996).
Keeping in close touch with his 7th regular intake and their wives.
18th July 2018 to Congratulate OP Minister, Speaker & Deputy Speaker. From Left - OP Syed Saddiq, OP Yaakob Sapari, OP Ariff, OP Ismail, OP Rashid Hasanon, OP Tan, OP Samuel Ong.
For the last 19 years Pau Son has hosted lunch every Wednesday for "budak boys" to socialize and recollect their early college days in FMC/RMC.
PM Tun Mahathir, Tun Siti Hasmah, Dato Ariff (Dewan Rakyat Speaker), YB Syed Saddiq (Minister of Youths & Sports) and Old Putera (8/4/18).
President & CEO of AIA Group Ltd, OP Ng Keng Hooi's dinner (June 2017).
Visiting OP Speaker Dewan Rakyat by 8 OP (8th Aug 2018).
As quoted earlier, the RMC was established with the objective of preparing young Malaysians to become Officers in the Malaysian Armed Forces and to hold office in the higher divisions of public service and to become leaders in the professional, commercial and industrial sectors. Major Tan Pau Son is in fact the perfect epitome of the RMC.
31st July 2018 – Hari Pahlawan @ Tugu Negara Organised by MACVA.
Recorded for MACVA Archives.

Lt Soon Tet Leong RMN (Rtd) and Lt Col Carol Loo Lee Fum (Rtd)

22 Aug 18