Sergeant Choo Woh Soon (Rtd) PGB
With PGB's medallion recipients.
MACVA Tribute To A War Hero - Sergeant Choo Woh Soon (Rtd) PGB

Malaysian Armed Forces Chinese Veterans Association (MACVA) would like to congratulate one of its hero's; Sergeant (Sgt) Choo Woh Soon (Rtd) PGB for being conferred the Prime Minister Gold Medallion during the recent Veteran Gathering Event at Mines International Exhibiton and Convention Centre (MIECC), Selangor on 31 Jul 17. Together with his fellow recipients and other honour award holders who were not present on this occasion and those that have passed on, Sgt Choo (Rtd) PGB belongs to a rare breed of soldiers who have faced and eliminated the country enemy when called upon.
| | |
| --- | --- |
| | |
| At MACVA Office, the Boulevard, Mid Valley City. | L to R: Capt Dato Liew Siong Sing (Rtd), Brig Gen Dato Lau Kong Cheng RMAF (Rtd), Maj Tan Pau Son (Rtd), Sgt Choo Woh Soon (Rtd) PGB and Maj Lee Ah Pow (Rtd) PGB. |
On 9 Aug 17, The Star and Sin Chew Daily conducted an interview on MACVA in conjunction with Merdeka Day. The event took place at MACVA office at the Boulevard, Mid Valley City. Among those interviewees relating their heroic stories and contributions while serving the Malaysian Armed Forces was 80 years old Sgt Choo (Rtd) PGB.
He was conferred the Panglima Gagah Berani (PGB) on 4 Jan 1961. The award was presented by the 3rd Yang DiPertuan Agong, Almarhum Tuanku Syed Harun Putra ibni Almarhum Syed Hassan Jamalullail at the Tunku Abdul Rahman Hall in Kula Lumpur on the 5 Aug 1965. An Order of Honour award, PGB was created on 29 July 1960 and formally gazetted by an Act of Parliament on 11 August 1960. Translates to "General of Bravery and Valour", the award can also be conferred posthumously. For members of Malaysian Armed Forces, it is awarded for act of extreme bravery and valour. Recipients received a monthly allowance of RM300 that have been increase to RM1500 since 2009.
Sgt Choo (Rtd) PGB medal is far left.
Sgt Choo (Rtd) PGB was conferred the award for act of extreme bravery during Operation Seladang in Pahang on 18 Aug 1959. A LCpl then, he single handedly eliminated 3 enemies during an ambush which one of the enemy killed was a Branch Committee Member of the Malayan Communist Party who was involved in the ambush and the killing of the High Commissioner of Malaya, Sir Henry Gurney in 1951. For detail events of this operation, please read Renjer Valour - Operation Seladang by Maj D.Swami Gwekanandam (Rtd).

Retelling the 58 years old incident during the interview by The Star and Sin Chew Daily, "He recalled that when he first saw the enemy, he thought that he was an aborigine. He came so close to his position that he can shake hands with him. When he saw his 'Tommy Gun' by his side, he realised that he was the enemy. When two more of them appeared and noticed him, he open fire at them despite their bullets flying past him and killed all three of them."
56 yrs old congratulation letter from Lt Gen Sir Rodney Moore. Publish with owner permission.
Sgt Choo (Rtd) PGB hailed from Perak and was born on 2 Jan 1938 in Ipoh. He had his early education in a Chinese School and continue his studies at the Methodist School in Tanjung Rambutan. He joined the Army, known as the Templer's Army then, on 21 Jan 1956. After undergoing recruit training in Kuala Kangsar, he was placed in 1st Battalion Federation Regiment, which later became the 1st Reconnaissance Regiment.
| | |
| --- | --- |
| | |
When asked what inspired him to joined the Army back then ? "He replied that there were not much job around at that time and it was a newspaper article about the late Tun Dato' Sir Tan Cheng Lock asking Chinese Youth to join the Army then and he did".

He attended further courses in Port Dickson, Melaka, Sg.Petani and Kuala Lumpur. After promotion to Lance corporal, he became an instructor at the Recruit Training Centre. He was an Armored Vehicle Commander in Congo from 13 Jan to 13 Jul 1962 and attended the Junior Leaders Tactics Course in New Zealand from the 29 Jun to 4 Sep 1967.
Standing back row: Sgt Choo (Rtd) PGB is far left (1964).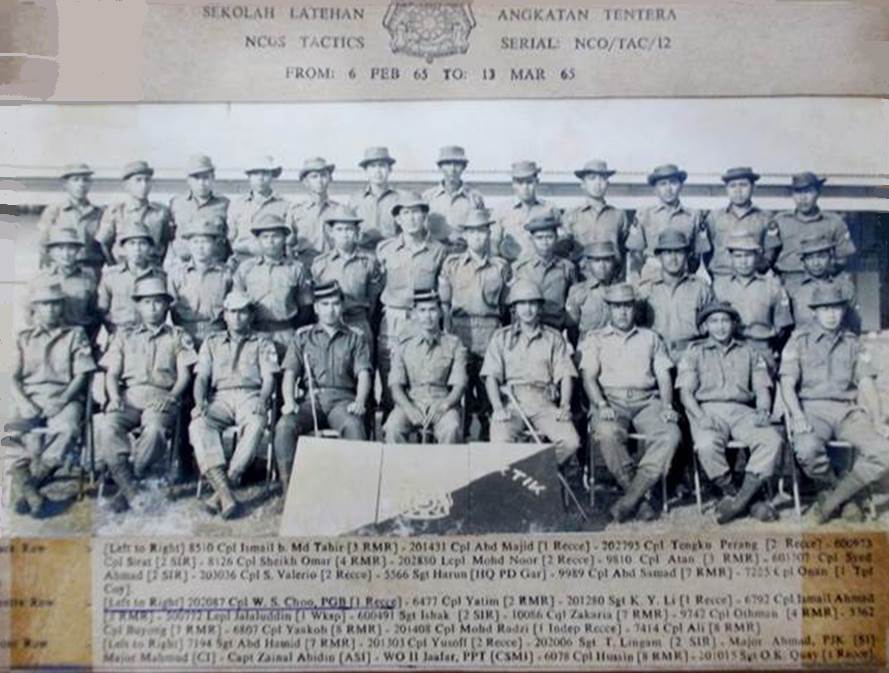 Standing middle row: Sgt Choo (Rtd) PGB is far left (1965).
Standing back row: Sgt Choo (Rtd) PGB is center, No.7 from left (1968).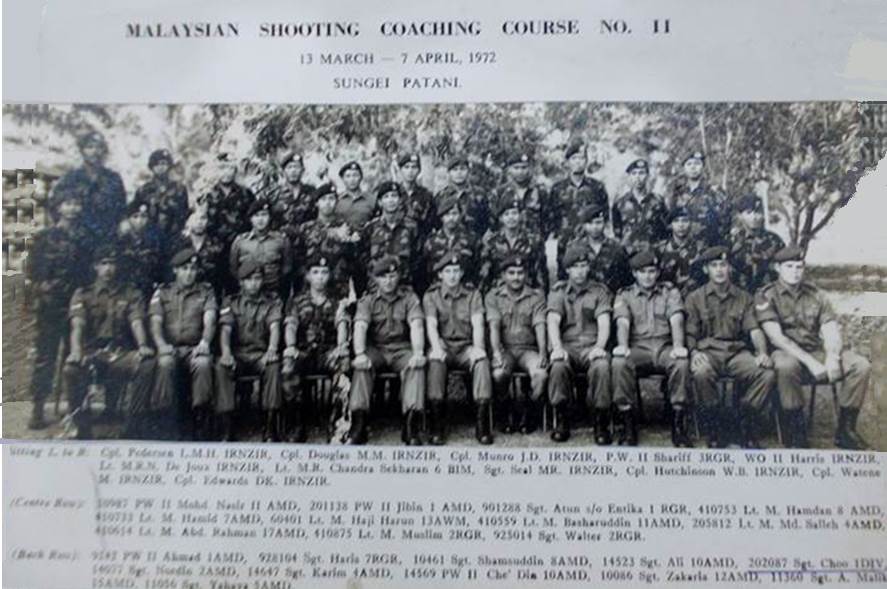 Standing back row: Sgt Choo (Rtd) PGB is No.5 from left (1972).
Sergeant Choo Woh Soon (Rtd) PGB SN:202087 retired from the service on 20 Jan 1979 after serving with pride and dedication for 23 years He has a son, a daughter and are blessed with 6 grandchildren. He currently reside with his son in Kamunting, Taiping. MACVA is very proud of Sgt Choo Woh Soon (Rtd) PGB achievements and sacrifices for King and country. A nation war hero, MACVA wishes him good spirit and good health in attending all forthcoming Armed Forces Day, Warriors Day and Merdeka Day celebrations.
Kwai Yinn and Woh Soon in Ipoh.
Maj Wong Kwai Yinn (Rtd)

23 Aug 17

Pictures:
Lt Col Ir Raymond Goh (Rtd) for photos at Veteran Gathering Events, MIECC.

References:
A. Renjer Valour - Operation Seladang http://renjervalour.blogspot.my/2006/06/operation-seladang-gaur.html
B. Pingat Gagah Berani https://en.wikipedia.org/wiki/Panglima_Gagah_Berani
C. Elaun Pingat Gagah Perkasa http://ww1.utusan.com.my/utusan/info.asp?y=2009&dt=1022&sec=Parlimen&pg=pa_03.html