Major Patrick Wong Sing Nang (Rtd)
Major Patrick Wong Sing Nang (Rtd).
MACVA Tribute To Major Patrick Wong Sing Nang (Rtd)

Malaysian Armed Forces Chinese Veterans Association (MACVA) would like to pay tribute to one of its hero's; Major (Maj) Patrick Wong Sing Nang (Rtd). In conjunction with the Malaysian Armed Forces Veteran Gathering event on 31 July 2017, RTM interviewed him and Brig Gen Dr Leong Weng Foon (Rtd) at Wisma TV, Angkasapuri, Kuala Lumpur on 28 July 2017. Together with Veterans who have served King and Country, their interviews were broadcast by RTM respectively on 29 July and 30 July 2017.
RTM Interview at Wisma TV, Angkasapuri, Kuala Lumpur.
His expressed statement during the interview:
"I hope that Malaysian will not forget Veterans of the Malaysian Armed Forces because the peace that Malaysia has today are due to their past sacrifices; especially during the First and Second Malaysian Emergency; which enable our Country to enjoy our independence until today."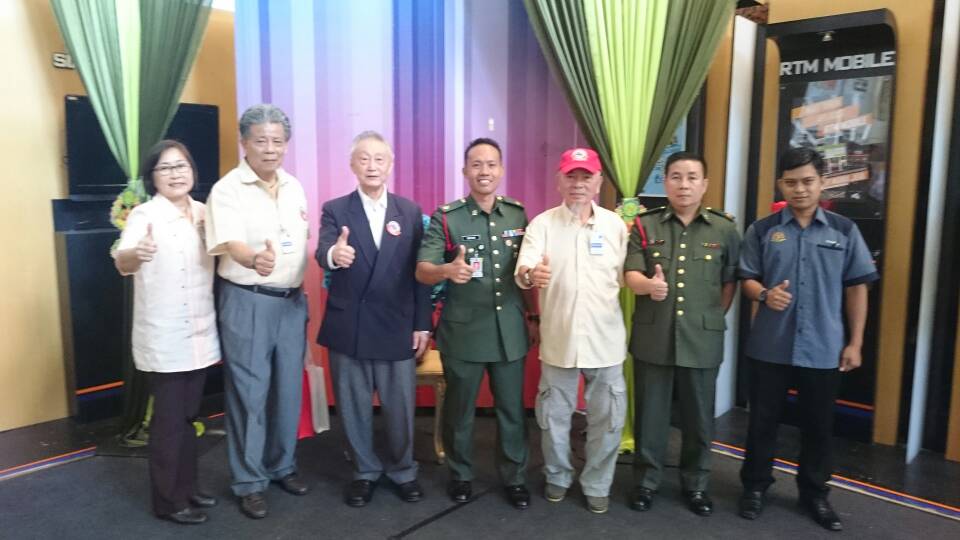 With MACVs, JHEV and MINDEF Officers at Wisma TV, Angkasapuri, Kuala Lumpur. 28 July 2017.
Patrick had being involved in a series of Operations that have made contact with the enemies. Among them were Operation Radak in Kulim, Kedah; the Lundu incidents in Sarawak and Operation Tanduk in Gopeng, Perak.

Captain Patrick Wong Sing Nang (Rtd) was a Company Commander of 8th Ranger Battalion based at Syed Putra Camp, Ipoh. He was shot in the chest during a firefight with the enemies in Ops Tanduk on December 1977 in Gopeng, Perak. Three other men were also severely injured including one soldier who stepped on an enemy booby trap.

Despite being severely injured, Patrick never lost his command and continues to give direction. Request for helicopter evacuation was immediately made and a 'winching point' was established. He ordered three of his wounded men be evacuated first, leaving himself last to be airlifted out putting the safety and lives of his men above his.

On arrival at Ipoh General Hopsital, X-Ray results showed that he had a lacerated liver, punctured lungs and diaphragm with a bullet lodged in his abdomen. He could not breathe properly as his lung was flooded with his own blood. An operation was immediately performed to save him. He survived the ordeal and recovered a month later.
Visit by Chief of Army Gen Tan Sri Dato' Mohd Ghazali Dato' Mohd Seth at Ipoh General Hospital.
For his bravery and distinguish service in defending the nation against its enemy in the finest traditions of the Ranger Regiment during the incident, he was conferred the "Kepujian Perutusan Keberanian" (KPK) on the 15th of September, 1979.
Kepujian Perutusan Keberanian
Founded by the 2nd Yang DiPertuan Agong, Al-Marhum Tuanku Hisamuddin Alam Shah Al-Haj as an award for operational gallantry. The award is given to all ranks for an act or acts of bravery during active operations not amounting to being awarded a medal. It can be awarded more than once and can also be conferred posthumously. The award in the form of a bronze "laurel" can be worn over other ribbon award. The award was created on 29 July 1960 and was formally gazetted by an Act of Parliament on 11 August 1960.

The Perak State Government awarded him the "Perwira Taming Sari" (PTS) which belongs to "The Most Valliant Order of Taming Sari." It was founded by Al-Marhum Sultan Idris Shah II in 1977 for Malaysian Armed Forces and Royal Malaysian Police personnel as an award for act of bravery and valour. The award have been discontinued in 1989 and under the Undang-Undang Darjah Kebesaran Negeri Perak, all previous Honour award holders can still continue to enjoy the privileges that are bestowed together with the individual awards.
Receiving PTS award from Almarhum Sultan Azlan Muhibbuddin Shah, 1987.
Joining the Army
Cadet Patrick Wong (most right, with sword) leading his detachment in drill practice during his RMC days.
Patrick was born on the 18th of March, 1947 in Sibu, Sarawak. He had early Chinese Primary education and did his Senior Cambridge in 1966. During an interview with Malaysian Digest at Taman Melawati, Kuala Lumpur on 27 August 2017, he relates that:

"During the early days of Malaysia, when I was a teenager, I saw a lot of Commonwealth forces in my hometown. I was impressed by the foreign soldiers."

In 1966, a recruiting team from the Ministry of Defence came to his hometown and gave a talk on military service as a career choice. Patrick wasted no time and made an application to join the Army the following year.

He began Cadet Training at Royal Military College, Sungai Besi on 6 May 1967 and joined Regular Intake 11. Upon commissioning on 12 April 1969, Second Lieutenant Patrick Wong was assigned to the 3rd Ranger Battalion and stationed in Taiping.

Patrick recalled, "At the time, Taiping was considered to be the hottest spot for communist threats in Perak and Kedah".
Serving the Nation
With Lt Col Robert Rizal Abdullah (Rtd) PGB, then a 2nd Lieutenant. Source: http://pgbwarrior.blogspot.my
From Apr 1969 to May 1977, he conducted and participated in operations against Communist Terrorists both in Sarawak and Semenanjung Malaysia serving with 3th Ranger Battalion. On 26 December 1977, as a Company Commander of 8th Ranger Battalion, he was severely wounded along with 3 soldiers during enemy's firefight in Ops Tanduk. He was subsequently medically boarded due to serious injury.

He had held various staff appointments including's Staff Officer (G2) Housing and Staff Officer (G2) Welfare at Ministry of Defence. He also served as Staff Officer (G2) Operations and Staff Officer (G2) Admin & Log at HQ 11 Infantry Brigade. He obtained a Diploma in Management at National Institute of Public Administration (INTAN) in 1979 and attended Armed Forces Staff College in 1982. His last appointment prior to retirement was the General Manager of Armed Forces Officer Mess, Ministry of Defence.
Maj Patrick Wong Sing Nang (Rtd)
Maj Patrick Wong (Rtd), second from right speaking with Chief of Defence Force Tan Sri Raja Mohamed Affandi bin Raja Mohamed Noor, then Chief of Army. The event was the Handing Over of MACVA Certificate of Registration Ceremony held at the Army Officer Mess, Sungai Besi Camp. 19 Sep 16.
| | | |
| --- | --- | --- |
| | | |
| With Protem President Brig Gen Dr Leong Weng Foon (Rtd) at Flamingo Hotel, Kuala Lumpur during MACVA Vision Seminar. 20 Aug 16. | | In "Anak Anak Malaysia" Star TV Documentary on MACVA Veterans Sacrifices in conjunction with 2016 Merdeka Celebrations. |
Major Patrick Wong Sing Nang (Rtd) SN: 200741 retired from the Malaysian Army on 2nd of February, 1993 after serving for 26 years with pride and dedication. He is blessed with 2 daughters from his marriage and currently resides in Taman Melawati, Kuala Lumpur. MACVA is very proud of his achievements and sacrifices for King and Country and wishes him good spirit and health in enjoying his well deserves retirement.
With En Azzam Syafiq. Malaysian Digest interview. 27 Aug 2017.
Maj Wong Kwai Yinn (Rtd)

28 Jan 18

References:
A. 54 Years After The Formation Of M'sia, An Army Veteran Tells Youth To Not Take Peace For Granted http://malaysiandigest.com/features/698026-54-years-after-the-formation-of-m-sia- an-army-veteran-tells-youth-to-not-take-peace-for-granted.html.
B. History of 8th Rangers (Para) in the National Language http://7renjer.blogspot.my/.
C. Kategori:Darjah Kebesaran Negeri Perak http://pingat.perak.gov.my/darjah.php.
D. Susunan Keutamaan DKBP P http://www.istiadat.gov.my/v8/borang_skp2016/ panduan.html.


11 Sep 18
Major Patrick Wong Sing Nang (Rtd) statement following the release of the Maybank MyStories Series "The Forgotten Hero" featuring him on 30 Aug 2018 and "Blood Brothers" featuring Sergeant Adenan Bin Aini (Rtd) on 4 Sep 2018.
"I am Major Patrick Wong Sing Nang (Rtd). 31 August 2018 is to be a memorable and proud day in my life. I am going to share my 26 years of service experience while serving in the Army for King and Country.

To begin with, I was born and educated in Sibu, Sarawak. I applied to join the Malaysian Armed Forces as a Cadet after completing my Senior Cambridge in 1966. My career started in Royal Military College, Sg Besi on 6 May 1967. I underwent a 2-year Regular Officer Cadet training and was commissioned on 12 April 1969 into the Royal Rangers Regiment. I began my regimental life as a 2nd Lieutenant with 3 Rangers, then operating in Sarawak-Kalimantan Border and later, in Perak. I served in the line with two Battalions, 3 Rangers and 8 Rangers which operated in Sarawak, Perak, Pahang and Kedah. I had also served as a Staff Officer in the Training Cell at Brigade HQ, Division HQ and finally at the Ministry of Defence. I retired on 1 February 1993, having worn the rank of Major for 16 years.

I would like to put on record that it has been a great honour and privilege to command and serve with Malaysians of all creeds; men of little education, some even illiterate who signed their documents with their thumb prints. These wonderful and courageous men were a highly dedicated, loyal and happy lot. A Private's monthly pay was only RM 180.00. After making deductions and payments of bills, his take-home pay was so nominal that it still remained a mystery to me as to how he could manage to survive until the next pay day. Yet, they soldiered on unwaveringly. Their dedication to duty was certainly unquestionable, their loyalty unshakeable. Men of my generation. It was incredible. They never complained in carrying out their daily duties, either in the barracks or in the jungle. It was really an honour and privilege to lead these heroic men in the course of carrying out my duty. To those brave men (be he a soldier, sailor, airman or police) who had laid down their lives in the line of duty, I salute you and pray that your souls rest in peace with the Almighty.

Because I was medically downgraded due to the injury sustained during an operation against the Communist Terrorists in Gopeng, Perak on 26 December 1977, I decided to retire early, calling it a day on 1 February 1993. When I retired from the Service, my monthly pension was RM 1,292.00. I was happy to be free, feeling peaceful in my mind for having done my little part in preserving the peace and freedom of my Country. I am proud to be a Malaysian and more so to be Anak Sarawak.

Malaysia is a beautiful and rich Country. Our invaluable assets, tangible and intangible, must be protected, our sovereignty defended. The young generation of today, you are our future. Malaysia is yours and you belong to Malaysia. The intrusion at Lahad Datu, Sabah several years ago must serve as a wake-up call. Urban terrorism is a very real threat. Therefore both externally and internally, our democracy is being threatened. The peace, freedom and social harmony that we dearly cherish must be defended and protected. To quote the 35th US President, John F Kennedy, 'Ask not what your country can do for you, ask what you can do for your country'. It is your destiny to be born as Malaysians. Take up this honourable responsibility and challenging task. Malaysia needs you.

As for me, now I am enjoying the fruits of my labour; with the peace, freedom and prosperity of the Country and reminiscing the bittersweet days while loyally serving King and Country with fellow brothers-in-arms. I am grateful to my family for supporting me in and out of Service life and thankful to the Almighty Lord for all his earthly blessings. I am looking forward to more years of joyful living with my family and old friends; watching as Malaysia progress and prosper. I would like again to quote the US WW2 hero, General Douglas MacArthur in one of his famous farewell speech, 'Old Soldiers Do Not Die, They Just Fade Away'.

But I say it the Rangers' way...

AGI IDUP AGI NGELABAN'.

Peace be upon you !"

Major Patrick Wong Sing Nang (Rtd)
Kwai Yinn with Patrick at Tugu Negara, 31 Jul 18.