WHY WE SHOULD BE GRATEFUL TO VETERANS
16 May 21
There is a great misconception in Malaysia that in peacetime, the Military does not play any significant role in the economy or security of the country. As a veteran, I have on many occasions heard negative and naive opinions expressed about this like "We don't have any wars, so why do we have a Military force?; The Military in Malaysia 'makan-tidur' only". As I hear these views, I get very irritated, frustrated, and angry as it tells me that many Malaysians do not understand the roles and functions of the Military and why we should have a strong, standing Defense Force at all times.

We must at all times realize that the Military's main role is in war. The Military is an insurance policy the country takes to defend its sovereignty and its status as an independent nation. The Military hates wars because they understand the horrors it can bring. As General Douglas MacArthur once said: "The soldier above all others prays for peace, for it is the soldier who must suffer and bear the deepest wounds and scars of war." But if there is a war, rest assured that clear concerted action will be undertaken by the Military to safeguard the sovereignty and national interests of the country. We must, therefore, honor and appreciate this noble institution, as the peace we are currently enjoying is due to their efforts.

Importantly, we must also never forget all the veterans who have served their tenure of service in the Military loyally and faithfully in the prime of their youth. This was especially so during the Indonesian confrontation and the communist insurgency from 1968 to 1989. These veterans are the ones who have been responsible for providing the country with the peace and harmony that we have enjoyed ever since independence. Without this peace, the country would not have been able to develop to the stage it is in today. These veterans served with integrity, honor, courage, and also made numerous sacrifices for the greater good of the nation. From that perspective, the citizens of Malaysia owe a debt of gratitude to them for all their sacrifices to this great country of ours.

So, in honor of every one of these veterans from the Army, Air Force, and Navy, here I would like to state why the public should be more appreciative of them.

1. Veterans have risked their lives to allow the citizens of this country to enjoy the peace and freedom we have experienced all these years. Whilst in uniform, they protected and served us without complaint, every single day, come rain or shine. They would be there in isolated bases, in the deepest jungles, and on the high seas, twenty-four hours a day, seven days a week, to ensure that the country was free from any kind of threat. In the process, they made many, many sacrifices including being away from their loved ones, living in discomfort because of dreadful conditions, and suffering from the mental anxiety of knowing that any day could be their last! They underwent all this hardship without any form of protest or complaint to ensure that the citizens of this country could go about their activities freely.

2. Much of what they do is unknown to the public and is only publicized when a disaster occurs, such as the one that occurred in Indonesia recently. This was when the submarine KRI Nanggala broke up and sank, leaving all 53 crewmen dead. This tragedy shook the consciousness of Indonesians as it clearly illustrated the sacrifices and enormous risks servicemen undertake in the course of their work to ensure the safety and security of the nation.

3. A lot of appreciation and recognition must also be given to the families of veterans. They have played a critical 'behind the scenes' role by giving physical and emotional support to these veterans all the time. For example, one of the things we veterans all looked out for during our operational duties was a simple food parcel from home, especially during festive occasions! You could not put a monetary value on these parcels as they were more than worth their weight in gold!! It was simple gestures like this that made the veteran's stint in these operational areas less stressful. In that context, the sacrifices made by these families are immeasurable, and they are also worthy of our respect and admiration.

So my advice to all Malaysians is this; the next time you see a Military serviceman, or a veteran, please take a moment and think about what this man or woman has done for the country and to you as an individual. They do not know you, yet they voluntarily and willingly would have laid down their lives so that you and all the other citizens of this country could live in a free and safe environment. These veterans, therefore, deserve the highest degree of respect and appreciation for this honorable and noble gesture!
Lt Col Heera Singh (Retired) served in the Malaysian Armed Forces for over twenty years.
Prinipal of HEERA Training and Management Consultancy PLT
www.heera.com.my

(Note: This article reflects the author's views and not necessarily those of MACVA. It was published by New Straits Times on Saturday 15 May 21.)
MACVA NORTHERN CHAPTER - FRIENDS OF GOODWILL
BLOOD DONATIONS DRIVE - SATURDAY 8 MAY 2021
AT ST JO'S GURNEY PARAGON, PULAU PINANG
15 May 21
MACVA Northern Chapter (NC) teamed up with Friends of Goodwill Penang organised a blood donation drive on Saturday 8 May 2021 at St Jo's Gurney Paragon Pulau Pinang from 10.00am - 4.00pm. This is the first blood donation drive ever organised by NC Chapter under the MACVA. The initiative was laudable especially during this difficult time and the Covid 19 pandemic. Prior to the D Day, the NC members put up the blood donations drive awareness banners around the vicinity of the St Jo's Gurney Paragon. The MACVA members who took time off to put up the blood donation drive banners are as follows:

1. Ng Chor Huat - NC Chairman
2. Tham Ken Wah
3. Lim Khoon Hing
4. Jerome De Silva
5. Lawrence Foo

The event started with the NC Chapter members lead by its Chairman Ng Chor Huat and the representatives of the Friends of Goodwill setting up the registration counter at 9.00am. The representatives of the Penang Blood Bank arrived shortly after and brief the volunteers the procedure and the necessary forms to be filled by donors. Everyone was feeling excited to see the response. The NC members who volunteered their times for the blood donations drive are as follows:

1. Ng Chor Huat
2. Tham Ken Wah
3. Mok Kean Yee
4. Tan Bing Guan
5. Lim Khoon Hing
6. Jerome De Silva
7. Law Soo Wey
8. Abdullah Yeoh

The cooperation between NC Chapter, Friends of Goodwill and the Penang Blood Bank was very encouraging. The blood donations started at about 10.30am until 4.00pm. A total of 35 blood bags were collected from donors. It was laudable achievement for a first timer organiser.

Besides the blood donations six (6) MACVA members also pledged to be organs donors upon death. The volunteerism by the six MACVA members to donate their organs upon death is the first ever organs donors by MACVA members. MACVA is very proud of their noble pledges and they deserved a salute. The six (6) MACVA members who pledged to be organs donors are as follows:

1. Ng Chor Huat
2. Tham Ken Wah
3. Mok Kean Yee
4. Jerome De Silva
5. Tan Bing Guan
6. Lim Khoon Hing

On behalf of all members of MACVA, the President would like to thank the NC Chapter Chairman Ng Chor Huat and his team for their initiative in organising a successful first ever blood donations drive under the name of MACVA. It is our hope the initiative of the NC in organising a charity event can be emulated by all MACVA Chapters. It does not need to be blood donations drive. There are many charitable activities that can be organised by MACVA Chapters.

This MACVA NC blood donations drive has certainly created greater awareness and the much needed exposure for MACVA in Pulau Pinang. This event also showed our service to the nation continues as veterans. Once again, thank you to all the NC team members who worked very hard to ensure a successful blood donations drive.

We also would like to extend MACVA's profound gratitude to the Friends of Goodwill Penang and the Penang Blood Bank for their excellent support and cooperation.

For the record, the blood donations drive was the second charity event co-hosted by MACVA NC and the Friends of Goodwill. The first event was the giving out essential foodstuff and personal hygiene items to the cycle rickshaw riders in Pulau Pinang on 28 Mar 2021.

Thank you
Honorary Secretary

MACVA NC & FRIENDS OF GOODWILL BLOOD DONATIONS DRIVE
PUTTING UP BANNERS
BLOOD DONATIONS DAY
SIX (6) ORGANS DONORS WITH THE MEDICAL STAFF
12 Mei 21
Rakyat Malaysia akan menyambut Hari Raya Aidilfitri pada 13hb dan 14hb Mei, sebagai tanda bermulanya Syawal dan berakhirnya umat Islam berpuasa di bulan Ramadhan.

Persatuan Veteran Cina Angkatan Tentera Malaysia (PVCATM), ingin merakamkan ucapan kepada semua rakyat Malaysia khasnya ahli-ahli MACVA yang berugama Islam serta Veteran-veteran ATM "Selamat Hari Raya Aidilfitri".

Kami mendoakan agar rakyat jelata selamat dan dapat meneruskan kehidupan harian dengan aman dan harmoni terutama sekali dalam keadaan pandemik yang amat genting ketika ini.

Kami juga berdoa agar negara kita Malaysia serta seluruh dunia dirahmati dan dilindungi Tuhan dalam mengharungi gejala pandemik COVID-19 serta kesan-kesannya akibat dari usaha kerajaan memerangi virus ini.

Keseluruhan negara akan diletak bawah Perintah Kawalan Pergerakan dan kami menyeru agar rakyat perihatin serta patuh dengan SOP yang dikuatkuasakan oleh pihak kerajaan dalam merintangi dan mengongkong penularan wabak COVID-19. Kami mendoakan saudara-saudari muslimin serta keluarga, selamat menyambut Hari Raya seisi keluarga tercinta di rumah masing masing.

Kami juga tidak lupa kepada perajurit and pertiwi negara yang tidak dapat bersama keluarga mereka untuk menyambut lebaran yang tiba kerana bertugas. Pengorbanan mereka ini disanjung tinggi dan dihargai dalam mempertahankan benteng negara serta kesejahteraan rakyat jelata.

Akhir sekali, kami menyeru semua rakyat Malaysia khasnya ahli-ahli MACVA yang disayangi, supaya memberi kerjasama sepenuhnya kepada usaha serta inisiatif kerajaan dalam membenteras penularan COVID-19 dan bersama-sama kita memerangi pandemik ini dengan jayanya. Jaga diri dan kekal selamat.

Selamat Hari Raya Aidilfitri

Presiden dan Ahli Jawatankuasa
PVCATM


2021年5月12日
目前我國還處在新冠肺炎疫情期間,並將在全國進入 MCO 3.0 行動管制令實行至6月7日的情況下, 渡過於5月13及14日來臨的開齋節。

馬來西亞華裔退伍軍人協會謹此祝福國人、本會會員及所有退伍軍人『開齋節快樂』!在這吉祥的節日裡,本會希望在這抗疫期間,國人都能繼續維持和諧與安全的生活;也祝福我國與世界各國成功抵禦新冠肺炎!

近來疫情每況愈下,日前首相更是宣布全國進入行動管制令(MCO 3.0) 加強對抗新冠肺炎, 以阻斷病情的傳播鏈。雖然如此,本會祝願穆斯林同胞同樣能在安全和歡樂的氛圍下歡慶佳節。

至於在各崗位執行任務的男女軍人,本會感謝他們犧牲與家人團聚共渡佳節的機會,並祈禱他們安全的執行任務,保衛國家主權。

本會也希望全體國人予以抗疫前線人員合作與支持,齊心協力、對抗病毒、渡過難關、 照顧安全!

謹祝『開齋節快樂』!

馬來西亞華裔退伍軍人協會
總會長拿督吳成都空軍准將
偕全體理事


12 May 21
Malaysia will celebrate Hari Raya Puasa on the 13th and 14th of May which marks the end of fasting in the month of Ramadan. Malaysian Armed Forces Chinese Veterans Association (MACVA) would like to wish all Malaysians, Muslim members and fellow Veterans 'Selamat Hari Raya Aidilfitri'.

We pray that everyone will be safe and continue to live in peace and harmony during this difficult period. We also pray that Malaysia and the rest of the world will be blessed and successful in overcoming the pandemic and its adverse effets.

The nation will be placed under Movement Control Order (MCO), we will have to strictly follow the Standing Operation Procedures (SOP) issued by the authorities to help stop and prevent the spread of the pandemic. We wish our Muslim brothers, sisters and families a safe and joyous celebration at home.

We also remember the servicemen and servicewomen of the Malaysian Armed Forces and other essential personnel who will be on duty during the festive period. They will miss celebrating Hari Raya with their families in defending the peace and sovereignty of the nation. We salute and thank them for their sacrifices and call on the nation to remember and honour them.

MACVA would also like to remind all Malaysians and members to give their fullest cooperation and support to the Government's initiatives and efforts in combating the pandemic. Take Care and Stay Safe.

Selamat Hari Raya Aidilfitri

President and Committee Members
MACVA

KH ONG
MALAYSIAN ARMED FORCES SQUASH LEGEND - SGT ONG KHAI HOCK RMAF
16 Apr 21
The game of squash was introduced by the British in the 1930s at the Malay College Kuala Kangsar (MCKK), Perak. The first championship recorded was in 1939 at the MCKK. The final was between two great leaders of Malaysia, the Late HRH Tuanku Jaafar ibni Almarhum Tuanku Abdul Rahman, 10th YDP Agong and the Late Honorable Tun Hj Abdul Razak bin Dato' Hussein, the second Prime Minister of Malaysia. HRH Tuanku Ja'afar won 3-1.

Squash was officially registered to be one of the national sports in 1972 and the man behind it was YAM Tunku Imran. Squash Rackets Association of Malaysia (SRAM) was formed at the Royal Lake Club, Kuala Lumpur on Sun 25 June 1972.

The British Forces introduced squash in the 50s. There were squash courts in several camps, Majidee Camp Johor Bahru, Terendak Camp Melaka, Taiping Garrison, RAAF/RMAF Base Butterworth and Sungai Petani Camp.

KH Ong took up squash when he attended an Air Force course in UK in 1971 - 1972. Upon his return he was posted to Butterworth Base and he took up the game seriously with the RAAF players. KH Ong became the national squash player in the 1979. He represented Malaysia in various regional and world level championships. The national players then were Tunku Imram, Nik Mohd Din, Tony Tiah, Hood Salleh, Maj S Maniam, Syed Mustafa and KH Ong.

KH Ong retired in 1980 after 12 years of service and started his squash outfit at the Lake View Club Subang Jaya. He spent most of his time training his son Ong Beng Hee who was 7 years old. He decided to stop Ong Beng Hee from schooling after Form 3 in 1996 and to train full time in squash. In early 1998, a special recce team was in London to scout for a training centre for Ong Beng Hee. The recce team members were YAM Tunku Imran, the Late Tan Sri Alex Lee, KH Ong and AJ Wong, Executive Director of SRAM. YAM Tunku Imran picked me and KH Ong from our hotel in an official chauffeur driven Rolls-Royce!!!

In mid-1999, Ong Beng Hee left for London to train under Neil Harvey. Among the players in the training centre was the British and World No.1 player Peter Nicol. Ong Beng Hee was fortunate to train with Peter Nicol. KH Ong had to sell his house to finance Ong Beng Hee's training and to participate in tournaments in Europe. The funding from SRAM and National Sports Council was insufficient for Ong Beng Hee's full time training in London. It was the most difficult years for KH Ong but he strongly believed Ong Beng Hee will make it.

In 1998, Ong Beng Hee rewarded his father KH Ong by winning the coveted World Junior Championship in Princeton University, USA and became the first World Junior Champion in the country. Ong Beng Hee turned professional player in 1999 and won the Asian title and several major squash championships. Upon his retirement from professional squash, Ong Beng Hee was offered to be the National Chief Coach for rackets sports in Qatar.

Today 12 April 2021, KH Ong became a member of MACVA and AJ Wong handed the MACVA Membership Card to KH Ong at the Lake View Club Subang Jaya.

KH Ong, 74 years old, is a squash legend in the Armed Forces and the country spanning more than 50 years in the sport. MACVA is very proud of KH Ong's contributions to the Armed Forces and national squash and we wish him all the very best.

The latest news, Ong Beng Hee has been offered to be the national chief squash coach of USA effective June 2021. MACVA would like to wish him every success in his new job.

Lt Col Wong Ah Jit (Retired)
ONG BENG HEE
KH ONG & AJ WONG (12 Apr 2021)
KH ONG'S SQUASH RACKETS IN THE 70s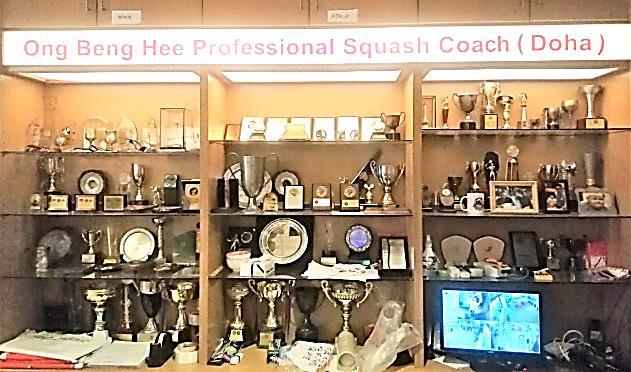 SOME OF THE TROPHIES OF ONG BENG HEE
THE MOST WELL EQUIPPED SQUASH AND TENNIS RACKETS OUTLET IN THE COUNTRY
MACVA MEMBERS ARE MOST WELCOME TO VISIT SYKT KH ONG AT LAKE VIEW CLUB SUBANG JAYA OR TO CATCH UP WITH KH ONG. KH ONG CAN BE REACHED AT 012-2085900.