FAREWELL TO THE LATE COL GEORGE LENG CHONG HOOI
KOR PERKHIDMATAN DIRAJA (KPD)
MACVA accorded the Late Col George Leng Chong Hooi a befitting Military Last Rite at the DBKL Crematorium, Jalan Kuari, Cheras on Saturday 8 May 2021 at 3.00pm. The Military Last Rite began with Honorary Secretary reading the Condolence Message from the President and members of MACVA to Mdm Peh Foong Ling and the family members. It was followed by the eulogy for the Late Col George Leng.

The Late Col George Leng hailed from Raub Pahang. He joined the Royal Military College in July 1962 and commissioned in December 1962 into the Malaysian Service Corps (MSC), now known as Kor Perkhidmatan Diraja (KPD). The Late Col George Leng served the Army with honour until his compulsory retirement age in 1989, a period of thirty-six (36) years of loyal service to the King and country.

The Late Col George Leng had served in various appointments in the KPD, Staff Officer at Brigades, Divisions and the Army Logistics in the Ministry Of Defence, Kuala Lumpur. One of his major contributions to his Corps was the introduction of the Technical Standards which is still in use by the KPD. The other major contribution by him was streamlined and improved the efficiency of the Army Logistics Supply System to support the front line troops when he was the Col Logistics in the Army Logistics, Ministry of Defence.

Besides the major contributions to KPD and the Army Logistics, the Late Col George Leng also created a name for himself in the senior officers' courses. He was a top student in the Staff College and also at the Defence College. His achievement at the Defence College made him to be a Directing Staff of the Staff College, a befitting recognition.

In addition to his excellent military qualifications, he embarked to acquire professional qualifications in transportations and logistics supply systems which he applied the acquired knowledges to improve the efficiency of KPD and the logistics supply system of the Army. His dedication and contributions had created a legacy for himself in KPD and the Army Logistics.

Mdm Peh Foong Ling said her beloved husband is very thankful to the Army and he always talk about the great moments of his career in the Army. He is indeed a true soldier.

MACVA would like to take this opportunity to extend its 'ribuan terima kasih' to Brig Jen Ezani bin Abdullah, Pengarah KPD for the pallbearer service accorded to the Late Col George Leng at the DBKL Crematorium on 8 May 2021. MACVA also would like to extend its thank you and appreciation to KPD officers, RSM and the pallbearers. MACVA's thank you also goes to members who attended the Wake and the funeral.

Thank you

Honorary Secretary

MACVA MILITARY LAST RITE FOR THE LATE COL GEORGE LENG CHONG HOOI

DRAPING OF THE MALAYSIA FLAG ON 7 MAY 2021 AT XIAO EN FUNERAL PARLOUR

PAYING RESPECT BY PENGARAH KPD ON 7 AMY 2021
L-R: BRIG JEN EZANI BIN ABDULLAH, MDM PEH HOONG LING & BRIG JEN DATUK AB AZIZ BIN SHARIF
BRIG JEN EZANI BIN ABDULLAH, PENGARAH KPD
FUNERAL OF THE LATE COL GEORGE LENG CHONG HOOI ON 8 MAY 2021
AT DBKL CREMATORIUM, JALAN KUARI, CHERAS, KUALA LUMPUR
PRESIDENT'S CONDOLENCE MESSAGE & EULOGY BY HON SEC
THE LAST POST & LAST SALUTE
FLAG FOLDING BY GODFREY CHANG & NG JOO CHAY
VP ARMY HANDED FOLDED MALAYSIA FLAG & MACVA CONDOLENCE LETTER TO MDM PEH
REST IN PEACE SIR
DAVID CHOW YUN KAI
PATRICK WONG SING NANG
GODFREY CHANG
NG JOO CHAY
CHU EE SIN
WONG AH JIT
GOH TECK KEONG
GOOD BYE SIR
12 Mei 21
Rakyat Malaysia akan menyambut Hari Raya Aidilfitri pada 13hb dan 14hb Mei, sebagai tanda bermulanya Syawal dan berakhirnya umat Islam berpuasa di bulan Ramadhan.

Persatuan Veteran Cina Angkatan Tentera Malaysia (PVCATM), ingin merakamkan ucapan kepada semua rakyat Malaysia khasnya ahli-ahli MACVA yang berugama Islam serta Veteran-veteran ATM "Selamat Hari Raya Aidilfitri".

Kami mendoakan agar rakyat jelata selamat dan dapat meneruskan kehidupan harian dengan aman dan harmoni terutama sekali dalam keadaan pandemik yang amat genting ketika ini.

Kami juga berdoa agar negara kita Malaysia serta seluruh dunia dirahmati dan dilindungi Tuhan dalam mengharungi gejala pandemik COVID-19 serta kesan-kesannya akibat dari usaha kerajaan memerangi virus ini.

Keseluruhan negara akan diletak bawah Perintah Kawalan Pergerakan dan kami menyeru agar rakyat perihatin serta patuh dengan SOP yang dikuatkuasakan oleh pihak kerajaan dalam merintangi dan mengongkong penularan wabak COVID-19. Kami mendoakan saudara-saudari muslimin serta keluarga, selamat menyambut Hari Raya seisi keluarga tercinta di rumah masing masing.

Kami juga tidak lupa kepada perajurit and pertiwi negara yang tidak dapat bersama keluarga mereka untuk menyambut lebaran yang tiba kerana bertugas. Pengorbanan mereka ini disanjung tinggi dan dihargai dalam mempertahankan benteng negara serta kesejahteraan rakyat jelata.

Akhir sekali, kami menyeru semua rakyat Malaysia khasnya ahli-ahli MACVA yang disayangi, supaya memberi kerjasama sepenuhnya kepada usaha serta inisiatif kerajaan dalam membenteras penularan COVID-19 dan bersama-sama kita memerangi pandemik ini dengan jayanya. Jaga diri dan kekal selamat.

Selamat Hari Raya Aidilfitri

Presiden dan Ahli Jawatankuasa
PVCATM


2021年5月12日
目前我國還處在新冠肺炎疫情期間,並將在全國進入 MCO 3.0 行動管制令實行至6月7日的情況下, 渡過於5月13及14日來臨的開齋節。

馬來西亞華裔退伍軍人協會謹此祝福國人、本會會員及所有退伍軍人『開齋節快樂』!在這吉祥的節日裡,本會希望在這抗疫期間,國人都能繼續維持和諧與安全的生活;也祝福我國與世界各國成功抵禦新冠肺炎!

近來疫情每況愈下,日前首相更是宣布全國進入行動管制令(MCO 3.0) 加強對抗新冠肺炎, 以阻斷病情的傳播鏈。雖然如此,本會祝願穆斯林同胞同樣能在安全和歡樂的氛圍下歡慶佳節。

至於在各崗位執行任務的男女軍人,本會感謝他們犧牲與家人團聚共渡佳節的機會,並祈禱他們安全的執行任務,保衛國家主權。

本會也希望全體國人予以抗疫前線人員合作與支持,齊心協力、對抗病毒、渡過難關、 照顧安全!

謹祝『開齋節快樂』!

馬來西亞華裔退伍軍人協會
總會長拿督吳成都空軍准將
偕全體理事


12 May 21
Malaysia will celebrate Hari Raya Puasa on the 13th and 14th of May which marks the end of fasting in the month of Ramadan. Malaysian Armed Forces Chinese Veterans Association (MACVA) would like to wish all Malaysians, Muslim members and fellow Veterans 'Selamat Hari Raya Aidilfitri'.

We pray that everyone will be safe and continue to live in peace and harmony during this difficult period. We also pray that Malaysia and the rest of the world will be blessed and successful in overcoming the pandemic and its adverse effets.

The nation will be placed under Movement Control Order (MCO), we will have to strictly follow the Standing Operation Procedures (SOP) issued by the authorities to help stop and prevent the spread of the pandemic. We wish our Muslim brothers, sisters and families a safe and joyous celebration at home.

We also remember the servicemen and servicewomen of the Malaysian Armed Forces and other essential personnel who will be on duty during the festive period. They will miss celebrating Hari Raya with their families in defending the peace and sovereignty of the nation. We salute and thank them for their sacrifices and call on the nation to remember and honour them.

MACVA would also like to remind all Malaysians and members to give their fullest cooperation and support to the Government's initiatives and efforts in combating the pandemic. Take Care and Stay Safe.

Selamat Hari Raya Aidilfitri

President and Committee Members
MACVA

KH ONG
MALAYSIAN ARMED FORCES SQUASH LEGEND - SGT ONG KHAI HOCK RMAF
16 Apr 21
The game of squash was introduced by the British in the 1930s at the Malay College Kuala Kangsar (MCKK), Perak. The first championship recorded was in 1939 at the MCKK. The final was between two great leaders of Malaysia, the Late HRH Tuanku Jaafar ibni Almarhum Tuanku Abdul Rahman, 10th YDP Agong and the Late Honorable Tun Hj Abdul Razak bin Dato' Hussein, the second Prime Minister of Malaysia. HRH Tuanku Ja'afar won 3-1.

Squash was officially registered to be one of the national sports in 1972 and the man behind it was YAM Tunku Imran. Squash Rackets Association of Malaysia (SRAM) was formed at the Royal Lake Club, Kuala Lumpur on Sun 25 June 1972.

The British Forces introduced squash in the 50s. There were squash courts in several camps, Majidee Camp Johor Bahru, Terendak Camp Melaka, Taiping Garrison, RAAF/RMAF Base Butterworth and Sungai Petani Camp.

KH Ong took up squash when he attended an Air Force course in UK in 1971 - 1972. Upon his return he was posted to Butterworth Base and he took up the game seriously with the RAAF players. KH Ong became the national squash player in the 1979. He represented Malaysia in various regional and world level championships. The national players then were Tunku Imram, Nik Mohd Din, Tony Tiah, Hood Salleh, Maj S Maniam, Syed Mustafa and KH Ong.

KH Ong retired in 1980 after 12 years of service and started his squash outfit at the Lake View Club Subang Jaya. He spent most of his time training his son Ong Beng Hee who was 7 years old. He decided to stop Ong Beng Hee from schooling after Form 3 in 1996 and to train full time in squash. In early 1998, a special recce team was in London to scout for a training centre for Ong Beng Hee. The recce team members were YAM Tunku Imran, the Late Tan Sri Alex Lee, KH Ong and AJ Wong, Executive Director of SRAM. YAM Tunku Imran picked me and KH Ong from our hotel in an official chauffeur driven Rolls-Royce!!!

In mid-1999, Ong Beng Hee left for London to train under Neil Harvey. Among the players in the training centre was the British and World No.1 player Peter Nicol. Ong Beng Hee was fortunate to train with Peter Nicol. KH Ong had to sell his house to finance Ong Beng Hee's training and to participate in tournaments in Europe. The funding from SRAM and National Sports Council was insufficient for Ong Beng Hee's full time training in London. It was the most difficult years for KH Ong but he strongly believed Ong Beng Hee will make it.

In 1998, Ong Beng Hee rewarded his father KH Ong by winning the coveted World Junior Championship in Princeton University, USA and became the first World Junior Champion in the country. Ong Beng Hee turned professional player in 1999 and won the Asian title and several major squash championships. Upon his retirement from professional squash, Ong Beng Hee was offered to be the National Chief Coach for rackets sports in Qatar.

Today 12 April 2021, KH Ong became a member of MACVA and AJ Wong handed the MACVA Membership Card to KH Ong at the Lake View Club Subang Jaya.

KH Ong, 74 years old, is a squash legend in the Armed Forces and the country spanning more than 50 years in the sport. MACVA is very proud of KH Ong's contributions to the Armed Forces and national squash and we wish him all the very best.

The latest news, Ong Beng Hee has been offered to be the national chief squash coach of USA effective June 2021. MACVA would like to wish him every success in his new job.

Lt Col Wong Ah Jit (Retired)
ONG BENG HEE
KH ONG & AJ WONG (12 Apr 2021)
KH ONG'S SQUASH RACKETS IN THE 70s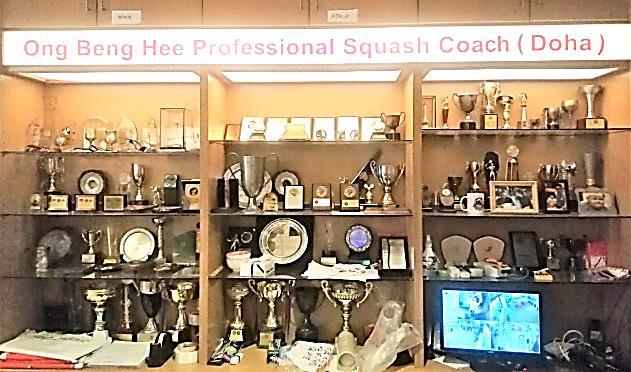 SOME OF THE TROPHIES OF ONG BENG HEE
THE MOST WELL EQUIPPED SQUASH AND TENNIS RACKETS OUTLET IN THE COUNTRY
MACVA MEMBERS ARE MOST WELCOME TO VISIT SYKT KH ONG AT LAKE VIEW CLUB SUBANG JAYA OR TO CATCH UP WITH KH ONG. KH ONG CAN BE REACHED AT 012-2085900.
ENTRANCE TO PPS
VISIT TO NEW PUSAT PERKHIDMATAN SETEMPAT OF JHEV ON TUE 6 APRIL 2021
7 Apr 21
Pleased to inform members that JHEV HQ at the Menara TH Perdana, Jalan Sultan Ismail, 50250 Kuala Lumpur has established a new Pusat Perkhidmatan Setempat (PPS) at the lobby of the Menara TH Perdana.

The aim of the new PPS is to provide quality, efficient, friendly and quick services to veterans who come from near and far to seek advice and assistance from JHEV. This new PPS can be viewed to be a timely initiative by JHEV during this Covid 19 pandemic. It took me about one hour to settle four (4) medical and welfare matters of our members and one MACVA matter. I am very pleased and impressed with the new PPS. Well done JHEV.

The PPS opens daily during working days and the operating hours are in accordance to the Government working hours. No prior arrangement is required. Just walk in and inform the reception desk the purpose of your visit and you will be given a queue number. The best time to go to the PPS is in the afternoon when the queue is much shorter.

MACVA is planning to submit a request to JHEV to consider setting up new JHEV offices in Negeri Sembilan, Penang and Terengganu. Currently, veterans from Negeri Sembilan, Penang and Terengganu have to travel to Melaka, Alor Star, Kedah and Kota Baru, Kelantan respectively to meet the JHEV officers or to seek for assistance. We need to take into consideration the distance and the age of the veterans. The veterans can be served more effectively and efficiently with the setting up of the three (3) JHEV offices.

Just a reminder, those who are still holding the Bekas Tentera card are to apply for the new Kad Veteran ATM. You will be issued with two cards (one card for you and one card for your wife). The documents required are photocopy NRIC, Discharged Book, Marriage Cert and passport size photo.

AJ Wong
Hon Sec

RECEPTION DESK & WAITING AREA
ATTENDED TO BY JHEV OFFICER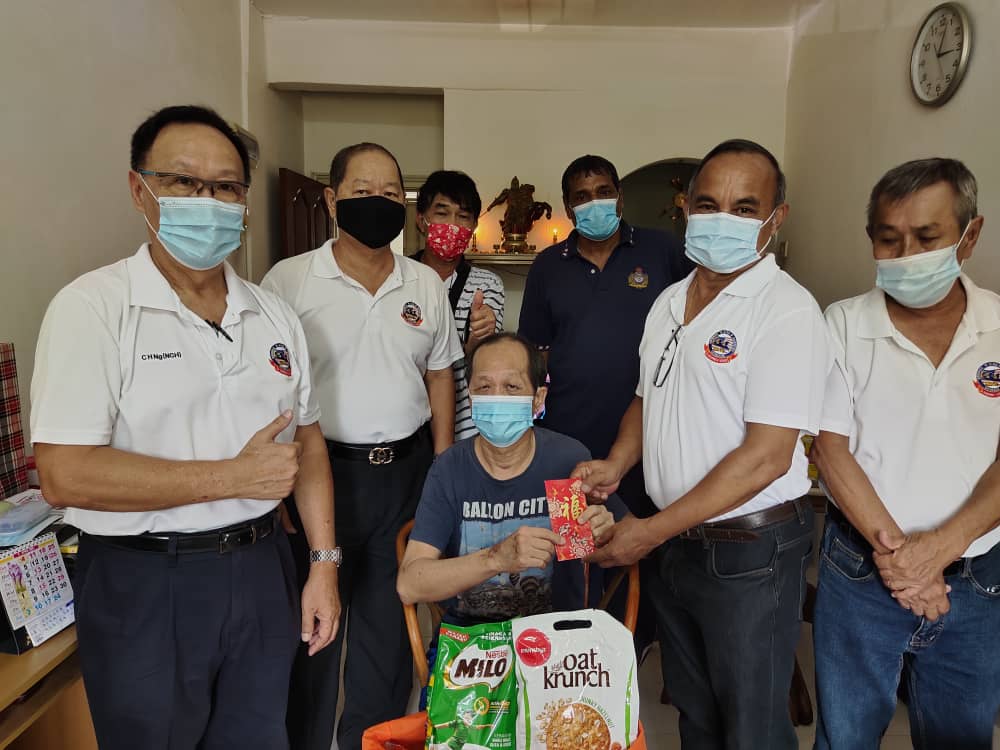 Standing L to R:Ng Chor Huat, Lim Khoo Hing, Lee Cheng Eam, Ramalingam, Jerome de Silva, Yeoh Teck Siew. Seated is Khoo Cheow Hooi.
MACVs Welfare Visit
5 Apr 21
NC Chapter MACVs visited Khoo Cheow Hooi TA Army at his apartment at Desa Mawar, Air Itam, Penang on 3 Apr 21. Khoo is recovering from a motor vehicle accident that he met in January 2020 which resulted in a 35 days hospitalization.

During the visit, Jerome de Silva presented Khoo with Get Well Angpow. Also present during the visit were Residen Association Chairman Lee Cheng Eam and Secretary Ramalingam.

The NC team then visited Peace and Harmony Home in Gelugor, Penang where Yeow Teck Seng presented Trishaew-men Project goodies to its Principal Tan Swee Ban.

The MACVs have taken time off to visit their fellow colleague, cheering him up and wishing him well. This small gesture shows great camaraderie and comradeship among MACVA members and kudos to all who have made the effort. We wish Khoo a speedy recovery.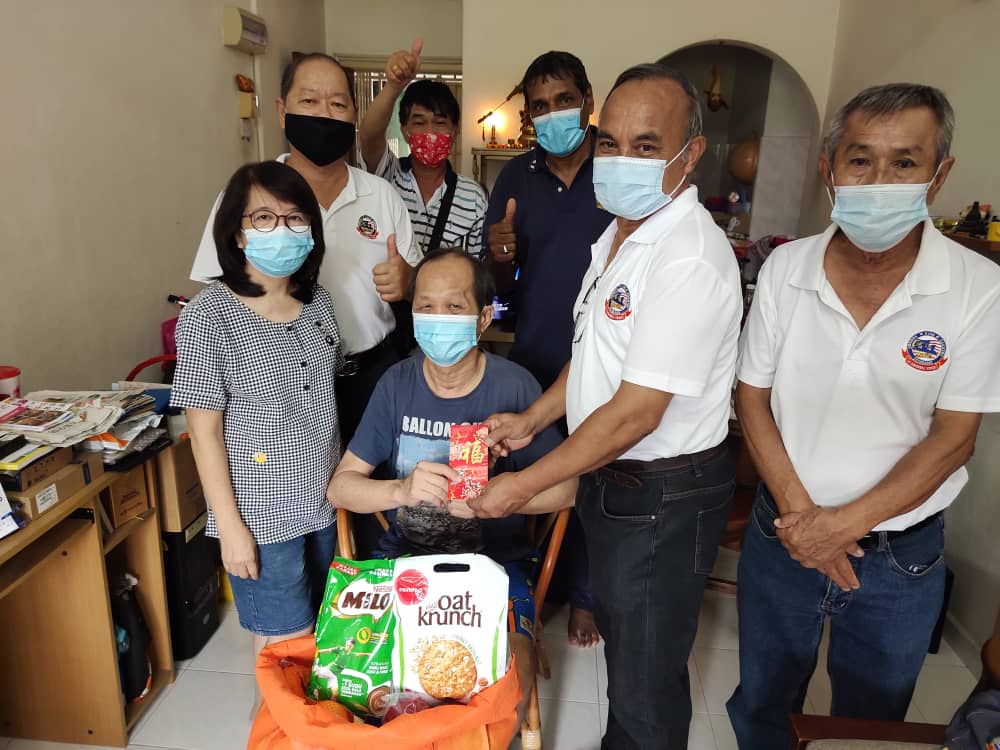 Standing L to R:Mrs Khoo, Lim Khoo Hing, Lee Cheng Eam, Ramalingam, Jerome de Silva, Yeoh Teck Siew. Seated is Khoo Cheow Hooi.
At Peace and Harmony Home. L to R: Jerome de Silve, Lim Khoo Hing, Tan Swee Ban, Yeow Teck Seng and Ng Chor Huat,
At Persatuan Kebajikan Chen Ai OKU. L to R:Lim WF, David Tay AL, Kevin Wong SK, Ah Siang, Steven Wong KP, Ah Hau, Ah Hong, Mandy Phang, Mary and Ooi CT.
MACVA Charity Rice (MCR) Programme
25 Mar 21
Again; the loading was delayed despite arriving well before the scheduled time. It is not for lack of planning but others was there and had been busy since 05:00H this morning.

We landed late at the first drop off point (Persatuan Kebajikan Chen Ai OKU) to find Bros Kevin Wong SK & David Tay AL anxiously waiting in front of the public funded centre that housed 26 OKU.

Bro Steven Wong & Sis Mandy Phang from Chen Ai understand our limitation, the similar predicament of other NGO in need and was thankful for the gifts (175kg of rice) from MACVA.

A short hop took us next to Persatuan Kebajikan Kanak-kanak Terencat Akal Malaysian that is currently looking after 76 pax ranging from 10 months to 73 years in age.

While unloading 250kg of rice, we noted one gentleman came bearing cash and another lady with food items. The exchanged of nods between us says it all.

After a hearty "refuelling" from Bro Kevin at the popular New Ipoh Chicken Rice, Bkt Gasing; we headed for Charis Sheep Pen Shelter in Pudu and arriving there at about 13:35H. The Shelter had 22 abandoned or homeless senior citizens including MACVA L/Member Bro Sammy Loke KL.

We were honoured by Rev. Leong for breaking off from his busy schedule to attend and receiving the 75kg of rice from MACVA.

A diversion was decided before RTB (return to base) and we made a detour to deliver 30kg of rice to the kitchen of Gurdwara Sahib Subang (GSS). It was bonus for me today to hear the name "Amanjit Singh" again.

It was around mid March 2020 that I communicated with Bro Amanjit through phone and WhatsApp after SJ Echo's report went viral on facebook of GSS providing cooked meals to members of the community affected or may be unable to prepare meals due to age, disability or other reason after MCO was declared. It was disappointing then that my "GrapCar" service was turned down for the good reason relating to permit & approval. Today, Bro Amanjit Singh once again expressed his appreciation for the RM9K that Veterans had pooled together for that exercise.

The suggestion of "Hello Frens" as a social activity for Veterans to better understand our Sikh Bros & Sis was warmly received.

It was a successful charity outing where a total of 103 packets of rice were distributed to those in need. Another 75 packets was distributed on 23 Mar and 24 Mar 2021. MACVA would like to extend its sincere appreciations and thanks to all members who have donated to this charity and well done to the MCR team.

Lim Wai Fah
MCR Coordinator
MACVA small gesture to Persatuan Kebajikan Kanak-Kanak Terencat Akal Malaysia.
Thank You MACVA.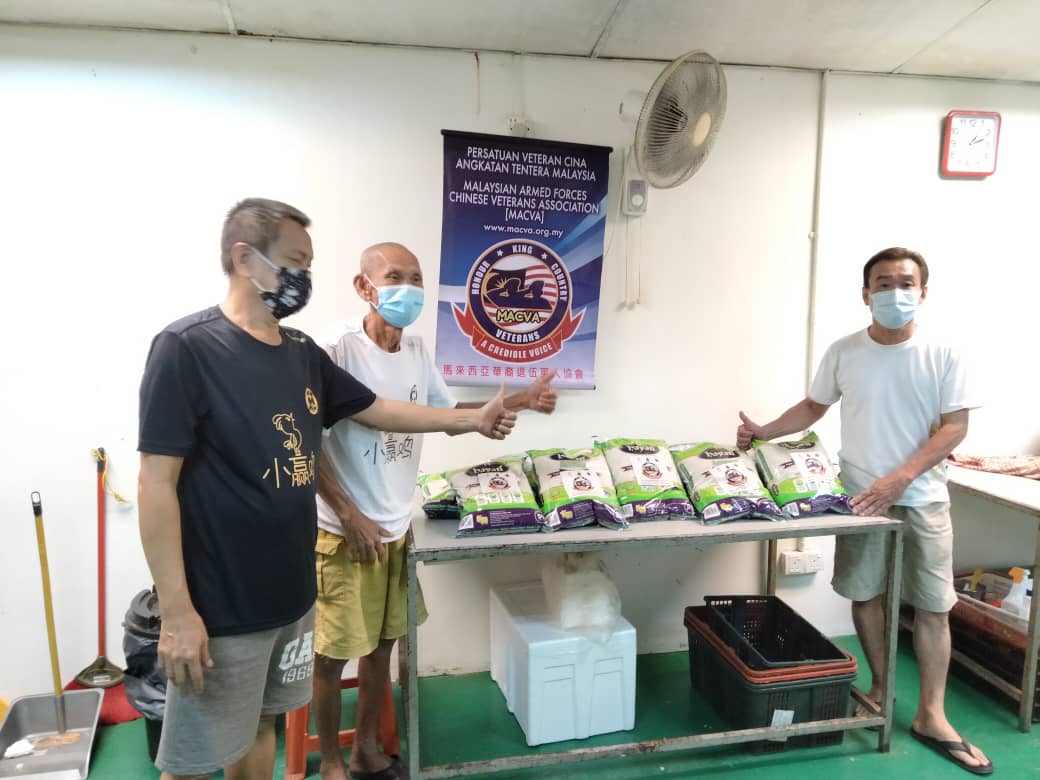 L to R:Bro Lee, Bro Kam Sui and Rev. Leong KM of Charis Sheep Pen Shelter Pudu where our Bro Sammy Loke KL (MACVA LM) called home.
Meeting Bro Amanjit Singh of Gurdwara Sahib Subang for the first time since March 2020.
Bro Ooi CT was "Sing-ing".
Ooi Chai Thuan. "Ma'am, please be safe and we wish you good health."
MACVA Charity Rice (MCR) Inaugural Programme
23 Mar 21
The Inaugural of MCR was scheduled for 10:30AM today. The unloading of rice from a trailer backs up our loading. We finally arrived at the 1st drop off point in Teluk Pulai at 10:16 AM.

The large crowd (many without a stool to sit on) that congregated since 9:00AM convinced us to cut through all protocol and distribute the rice directly from the truck in the middle of the road.

After a quick head count; assurance was given to avoid stampede that everyone will be given a bag of rice. The supposedly grand launch was over in less than 10 minutes without bruises, cuts and fanfare.

The team also visited Pn Siti Noor Madzariah in Taman Sri Sentosa after taken note of a facebook posting dated 5 Mar 21; and handed some rice for sustenance. Our prayers that Pn Siti to remain healthy and maintain strong tenacity in over coming challenges ahead in this difficult time together with her 5 children.

It was a successful charity outing where a total of 55 packets of rice were distributed to residents in need within Teluk Pulai, Klang and Pn Siti in Taman Sri Sentosa, Kuala Lumpur. MACVA would like to extend its sincere appreciations and thanks to all members who have donated to this charity and a well done to the MCR team which comprising:-
Lim Wai Fah
Mike Teoh
Tomas Lee
Tien Sen Ann
Patrick Lee
Ooi Chai Thuan

Lim Wai Fah
MCR Coordinator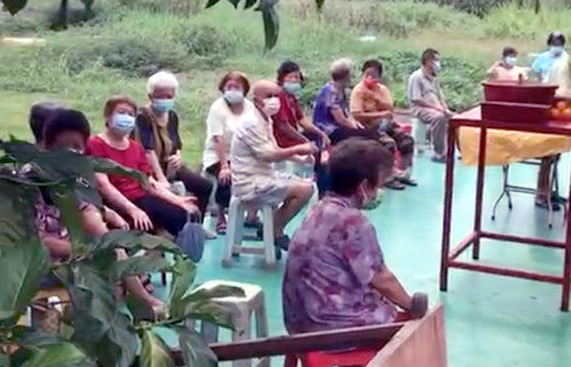 The residents waited since 9.00 AM.
Tomas Lee. "Our small token for you and your family Sir."
Achi, jalan perlahan-perlahan.
The Commitee Members of Tien Du Gong Klang that assisted in rice distribution to the needy nearby.
A small token to sister in need from MCR. From left: Ooi Chai Thuan, Pn Siti Noor Madzariah, Tomas Lee. Tien Sen Ann was busy 'clicking' away.