LR: KARU SELVARETNAM TOMMY PEREIRA, JOHAN VAN GEYZAL, RAYMOND GOH BOON PAH, TAN SRI THANA, TAN SRI LEO MOGGIE, PUAN SRI ELIZABETH MOGGIE, AJ WONG & DA NAVY AUSTRALIA MICHAEL DONCASTER.
British High Commission Remembrance Day Service
14 Nov 21
MACVs attended a Remembrance Day Service held at Cenotaph, Tugu Negara this morning at 7.45 am. The event organised by the British High Commission paid tribute to the fallen British and Malaysian Veterans who lost their lives fighting for Malaya. MACVA would like to express its sincere gratitude to the British High Commission for inviting MACVs and Malaysian Veterans to the event.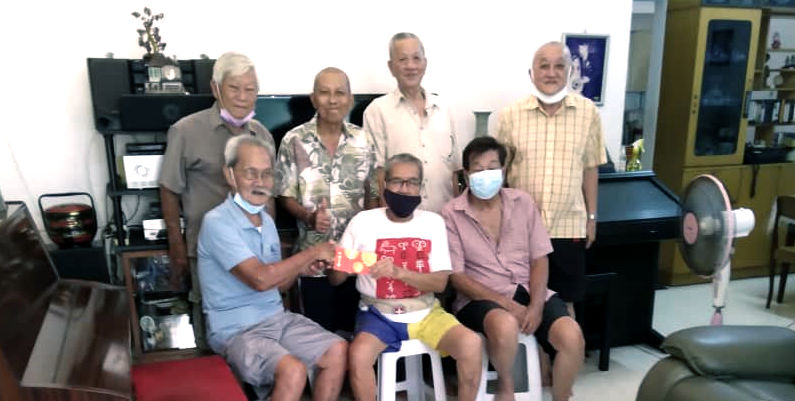 Sitting LR:Soon Poh Lee, Thomas Ng Foo Keow, Peter Tuan Pan Ying. Standing LR:Lee Joo Lye, John Chu Joon, Goh Ting Keng, Ong Tze Tong.
MACVs Welfare Visit
8 Nov 21
Malacca Chapter MACVs visited WO I Thomas Ng Foo Keow at his residence at Taman Sinn, Ujong Pasir, Malacca today. Thomas Ng is recovering from a successful kidney stone removal operation. Soon Poh Lee presented him with Get Well Angpow during the visit. The MACVs have taken time off to visit their fellow colleague, cheering him up and wishing him well. This small gesture shows great camaraderie and comradeship among MACVA members. Well done to all who have made the effort and we wish Thomas Ng a speedy recovery.
LR:Wong Hock Leng, Lee Hung Soon, Chuah Pok Hock, Wong Tuk Chen, Yeoh Chong Aun, Lee Hock Gim.
MACVs Welfare Visit
7 Nov 21
Northern Chapter MACVs visited WO II Chuah Pok Hock RMAF at his residence at Taman Lamsun, Alor Setar on 6 Nov 21. Chuah is recovering from a stroke that he had suffered. Lee Hock Gim presented Chuah with Get Well Angpow and Fruit Basket during the visit. The MACVs have taken time off to visit their fellow colleague, cheering him up and wishing him well. This small gesture shows great camaraderie and comradeship among MACVA members. Well done to all who have made the effort and we wish Chuah a speedy recovery.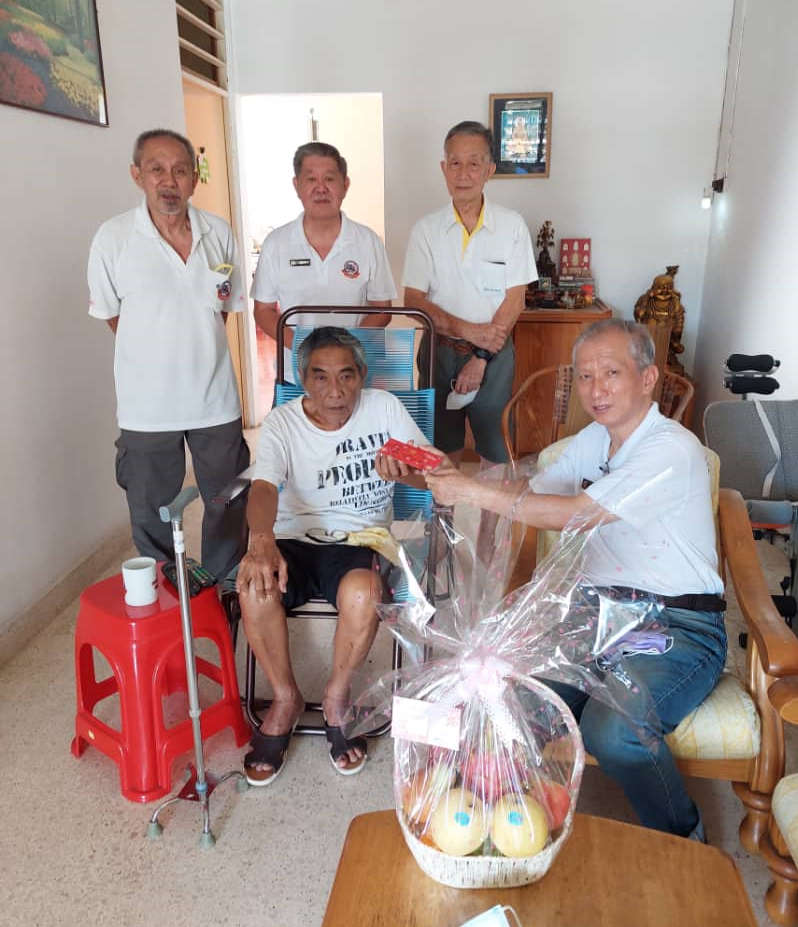 Lee HocK Gimn presenting Chuah Pok Hock with Get Well Angpow. Standing LR: Wong Tuk Chen, Lee Hung Soon, Wong Hock Leng.
Veterans remember Orang Asli's contributions
By Adrian David - October 28, 2021 @ 11:02am

(From right, front row) Goh Eng Chwee, Warrant Officer I (Rtd) Pak Singh Johal, Major (Rtd) Peter Yeow Chow Cheong, Sudhir Pilok, Halim Yokbiyu and Kirenjit Kaur with the Semai Orang Asli children at Sungai Padi in Telang, Lipis, Pahang. - Pix by Adrian David
KUALA LUMPUR: Remembering the good deeds of others is a noble act.

And two retired Royal Malaysian Air Force (RMAF) veterans have been doing just that by digging deep into their resources, to assist the Orang Asli community in the peninsular for the past 13 years.

Former air-quartermaster Warrant Officer I (Rtd) Pak Singh Johal and former Sikorsky S-61A-4 Nuri pilot Major (Rtd) Peter Yeow Chow Cheong teamed up with three non-governmental organisations (NGO) for the task.

The three NGOs are the Rotary Club of Titiwangsa, the Pertubuhan Komuniti Kasih Selangor (PKKS) and the Metro Tabernacle Taman Samudera in Batu Caves.

Both Pak Singh and Yeow flew thousands of perilous sorties deep into the jungles at the height of the communist insurgency, the two Emergency periods and other missions, in the 1960s through 1980s.

Pak Singh remembers the Orang Asli like the Semai tribe who offered great assistance during his forays deep in the jungles.

"They were there for us when it mattered most, often providing us solace, and even food and water during our trying times combating the insurgents.
Warrant Officer I (Rtd) Pak Singh Johal (right) handing over food rations to Good News chapel pastor Sudhir Pilok at Sungai Padi in Telang, Lipis, Pahang. - Pix by Adrian David
"Many a time we had to seek shelter or relief at their villages, when our troops or aircraft were disabled following shootouts with the enemy," said Pak Singh, 75, recounting his military days.

Hence, together with the three NGOs, Pak Singh and Yeow regularly mobilise food rations to be delivered to the Orang Asli in the interiors of peninsular Malaysia.

Pak Singh, who is the Rotary Club Titiwangsa's past president and now its treasurer, made the latest contribution of RM2,500 worth of sundries to the Pahang interiors for 40 families of Sungai Padi, Lipis and 43 families at Kampung Semalin and Kampung Sungai Hara, Raub in Pahang.

Accompanying Pak Singh and Yeow were Metro Tabernacle Taman Samudera pastor Gideon Lee, Rotary Club Titiwangsa's past district governor and Pak Singh's daughter Kirenjit Kaur, her husband Satvinder Singh and her mother Goh Eng Chwee.

Present to receive the contributions at the Sungai Padi village were Good News chapel pastor Sudhir Pilok and community leader Halim Yokbiyu, while pastor Jeffrey Shee was there at Kampung Semalin.

"I was involved in various missions - from search and rescue, medical, body and casualty evacuations, recce (reconnaissance), disaster relief and the like.

"We were tasked to assist the pilots in flight and operational safety of the Nuri.
Pastor Jeffrey Shee (centre) receiving the food rations from (from left) Goh Eng Chwee, Warrant Officer I (Rtd) Pak Singh Johal, Major (Rtd) Peter Yeow Chow Cheong and Kirenjit Kaur for the Semai Orang Asli at Kampung Semalin in Raub, Pahang. - Pix by Adrian David
"My duties included winching and dropping of supplies and personnel, extended under-slung of heavy cargo and abseiling via rapid deployment in the deep jungles," said the burly Pak Singh, who retired on Sept 6, 1990 after 22 years of dedicated service.

PKKS secretary Yeow, 75, who served the Army and RMAF for 24 years, also paid tribute to the Orang Asli for their invaluable assistance during his tenure with the security forces

"We are ever grateful for their services rendered.

"Therefore, we have pooled our resources to assist these lesser fortunate Malaysians who are still living in the doldrums of our country's interiors.

"I guess, our motivation and resolve comes from the rigorous training we have had in the military," said Yeow, who now works for the tabernacle as its maintenance manager.

He added that his association also disbursed over RM300,000 educational assistance to the Orang Asli children in Kampung Pak Senam in Bertang; Kampung Kabang in Lipis; Kampung Ulu Ruai, Kampung Ruai Tengah, Kampung Satak and Kampung Kelang in Raub.

"Additionally, we sent voluntary teachers to provide tutorials for the Orang Asli children there, with some of them successfully completing their Form Five SPM examinations.

"School leavers were also provided vocational and on-the-job training to gain employment at factories and firms in major towns.

"As for the others, we offered them assistance and guidance on water wells, farming, poultry and livestock-breeding so that they can fend on their own," said Yeow.

Kirenjit, a lawyer, said they had to date also provided personal effects, laundry and kitchen utensils to the old folks home in Ulu Yam, Selangor.

"At Kampung Sungai Kelang in Pos Sinderut near Raub, we facilitated a building extension for a kindergarten costing RM17,500.

"Over at the Tamboosamy School in Sentul, Kuala Lumpur we provided educational tools and books for the students, while facilities like rain-water harvesting, water heaters and solar lighting facilities were provided at Kampung Ruai Ulu and Kampung Bertang," she said.

Kirenjit added that several Rotary clubs jointly funded over RM150,000 to facilitate transportation and educational aids for 63 orang asli children in Bertang to attend school.

"Rotary also built a mini dam to channel 6km of piped water to an Orang Asli village, apart from providing packed food during the Covid-19's Emergency Movement Control Order," she said.

https://www.nst.com.my/news/nation/2021/10/740421/veterans-remember-orang-aslis-contributions

2021 © New Straits Times, New Straits Times Press (M) Bhd. A part of Media Prima Group.
SITTING LR: LIM BP, LC LIM, DANIEL HOW, SUBRAMANIAM, JOSEPH TAN CS, MRS KAM FONG SWEE AND DAUGHTER. STANDING LR: ANTHONY PHOONG, NG SN, SAMUEL TAN, YEONG KS, LOH LM, LAU HENG, CHEAH CH, THURAIRAJ, CHAN TY, HO WP, TAN HC AND KAM'S SON.
Southern Chapter Fellowship
21 Oct 21
Southern Chapter MACVs had a Dinner gathering on 16 Oct 21 evening at Grand Seafood Restaurant, Jalan Persiaran Senibong, Masai. 17 Veterans and family got together and caught up with each other after a lapse of almost one year due to Covid19. The location was chosen primarily because of its open space. It was a fantastic sight to see all of them well and taking the time out to fellowship which shows great comradeships among MACVs. We also like to remind our members to always adhere to Covid19 SOP and safety practices when enjoying the companies of their comrades on such occasions. Well done to all present and we wish them well.