Tribute To An Unsung Hero of Templer 12

Lieutenant Colonel Peter Ng Boon Hwa (Retired)
(26 Aug 1931 - 1 Mac 2020)

On behalf of the MACVA Veterans, we wish to pay our tribute to an unsung hero of the Templer 12, Lt Col Peter Ng Boon Hwa. We express our great sadness for our comrade who passed on peacefully in the Penang General Hospital at 7pm on 1st March 2020. He was 89 years old. He leaves behind 3 sons, David, Christopher and Peter and 2 daughters Major Ann Marie and Jennifer. He was blessed with 12 grandchildren to fit the Templer 12 icon. Major Ann Marie was in our Ordnance Corp, a logistics division of the army. His beloved wife passed on 7 years ago.

On 27 July 1952, the Federation Regiment Bill was passed in the Federal Legislative Council of Malaya. Peter Ng then saw an advertisement for officer cadet selection for the formation of the Federation Regiment. He was a temporary teacher in Batu Pahat. So he gave up his teaching career to join the exciting life in the army.

After an interview in Port Dickson, he was 1 of the 12 young men to be selected as cadets by the British High Commissioner of Malaya, General Sir Gerald Templer. His army number was 200002. This was to form the nucleus of the multi-racial Malayan Army on 11 August 1952 at the Pre-Officer Cadet Training Unit at the 5th Mile Coast Road, Port Dickson. This camp was then converted into the Federation Military College on 16 Dec 1952. After a short stint of 3 months military training, the Templer 12 cadets were sent to Eaton Hall in Chester in England. After 6 months training they were sent to the Royal Military Academy (RMA) in Sandhurst. They were commissioned as 2nd Lieutenants on 3rd February 1955.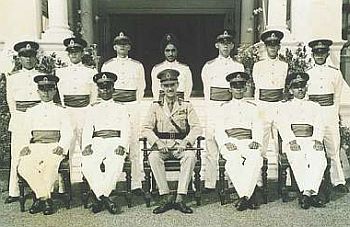 With eleven of the twelve cadets chosen to become the first officers of the Federation Regiment. The names tell the story. Left to right, front row: Khong Kim Khong, Abdullah Samsuddin, Gerald Templer, Victor Stevenson, Asna Mohamed Suta; rear row; Gui Poh Chui; Thong Chee Sin; Leong Siew Meng; Lakhbir Singh Gill, Ng Boon Hwa, Lai Chung Wah, Amiruddin Mustapha Al-Bakri. Source: Templer:Tiger of Malaya.
On returning to Kuala Lumpur, he was posted to 2 Reconnaissance Regiment. In April 1961, he went with his regiment to serve with the Malayan Peace Keeping Force in Congo. In Congo he fulfilled his childhood adventure of wildlife hunting in the Safari country. He brought home many nice elephant tasks and mounted them in his Regiment.

In 1970 he was transferred to the Royal Rangers Regiment on promotion to 2nd in Command. He was involved in the front line of jungle fighting the terrorists at the height of the communist insurgency. One of his highlights was to train the Vietnamese soldiers in jungle or guerrilla warfare at the request of the US army.

Col Peter Ng was indeed a humble gentleman and a faithful officer par excellence. With his seniority he was bypassed in many promotions earlier on and yet he did not make any demand for an award or recognition. He retired on 26 August 1983 after 31 years of serving our King and Country with honour and dignity.

The MACVA Veterans wish to express their deepest condolences to the family members of our comrade, Col Peter Ng during this sad moment of bereavement and mourning. Indeed Peter Ng had lived a well fulfilled exemplary life, enriched by his loved ones, friends and all who know him well.

3rd March 2020

Ingenieur Lt Col Raymond Goh (Retired)
Royal Engineer Regiment

Footnote: This Tribute was presented as an eulogy at the Funeral service of Col Peter Ng at the Church of Immaculate in Pulau Tikus, Penang on Wednesday, 4th March 2020.