Lt Col Ooi Ah Kiang (Retired)
Lt Col Ooi Ah Kiang (Retired)
KMN AMN PPT PMC PJK psc (Quetta) mpat
Regiment of Signals
Served from Dec 1958 to Dec 1992

A PERSONAL MEMOIR FOR MACVA

ENLISTMENT
1. I enlisted into the Malaysian Army as a Regular Commission Cadet (Intake 3) on 10 December 1958. My service number is 200140. I was commissioned as a Second Lieutenant in the Regiment of Signals on 10 December 1960.

In the senior year of my cadet officer training, I was a member of a team of 8 senior cadets who successfully climbed Gunung Tahan in 7 days during one of our term breaks. Pahang was then a hot bed of communist insurgent activities and to cater for any eventuality, each one of us carried a Mark 5 rifle and 100 rounds of ammunition in addition to our camping equipment and compo rations.

The team took the train from Seremban to Tembeling Halt in Pahang. From there we took a river boat to Kuala Tahan. The next day we went by boat up Sungei Tahan and began our accent towards Gunung Tahan.

At that time there was no established route. The accent to the summit was done by map reading to select the best route through thick jungle and hilly undulating terrain and using our compass to ensure we remain on track. We got lost a couple of times but managed to find our way and reached the summit at the end of the third day. The photos below show us on the trip and at the trig point of Gunung Tahan:
ARMED FORCES SIGNAL SQUADRON
2. I was posted to Armed Forces Signal Squadron on 1 Jan 1961 and assumed appointment as 2IC Training Troop. In this appointment I assisted the unit in training signal technicians, signal telegraph, signal radio, signal teleprinter operators, linemen, and electrician drivers. The Troop also trained Regimental Signal Instructors from infantry battalions and supporting arm units.

The photo below shows the Officers and SNCOs in Armed Forces Signal Squadron in 1961.I am seated third from the right:
3. In June 1962 I was sent to the School of Signals in United Kingdom to attend the Royal Signals Young Officers Qualifying Course. After completing the course, I was given special instruction on cryptography and training in operating crypto equipment and crypto materials then in use in the Malaysian Armed Forces.

I was then attached for a month with 209 Signal Squadron of the British Strategic Reserve Brigade in Colchester to gain some practical experience. The Chief Instructor of the School of Signals (Col David Horsfield) wrote to my CSO (Lt Col Erskine) to inform him how I performed on the course. A copy of his letter is attached:
4. In Dec 1962, I was promoted Lt. When I returned to KL in early 1963, I took over Mindef Signal Troop from Capt Frank Pedley (Royal Signals). In this appointment I was responsible for the Ministry of Defence Communication Center (Comcen) and the Armed Forces Trunk Communications Network. This included the Army Static Radio Network and the radio link between Mindef and the Malayan Special Forces operating under the UN in Congo, the Armed Forces Telex network and the Army Signal Dispatch Service. In addition, I was also the Chief Custodian Officer responsible for all cryptographic equipment, cryptographic materials, the issue of daily codes and keys and the proper management of the cipher office (encryption and decryption of classified messages). This was a heavy responsibility especially at a time when the Army was fighting Communist Insurgency, Indonesian Confrontation and with the Malayan Special Force in Congo.

5. In early 1964 AF Sig Sqn was reorganised into a regiment (AF Sig Regt). My Mindef Signal Troop became Mindef Sig Sqn. Two British Royal Signals Officers (a major and a captain) were seconded, one to command the Sqn and one to manage the Comcen and to take over my Custodian Officer duties. I was then only responsible for the Armed Forces Static Radio Network linking formations in Peninsular Malaysia, Singapore, Sabah and Sarawak, the radio link to Congo and the Armed Forces Radio Transmitter Site near the old Sungei Besi airport.


5 BRIGADE SIGNAL SQUADRON
6. In 1965 I was posted to 5 Bde Sig Sqn to assume appointment as OC Radio Troop. During my tour of duty, 5 Brigade also had British Forces operating together or in support of it. The Gordon Highlanders Battalion was deployed in Kalabakan, 8 Royal Malay was based in a camp next to Tawau Airport with its Tac HQ deployed in Wallace Bay on Sebatik Island. Sub-units of 8 Royal Malay were deployed In Wallace Bay, Sungei Melayu and Bergosong on Sebatik Island facing Indonesian TNI Forces (at that time the 9th KKO Battalion).

It may be of interest to note that 1 Singapore Infantry Regiment was deployed in Sebatik before 8 Royal Malay took over. A Special Boats Section of the Royal Marines was based in Sawmill Camp in Tawau.

Along the coast stretching from Tawau to Semporna was a string of Observation Posts (some of them of platoon strength) deployed in strategic locations to prevent infiltration of Indonesians and TNI forces. Because of the terrain and the distances involved it was a daunting task to maintain radio communication between these forces and from these forces to their bases. 5 Bde Sig Sqn helped to extend the range of their radio sets (WS A41) by either providing the designs or manufactured VHF antennas such as the Double Diamond VHF dipole antennas and VHF Yagi antennas. In this way we were able to provide satisfactory radio communications to units and within units in 5 Brigade.

I remember spending a night at the Mentadak platoon position (off Sungei Melayu) to help the platoon improve its radio communication with its unit Tac HQ in Wallace Bay. From the top of the tall tree on which the radio antenna was installed I could see the TNI Forces position about a map square away.

7. There was always a Royal Navy frigate (designated as the Guard Ship) patrolling the sea off the East Coast of Sabah. I remember every Monday morning, together with others, travelling in an assault boat from Tawau jetty to attend a meeting on board the Guard Ship. The meeting coordinated matters such as naval gunfire/artillery fire and requests for air support etc.


ROYAL SIGNALS COMMUNICATIONS COURSE
Towards the end of 1965, I left 5 Brigade Signal Squadron to attend a year-long Royal Signals Communications Course at the School of Signals in England. This was an all-white course. Except for two Malaysian Signal officers, no other Commonwealth Signal Officers were accepted. There were altogether 26 officers on the course, from Royal Signals UK, Royal Australian Signals, Royal Canadian Signals and Royal New Zealand Signals. From Malaysia was Captain Eddie Tay Ah Tee (ex-Royal Signals) and me.

Half-way through the course, in a meeting excluding us, the Royal Signals officers were told by the School Chief Instructor to work harder as the two Malaysian Students were performing better than them. The photo below shows Commandant of the School of Signals (Brigadier Warburg) with the two Malaysian officers at the end of the course. I graduated top with Captain Eddie Tay second.
After the course in Jan 1967, I was posted to Signals Branch, Ministry of Defence to assume appointment as SO3 SD. In Oct 1967, Maj Allen Lai then OC 5 Bde Sig Sqn had to attend a 5-month Junior Command and Staff Course in Lateda, Port Dickson. I was posted to Tawau as Acting OC 5 Bde Sig Sqn and after Allen Lai completed his course, I handed the sqn back to him.


OC 4 BRIGADE SIGNAL SQUADRON
8. In early 1968 I was promoted Major and posted to Temerloh to command 4 Bde Sig Sqn.

The squadron provided signal communications to 4 Bde for counter Insurgency, Public Order and Flood Relief operations in the states of Pahang, Trengganu and Kelantan. The photos below show Brig Jen Mazlan (Comd 4 Bde) inspecting the squadron during its Annual Administration Inspection:
OC 2 BRIGADE SIGNAL SQUADRON
9. In early 1969, I was posted to Ipoh to assume appointment as OC 2 Bde Sig Sqn.

Brig Gen Sany bin Abdul Ghaffar was Comd 2 Bde. The Bde's area of operation covered Perak, Kedah, Penang and Perlis. There were a number of civil disturbances in Perak and in Penang during May 13. The May 13 Incident also resulted in a big surge in communist insurgent activities. Many areas in Perak especially in Kroh, Grik, Kelian Intan etc were gazetted as black areas. Soft skin military vehicles travelling in these areas had to be escorted by armoured vehicles.

I spent Chinese New Year 1970 in Kaki Anak Bukit, Perlis with Tac HQ 2 Bde conducting operations against communist insurgents in the Malaysia/Thai border. In between my duties as OC 2 Bde Sig Sqn, I was appointed President of a District Court Martial to try a soldier in 2 Bde for absence without leave. After listening to evidence presented by the prosecution and the defence, I found the accused soldier guilty and sentenced him to 6 months in prison.

The photo below is my farewell send off from 2 Bde Sig Sqn:
DAA&QMG HQ 3 BRIGADE
10. I was DAA&QMG (DQ) of 3 Brigade in 1971. Of the following 3 photos, the first one shows me being introduced to the Secretary General to the Ministry of Defence by the Bde Comd (Brig Gen Mohd Ghazali Bin Mohd Seth).
The second photo shows Tun Temenggong Jugah (then Federal Minister of Sarawak Affairs) attending a function in 3 Brigade Officers Mess. On his right is Maj Kassim Ismail, then BM 3 Brigade. On his left is myself and my Staff Captain A. Tun Temenggong Jugah was the Paramount Chief of the Ibans for 55 years.
The third photo shows a land rover vehicle welded with steel plating to minimise casualties in event of an ambush.
The fourth photo shows me and the BM (Mej Kassim) with leaders from RTM and Information Services on military civic action duty in Sibu.
11. My tour as DQ gave me valuable experience in conducting military operations and in management of men and materials. When Gen Ghazali Seth took over command of 3 Brigade, both the BM and DQ were posted out on promotion. He had chosen Maj Kassim as his BM but Maj Kassim would not be available for another 5 months. When I first reported, Gen Ghazali told me 3 Bde is a very operational brigade. He said " Ooi I do not know you, but Army Staff Division says you can do the job. I will be fair. I will give you a month. If you cannot manage, I will have to let you go" I said I will try my best sir. My tour of duty as DQ was hectic and eventful. I shall narrate a few of the more notable events.

a. Operation Hentam
The security situation in Sarawak was very serious when I reported for duty in HQ 3 Bde. A week earlier a platoon of 1 Renjer was ambushed in Sungei Katibas in Third Division of Sarawak resulting in 8 soldiers killed and several wounded. A month earlier a detachment of soldiers of 8 Royal Malay based in Kuching were ambushed at Lundu in First Division Sarawak resulting in several soldiers killed in action.

In early Feb 1971 HQ 3 Bde received information from Special Branch of a communist terrorist camp based in the jungles of Muara Tebas/Goebilt not far from Kuching. A two-battalion operation was launched to search and destroy the enemy in the camp. After the cordon was in place Tiger Platoon of 8 Royal Malay made contact with the enemy and one communist terrorist was killed. After that there was no further contact with the enemy for the next 3 weeks.

The troops enforcing the cordon were feeling the strain especially soldiers who had families in Kuching. After some adjustments to the cordon boundaries there was a gap in Goebilt between 8 Royal Malay and 11 Bn MTA. The Bde Comd decided to deploy a platoon from 1 Renjer (based in Sibu) to cover the gap between the two units.

Owing to the urgency of the situation I obtained the Comd's agreement to fly the platoon from Sibu to Kuching by MSA flight using CATW (civil air travel warrants).This was not normal as movement of troops from Sibu to Kuching was usually done using civilian express boats taking at least 2 days to reach Kuching. The staff of HQ 1 Div was livid when they found out I had used CATWs for this purpose. I was told to give my reasons for doing so in writing. Fortunately two days after inserting the troops into Goebilt by an RMN landing craft (LCM), the platoon made contact and 13 CTs were killed.

The next morning the Bde Comd and I flew by Alouette helicopter to Goebilt to see the soldiers bring out the dead bodies. 2Lt Baharin and Ranger Lan (an Iban) received PGBs for their bravery in the incident. HQ 1 Div never asked me for the written explanation to justify why I flew the platoon from Sibu to Kuching using civil air travel warrants.

b. Operation Ngayau and Establishment of RASCOM.
The establishment of RASCOM (Rejang Area Security Command) was necessary because the security situation in the Third Division of Sarawak was getting out of control. There were frequent contacts with the enemy resulting in casualties.

To give an idea how serious the security situation was, personnel of 1 Renjer (based at Sibu airport) needing medical attention at Sibu Hospital had to have an armed escort. Otherwise, they could be ambushed. Many areas in Sibu were gazetted as black areas. The District Officer of Kanowit did not stay in his official residence but stayed in Kanowit Army Camp with 1 Renjer personnel. Whenever I travelled to Sibu for duty I usually stayed at Hotel Sarawak (a 7-storey building). The hotel manager (Charlie Wong) told me in private to be careful. He said people in Sibu say when they see you (001) arrive in Sibu Airport, military operations could be imminent.

The establishment of RASCOM was preceded with a series of major operations code-named Op Ngayau. They included the cordon and search of Sibu (a three bn operation), cordon and search Kanowit(two bn+ operation) and the cordon and search of areas in Sarekei and Binatang. I was fortunate to have participated in the conduct of these operations. I was also involved in setting up RASCOM (then in a 4 sided wooden building on stilts) close to Sibu Port. I wrote the military establishment of Camp RASCOM and justified it to an Establishment Committee meeting in Mindef.

c. Military Affray in Sabah
The next notable event was the Board of Inquiry involving the affray of military troops with the police and the civilian population in Kota Kinabalu and other towns in Sabah in mid-1971. The affray was very serious and had developed into an internal security problem. All military personnel in Kota Kinabalu and major towns of Sabah were confined to barracks. The Prime Minister ordered an immediate Board of Inquiry and directed the report to be submitted to him within 7 days.

Gen Ghazali was appointed Chairman of the Board. GSO 1 HQ 1 Div and I were appointed members of the Board. We flew to Kota Kinabalu and for the next 3 days interviewed and took sworn statements from over 100 witnesses (including from Comd 5 Bde, Staff of HQ 5 Bde, CO 2 Renjer and men in his unit, Police personnel and civilians). On our return to Kuching, Gen Ghazali and I drafted the findings and recommendations. After that I was left to produce the final report. Five copies of the report were made (one each to the PM, CAFS, IGP, the AG and the Chairman of NSC). This could have been a coincidence.

On our way back from Kota Kinabalu to Kuching Gen Ghazali and I stopped in Sibu to visit 1 Renjer and see progress of RASCOM in Sibu. Just an hour before we arrived Sibu 2 land rovers bringing 1 Renjer personnel to Sibu Hospital were ambushed on their way to Sibu. Fortunately, no one was seriously injured in the incident.

My service as DQ 3de was recognised with an award of AMN (Ahli Mangku Negara). Gen Ghazali also strongly recommended that I attend an overseas staff college course which I did after serving a year as DS in the newly introduced SD Course in LATEDA, Port Dickson. In 1981 when I was DS in the Armed Forces Staff College, Gen Ghazali who was then CAFS asked me to be present in his office when he was interviewed by two journalists writing a book on the insurgency war in Sarawak. I was there to help refresh his memory and if necessary to clarify some of the details.


2IC ARMED FORCES SIGNAL REGIMENT
12. In early 1974, after attending Staff College in Quetta, Pakistan, I was posted to Armed Forces Signal Regiment to assume appointment as 2IC. My main responsibility was to oversee the training of signal tradesmen, Signal Young Officers, and unit Regimental Signal Officers on courses in Signal School. There were several events of ignificance in my tour as 2IC Armed Forces Signal Regiment, which I have outlined below.

a. Signals Amateur Radio Club 9M2MT.
As a keen ham radio enthusiast, I formed an amateur radio club in Signal School to encourage the students to develop deeper interest in radio propagation and reception. At home I operated my own ham radio station using callsign 9M2HP with a Collins KWM2A 100-watt transceiver. I sat and passed my amateur radio theory paper in Markas Jabatan Telekom and passed my morse receiving test in Jabatan Telekom Station in Cochrane Road. I remain an active ham radio enthusiast after leaving Signal School. I operated ham radio when I was CO 3 Div Sig Regt in Terendak Camp, Melaka and in Labuan when I was CO 1 Div Sig Regt. With advent of the Internet, I have stopped operating ham radio and now spend time surfing the net instead.

Of the 4 photos attached, the first photo show members of the Regiment of Signals Amateur Radio Club 9M2MT in 1975.The Club operates from a classroom in Signal School. The second photo shows the rotatable cubicle quad antenna mounted on a 36foot mask. The height of the antenna was later increased to72 feet. The third photo shows the ham rig (a Collins KWM2A watt transceiver) in the clubhouse. The fourth photo shows my amateur radio licence.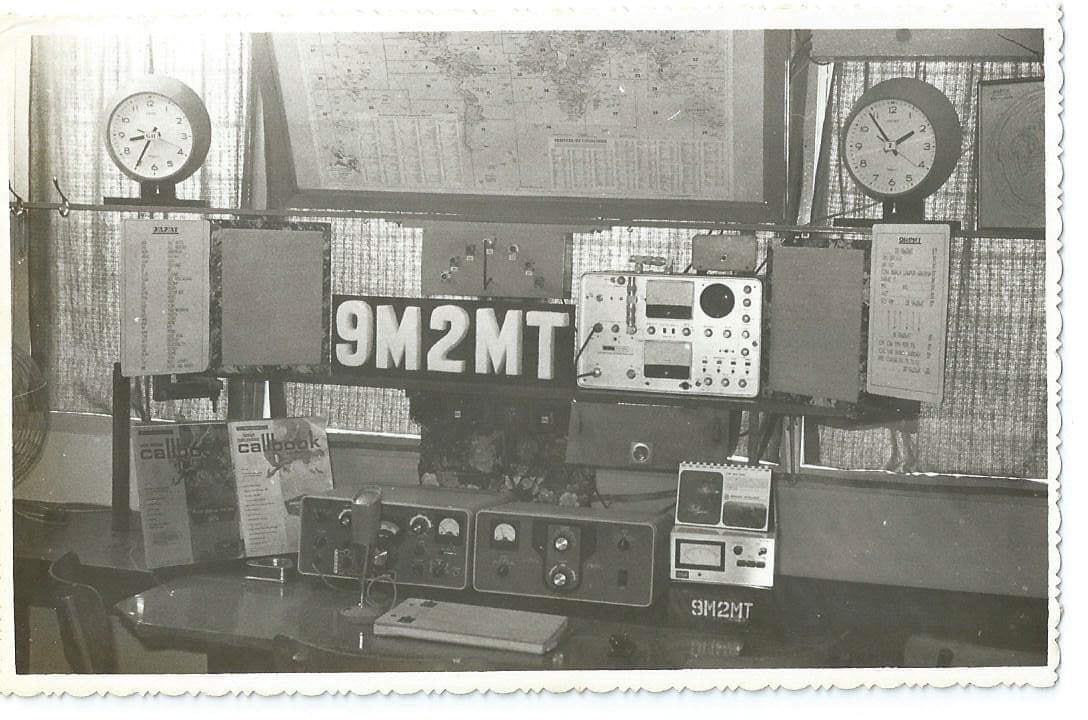 b. Establishment of Kampong Semboyan.
In Dec 1974, our Prime Minister Tun Razak introduced Buku Hijau to encourage the people and Government Departments to make use of whatever idle land available to grow vegetables, plant fruit trees, rear fishes to augment the peoples' income/reduce their monthly expenses and in so doing also help reduce the import of food from overseas. With this in mind, I decided to implement a Buku Hijau project on about 4 acres of land in the foothills of Bukit Besi and adjacent to a mining pool.

At that time, we had about 300 students in Signal School. Sports facilities and playing fields in Sungei Besi Camp were very limited and there were many calls for their use from units in the camp. Signal School students after their classes had nothing to do in the evenings. I decided to keep them busy and usefully employed in our unit Buku Hijau Project. Students under their instructors were assigned areas to build grow beds to plant vegetables and fruit trees,etc. Others were tasked to clear weeds and swamps to create two fish ponds. I had a stream from Bukit Besi dammed to create a swimming pool and a picnic area.

In carrying out this project I had help from MARDI and the Agricultural Department in Serdang. They provided us with seeds, seedlings and fish fries. Their specialists also visited us from time to time to offer expert advice. Eventually people in and around Sungei Besi knew about the place and called it Kampung Semboyan. RTM also came to make a recording of our Buku Hijau project and aired it over TV Malaysia. For several years Kampong Semboyan was used as the venue for the Regiment of Signals annual family day get together.

The photos below show the swimming pool and the picnic area in Kampong Semboyan. It also shows Kpl Walid our unit Physical Training Instructor giving swimming lessons to some children in the unit.
c. Construction of 25 Yard Shooting Range.
There is only one shooting range in Camp Sungei Besi. The shooting range catered for not only the training requirements of units in Camp Sungei Besi but also units in Kuala Lumpur. For Armed Forces Signal Regiment /Signal School the monthly range allocation was hopelessly inadequate. I decided to build a 25 yards shooting range for our unit's training requirements. We hired a civilian bull ozer/escalator for a day to do the earth works as we did to create the two fish ponds in Kampong Semboyan. The 25 yards shooting range was built to shoot into Bukit Besi. The photo below shows the shooting range being used.
d. 1975 World Cup Hockey Competition.
I was appointed Secretary to the World Cup Grounds and Equipment Committee and Secretary to the two World Cup competition venues in Ministry of Defence under General Ungku Nasarudin who was Chairman of the two Committees. For several months in 1975 and until the end of the World Cup Hockey Competition, I worked from an office in Wade Wing, Ministry of Defence.

e. 1976 AFRA Shooting Competition.
I led the unit shooting team to compete in AFRA in Terendak Camp. Armed Forces Signal Regiment won the Minor Unit Overall Championship. I was a member of the unit team that won the Minor Unit Falling Plate Championship. I was also a member of the pair that won the Minor Unit 9mm Pistol Championship. This achievement was significant as the competition included well known teams from PULADA, LATEDA, RMC and all minor units in the Army.


RAISING 3 DIVISION SIGNAL REGIMENT
13.I was promoted Lt Col in December 1976 and posted to Terendak Camp to raise 3 Div Sig Regt. This was a challenging task as I had to raise everything from scratch. The only thing we had were the empty buildings left by 1 Bde Sig Sqn which had moved to Rasah Camp in Seremban. There was no equipment, no vehicles, no furniture or tores. I spent the first few days eyeing buildings in my immediate neighbourhood. Having finalised my plans, I approached HQ 3 Div and offered to exchange my 1 Bde Sqn HQ buildings for their Camp 3 Div HQ buildings and justified why I needed some other buildings left by the British for my QM Stores, Cook House, my OR Canteen etc. The GOC Mej Jen Jamil after scrutinising my requirements agreed to my requests. There after it was quite happy sailing but there was a lot of work to do.

14. The important thing is we now have a well-defined area for the Regiment, a proper RHQ, a parade square, a big 2 storey building for our QM stores and a big building adjacent to QM Stores for our OR Cook House and OR Canteen. We also had buildings left by 1 Bde Sig Sqn to accommodate Div Comms Sqn and Admin Sqn. Some of the men posted in were not good soldiers. Indeed, some had disciplinary records. By dealing with them firmly but fairly we managed to change their ways. With proper training and supervision, we were able to have the Regiment operational and functioning within 3 months. HQ 3 Div's area of operation included the States of Johor, Melaka, Negri Sembilan, Pahang, Trengganu and Kelantan. I commanded 3 Div Sig Regt for 2 years. In Jan 1979 I was posted to Labuan to command 1 Div Sig Regt.

15. The photos below show in 1979 the CSO Brig Jen Leong Siew Meng inspecting the Regiment and me receiving from GOC 3 Div (Mej Jen Selvarajah) the Shooting Championship Trophy for minor units in 3 Div.
CO 1 DIVISION SIGNAL REGIMENT AND DS ARMED FORCES STAFF COLLEGE
16. I commanded 1 Div Sig Regt for 1 year and 6 months. In Jul 1980 I was posted to the Malaysian Armed Forces Staff College to assume appointment as a Directing Staff (DS). 16. In Jan 1983 I was posted to Camp Sungei Besi to command 95 Woksyop Pengkalan Semboyan (95 Signals Base Workshop).


95 Woksyop Pengkalan Semboyan
17. I was the CO of 95 Woksyop Pengkalan Semboyan for 8 years (1983 -1990). The unit then was responsible for the major repair/overhaul of signal telecommunication equipment in use in the Army, trial and evaluation and acceptance tests of new signal telecommunication equipment and Annual Signal Specialist Inspections of signal equipment of all units in the Army.

18. In early 1985 Mindef called tenders for the purchase of frequency hopping radio equipment for use in the Army. Six companies submitted samples for evaluation. They were from Racals UK, Marconi UK, Ericsson Sweden, Rockwell Collins USA, Thomson CSF France and Standard Electric Lorenz Germany. The trial and evaluation of the tender samples took over 2 months from March to May 1985.

The evaluation was done in two parts. First, bench tests were carried out in the Workshop to verify the technical parameters claimed by the companies for their equipment. Tests were also done to determine whether the tender samples met the technical specifications laid down by Ministry of Defence. This was followed by field trials to determine the performance of each tender sample in our local environment.

19. The field trails were in two parts. The tender samples were first mounted in land rovers and operated over various distances and over various terrains in the states of Selangor and Negri Sembilan. The second part of the field trail was conducted in Sabah from Gunung Kembarangan on the slopes of Mount Kinabalu to Station Lima in Pulau Layang Layang about 200 miles from the coast of Sabah in the South China Sea.

20. When the UN Law of the Sea was promulgated in 1984 it allowed countries to claim an EEZ of 200 nautical miles from their coasts. Towards this end the Malaysian Government directed the Armed Forces to occupy Pulau Layang Layang (Swallows Reef). This was done by sending a detachment of TLDM Commandos (Pascal) to establish Station Lima. The only communication between Station Lima and Naval and Air Force assets in Labuan was a low power HF radio link. Communications was poor and often subjected to foreign enemy intercept and interference. There was no satellite communications or GPS at that time. It was vital for Station Lima to have reliable and secure communications to enable it contact TLDM and TUDM Labuan for help in event of being threatened or attacked by foreign forces. Since VHF requires line of sight path, we decided to operate the tender samples from Gunung Kembarangan (8500 ft) on the slopes of Mount Kinabalu to Station Lima, a distance of approximately 200 miles away. Pulau Layang Layang was very small when I first saw it from the air. It looked like a small round butter cake in the middle of the ocean. The island was built by Promet with earth shipped from Johor. The whole island was ringed with steel plates driven into the reef to prevent the earth from being washed away.

21. The following photos show Station Lima housed in 3 large Nissen huts. It also shows then CSO Brig Jen Idris and a few of his staff visiting the evaluation teams at Station Lima and at Gunung Kembarangan. The Log periodic antennae of tender samples all point towards Gunung Kembarangan. The successful trial and evaluation of the tender samples were due to the hard work and dedication of all officers and men in my unit. We also had some help from TLDM personnel in Station Lima and TLDM Labuan.
REJIMEN SEMBOYAN MEDAN
22. In Jan 1991, I assumed command of Rejimen Semboyan Medan (Field Signal Regiment).The Regiment was responsible for the command and administration of Territorial Army Signal Units in Peninsula Malaysia.

23. I retired on 10 Dec 1992 having served in the Army for 34 years. Berita Harian published a big article on my retirement in their daily newspaper. The photo below shows my send off by officers and men of Rejimen Semboyan Medan.
PROFESSIONAL TRAINING
24. Besides the usual Army courses, I also attended the following courses for senior officers:

a. 1973 - Command and Staff College Quetta, Pakistan.
b. 1979 - Senior Officers Course in PULADA.
c. 1984 - Maktab Pertahanan Angkatan Tentera.
d. 1988 (for 4 months) The Advanced Management Program for GMs and CEOs in the Australian Management University in Mount Eliza, Melbourne Australia.

FAMILY MATTERS
25. My wife Tam Sock Ling and I have been married for 55 years. We have 5 sons,5 daughters in law and 5 grandchildren.

26. Me and my wife at a wedding dinner:
The exigencies of the Service, the frequent postings, the frequent deployments either on military operations or training exercises have serious effects on the serving member, on his wife and on their children. This is a fact not well appreciated by the Civil Service or the general public.

In my 34 years of service in the Army, I have served 4 tours of duty in Sabah and Sarawak, not counting a 2-week stint in Labuan just after the Brunei rebellion. In Peninsular Malaysia, I have served from North to South and East to West. My wife bore the full brunt of hardship, caring for the family, looking after the children and attending to them when they were sick all by herself whilst I was away for long periods serving King and Country. Contacting me by phone was expensive and difficult and was done only as a last resort. There was no internet, no mobile handphone, no WhatsApp, Skype or any other such modern conveniences to call home.

My wife also had to make a personal sacrifice. She was the top student of her staff nurse student intake in UK and had a promising nursing career but had to stop work to look after her family after completing her 5 years compulsory service.

For my children, my frequent postings affected their education, required them to adapt to the environment in different schools and made it difficult for them to establish firm roots or make lasting friendships. My eldest son for example studied in 6 schools because of my frequent postings. My other children studied in at least 4 schools following my postings eg from KL to Terendak Camp in Melaka, then to Labuan and then to Sungei Besi Camp in KL. It is to my children's credit that despite the many difficulties they had adapted well and have all been successful in their respective careers.


HONOURS AND AWARDS
27. As follows:

a. Kesatria Mangku Negara (KMN)
b. Ahli Mangku Negara (AMN)
c. Pingat Perkerti Terpilih (PPT)
d. Pingat Khidmat Cemerlangan Masyarakat (PMC)
e. Pingat Jasa Kebaktian (PJK)

Lt Col Ooi Ah Kiang (Retired) (SN:200140)
KMN AMN PPT PMC PJK psc mpat
Regiment of Signals
10 July 2021


Recorded for MACVA Archives.

Maj Wong Kwai Yinn (Retired)

27 July 2021