Press
MACVA Visit Malaysian Chinese Museum
17 Mar 19
Malaysian Armed Forces Chinese Veterans Association (MACVA) paid a visit to the Malaysian Chinese Museum located at Seri kembangan, Selangor on 13 Mar 19. The MACVA entourage led by VP RMAF Joe Pie Chong Seng and Honsec Wong Ah Jit were received by Malaysian Chinese Museum Chairman Tan Sri Datuk Ng Teck Fong. During the visit Ng Joo Chay presented a Chinese Calligraphy which he wrote himself to Tan Sri Datuk Ng Teck Fong.
吴德芳:建国贡献不能留白 华裔军警事迹纳华博
March 14, 2019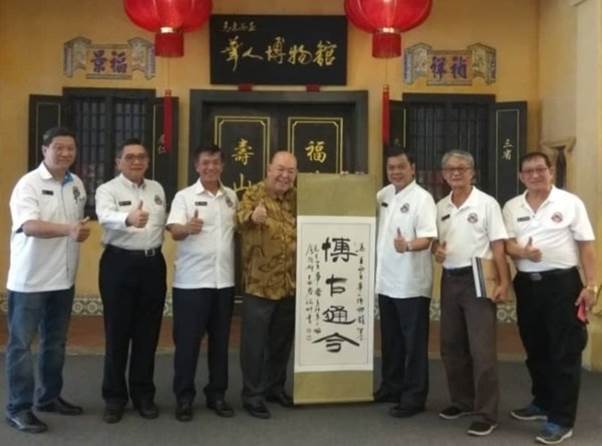 华裔退伍军人协会副会长彭聪城(右三)赠送书法中堂予华博主席吴德芳,左三总秘书王亚日。
(吉隆坡12日讯)我国华裔军警事迹,将纳入大马华人博物馆(华博)展厅。

华裔退伍军人协会日前应华博主席丹斯里吴德芳邀请访问该馆及考察,并获献议在第二期的扩馆计划中,设立展馆,以呈现华裔军人在建国历史中的角色。

吴德芳说,建国前后经过几次动荡时期,华裔都未曾缺席,且积极参与整个过程,因此华裔军警对国家的贡献,一定不能在建国历史中留白。

华裔老兵协会总秘书王亚日中校透露,该会年前已在收集华裔军人参与各战斗任务的回忆录,并将在近期付梓发行,该会将配合华博提供及充实华裔军警史料,让新生代更了解建国过程和珍惜我国目前达致的成就。

南洋商报有限公司版权所有 Copyright © Nanyang Siang Pau Sdn Bhd


华裔退伍军人协会副会长彭聪城(右三)赠送书法中堂于华博主席丹斯理吴德芳,左三为总秘书王亚日中校。(图:星洲日报).
华裔军警事迹纳入华博
(吉隆坡十二日讯)我国华裔军警事迹将纳入华博展厅!

日前应大马华人博物馆主席丹斯理吴德芳邀请,华裔退伍军人协会访问考察该馆,并获献议在第二期的扩馆计划中,设立展馆以呈现华裔军人在建国历史中的角色。

吴德芳说,大马建国前后经过几次动荡时期,华裔国人都未曾缺席,且积极参与整个过程,因此华裔军警对国家的贡献事迹,一定不能让它在建国历史中留白!

华裔老兵协会总秘书王亚日中校透露,该会年前已进行收集华裔军人参与各战斗任务的回忆录,并将在近期付锌发行;该会也将积极配合华博,提供及充实华裔军警史料,让新生代更加了解建国过程和珍惜我国目前达致的成就。

文章来源 : 星洲日报 2019-03-13