MALAYSIAN ARMED FORCES CHINESE VETERANS ASSOCIATION (MACVA)
DONATION TO THE CONSTRUCTION OF MEMORIAL MONUMENTS FOR FALLEN HEROES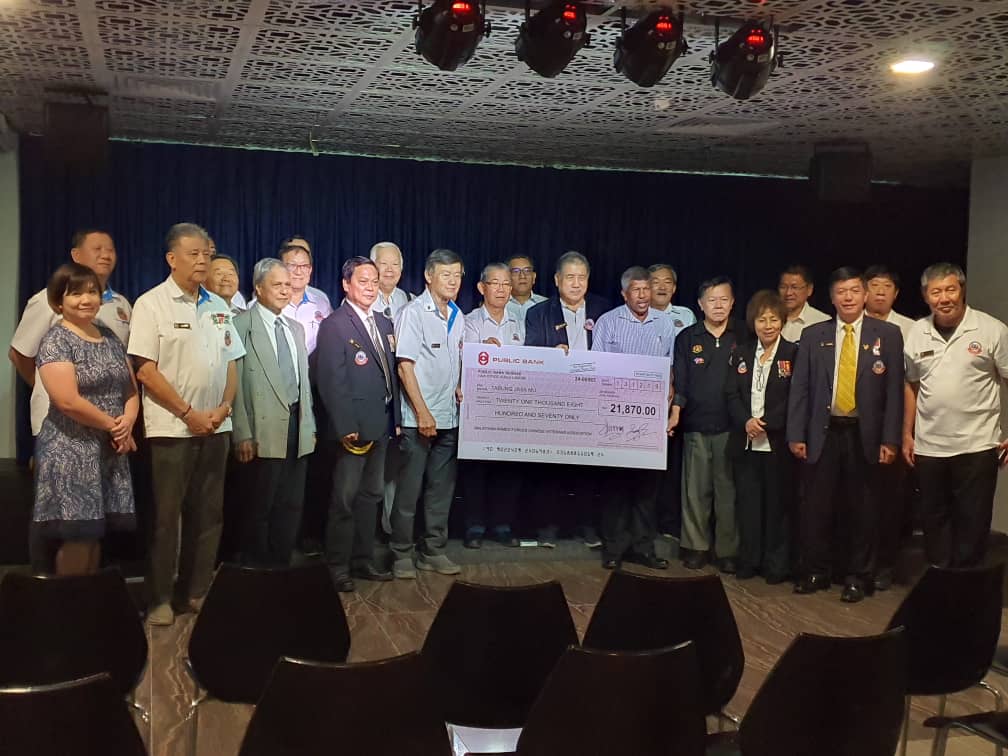 Cheque Presentation gourp photo at The Megan Restaurant, Megan Avenue, Kuala Lumpur.
BACKGROUND
Malaysian Armed Forces Veterans of the Royal Ranger Corps have undertaken to construct two (2) memorial monuments at the sites where members of the Corps were killed during the Insurgency period in Sarawak, from 1966 to 1990, fighting elements of the North Kalimantan Communist Party. The two incidents where many lives were lost are:

a. On 20 January 1971, two boats with personnel from 1st Royal Ranger Battalion, led by Lt Muda Anwar Basha Khan were ambushed at Tanjung Batu Babi, Ulu Katibas Song. Seven (7) men werw killed and two (2) were injured in this incident. PW II Lenggu Anak China, who was in the second boat, although injured by the enemy fire, led the counter attack and killed 4 Communist Terrorists. He, however, succumbed to his injuries and was awarded the highest gallantry award "Sri Pahlawan Gagah Perkasa" (SP) posthumously.

Fallen heroes:
(1) 901161 WO II LENGGU ANAK CHINA (SP).
(2) 901686 RGR SUNTAI ANAK DUIN.
(3) 901564 RGR UMOK ANAK MAMBANG.
(4) 901326 RGR LIAN ANYI.
(5) 901564 RGR LIMPING ANAK GAYANG.
(6) 901422 RGR SHAFIE BIN SAAT.
(7) RGR MERICAN.

Injured:
(1) 2LT ANUAR BASHA KHAN BIN HJ ZAKARIA (410438) – (RETIRED AS LT COL).
(2) 208072 SIG AHMAD BIN SHAFIE.

b. In the second incident, on 26 March 1972, a convoy of 4 vehicles (one land Rover and 3 three tonners) carrying twenty (20) men from the 7th Royal Ranger Battalion was ambushed at Kampung Jangkar along the Lundu-Biawak Road. The convoy was returning to Lundu after replenishing Malaysian and Indonesian troops at Camp Biawak. Fifteen (15) men were killed and four (4) were injured in this incident. It was the highest number of Malaysian Armed Forces personnel killed in one incident throughout the Royal Ranger Corps' counter insurgency operations during the Second Emergency from 1969 to 1989.

Fallen heroes:
(1)  15567 SGT BASHA BIN SULAIMAN.
(2)  18092 CPL MOHD AKHIR BIN ABD RAHMAN.
(3)  206925 CPL SALLEH BIN EMBONG.
(4)  15967 LCPL YUSUF BIN AYUB.
(5)  931188 RGR RAMLI BIN REJAB.
(6)  928923 RGR HARIS BIN SEKAR.
(7)  930465 RGR MOHAMAD BIN NAYAN.
(8)  928223 RGR ABD RAZAK BIN DERAMAN.
(9)  925552 RGR SALMI BIN ISMAIL.
(10) 22904 RGR ABD TALIB BIN SIN.
(11) 928632 RGR WAN HASSAN BIN IDERIS.
(12) 14071 RGR ZAINAL BIN MOHD NOOR.
(13) 931182 RGR HAMID BIN YATIM.
(14) 228350 RGR MOHD SAAD BIN AHMAD.
(15) 925353 RGR ONGGING BIN JAWI.

Injured:
(1) 15736 RGR ABDUL HAMID BIN MOHD SAAD.
(2) 930474 RGR SHAHAR BIN YAHAYA.
(3) 452752 RGR ALIMIN BIN IBRAHIM.
(4) 928126 RGR ZAINUDDIN BIN AHMAD.

These two monuments will be built by the Royal Engineer Regiment based in Sarawak. The first monument to be built is at the Kampung Jangkar, Lundu-Biawak Road and to be completed in time for the Golden Jubilee (50 years of 7th Royal Ranger Battalion) celebration on 21 March 2020. Each monument is estimated to cost RM22,000.00 to build.

MONUMENTS CONSTRUCTION DONATION DRIVE BY MACVA
MACVA has been approached by Col Ratnam, Chairman of the Monuments Organising Committee to assist in raising funds from MACVA members for the construction of the two monuments. MACVA Management Committee felt it is a noble cause to have the monuments to serve as remembrance of our heroes who gave their lives in the defence of this beloved country of ours.

MACVA launched the construction of the two monuments donation drive from 27 November 2019 to 6 December 2019. We are extremely pleased to see the overwhelming response by our members towards the appeal. In a short period of the 10 days of the donation drive, our generous members and a few non-MACVA members donated RM21,870.00 to the monuments construction funds.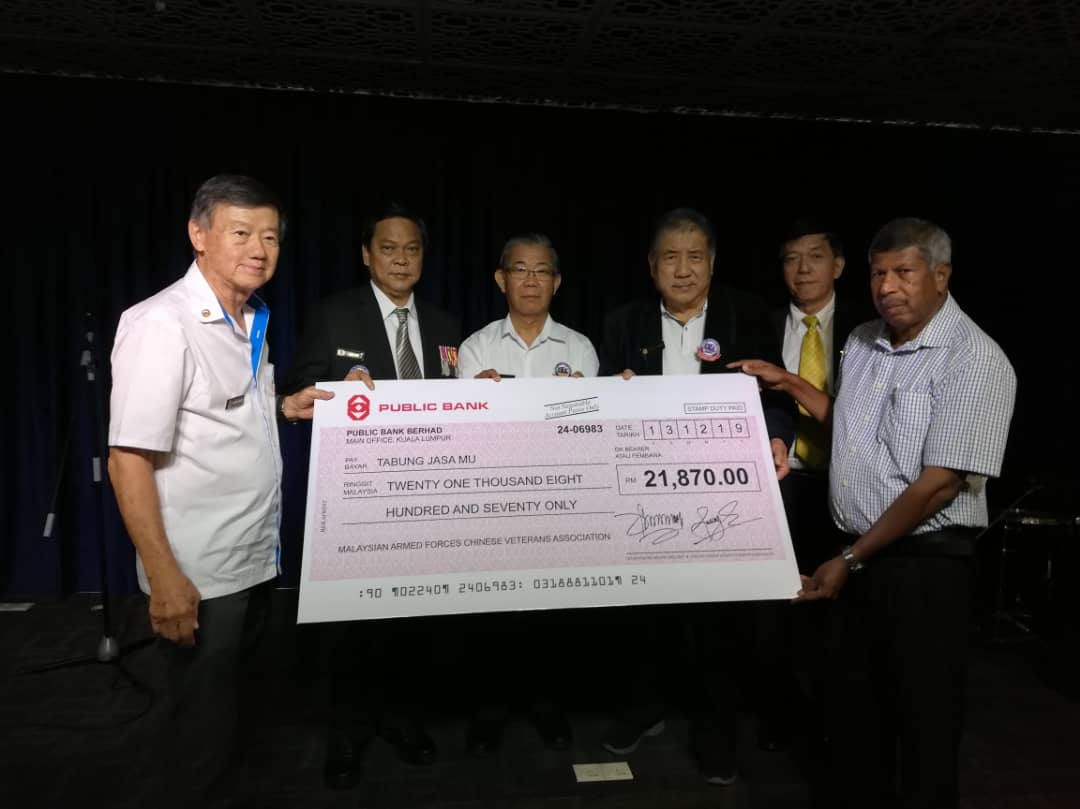 LR:MACVA President Brig Gen Datuk Goh Seng Toh RMAF (Retired), VP RMAF LAC Joe Pie Chong Seng RMAF (Retired), VP Army Maj David Chow Chun Kai (Retired), Capt Tong Lye Heng (Retired), Hon Secretary Lt Col Wong Ah Jit (Retired) and Chairman of the Monuments Organising Committee Col Ratnam (Retired).
CHEQUE PRESENTATION BY MACVA TO THE CONSTRUCTION OF 1ST ROYAL RANGER BATTALION & 7TH ROYAL RANGER BATTALION MONUMENTS IN SARAWAK
The event was held successfully at the The Megan Restaurant, Unit B-0-15, Megan Avenue 2, Jalan Yap Kwan Seng, 50450 Kuala Lumpur on Friday 13th December 2019 at 12.00 pm noon. More than 20 Veterans and spouse attended the touching and very meaningful ceremony which was followed by lunch and ended at 14.00 pm.
Brig Gen Datuk Goh Seng Toh RMAF (Retired) giving his speech.
Lt Col Wong Ah Jit (Retired) giving his welcome address.
Col Ratnam (Retired) giving his speech.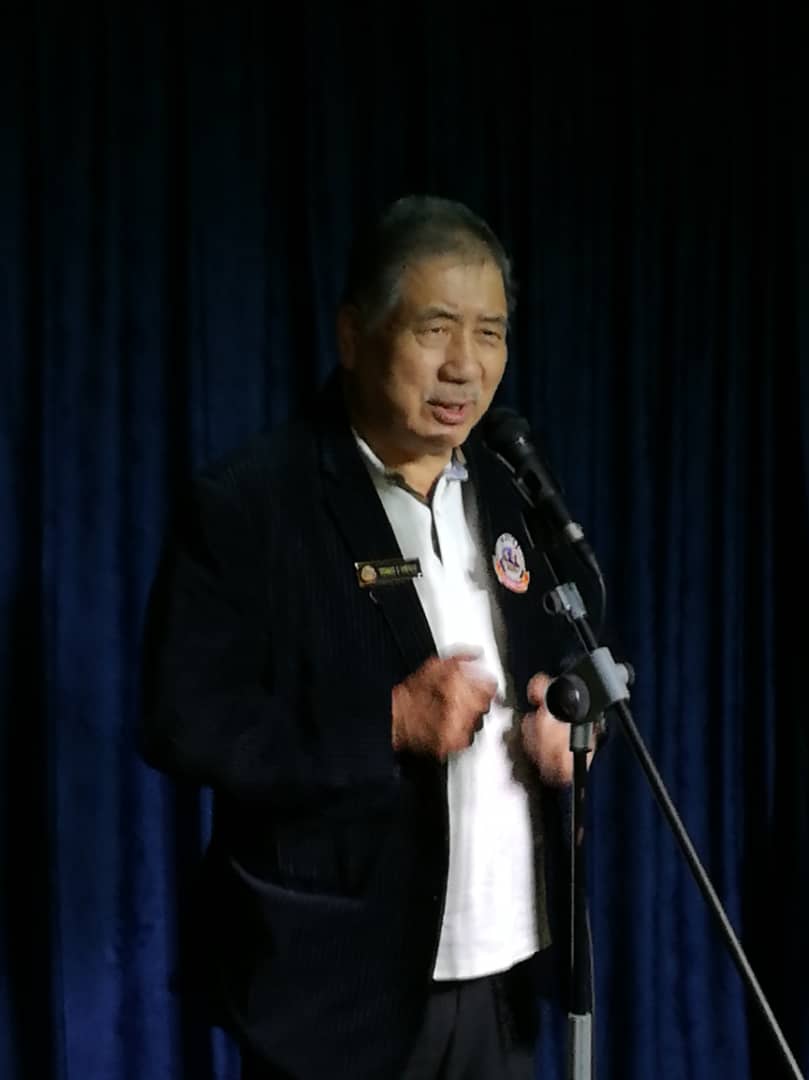 Capt Tong Lye Heng (Retired) giving his speech.
MACVA is very pleased to have contributed towards the construction of the two monuments in Sarawak to remember our fallen heroes. We also would like to thank all our generous members and non-MACVA members for their kind donations. .

Lt Col Wong Ah Jit (Retired)
Honorary Secretary

15 Dec 2019

华裔退伍军协移交捐款 供砂建殉职军纪念碑
2019年12月14日

(吉隆坡14日讯)华裔退伍军人协会昨日移交捐款支票予陆军第1及第7游骑兵步兵团代表,以供该两支部队在砂拉越两个地点,建立殉职军人纪念碑。

该会会长拿督吴成都退役空军准将致词时说,建立殉职军人纪念碑对提升国家意识的意义深远,以让后辈不忘各族人民在捍卫国家稳定时所作出的贡献与牺牲。

猪石湾伏击战发生于1970年11月20日,当时第1游骑兵的步兵排,进行河道巡逻任务时,突遭砂共从河岸突击,当场阵亡7人、2人伤、歼敌4名。

另一起伏击事件发生在1972年3月26日,载有第7游骑兵一整个营的卡车队,行经伦杜比亚瓦路段时遭砂共伏击,15人牺牲、伤4人。
逾今为止,该事件尚为我国武装部队抗共作战中,最多伤亡的一次。

吴成都透露,时为鹦鹉直升机机师的他,在事件发生后也受命参与了整个抢救伤兵和遗体的运送过程。

游骑兵代表拉南退役上校说,三军胞泽们,虽已退役多年,唯心中军魂不灭,对筹备建立纪念碑一事纷纷响应,让他感动万分,交讬陆军工兵团建设的两座纪念碑预计明年三月份可完成。

筹款发起人童来兴退役上尉,当时隶属第7游骑兵团的年轻军官,受命带领属下处理遗体事务,并遂家通知阵亡者家属,阵阵撕心裂肺、痛彻心扉的哭声至今犹在耳畔。

他在分享中不时哽咽不语,出席者都能感受到他当年的悲伤程度。

共有约20位来自三军的华裔老兵出席这项移交支票仪式。

出席仪式的有 华裔退伍军人协会空军副会长彭聪成、陆军副会长周润佳、

中国报版权所有
C opyright © 2019 The China Press Berhad